12th Annual Camp Henry Luncheon
November 18, 2022 | Noon - 1:30
Embassy Suites | Widdicomb Ballroom
710 Monroe Avenue NW, Grand Rapids
and Live Stream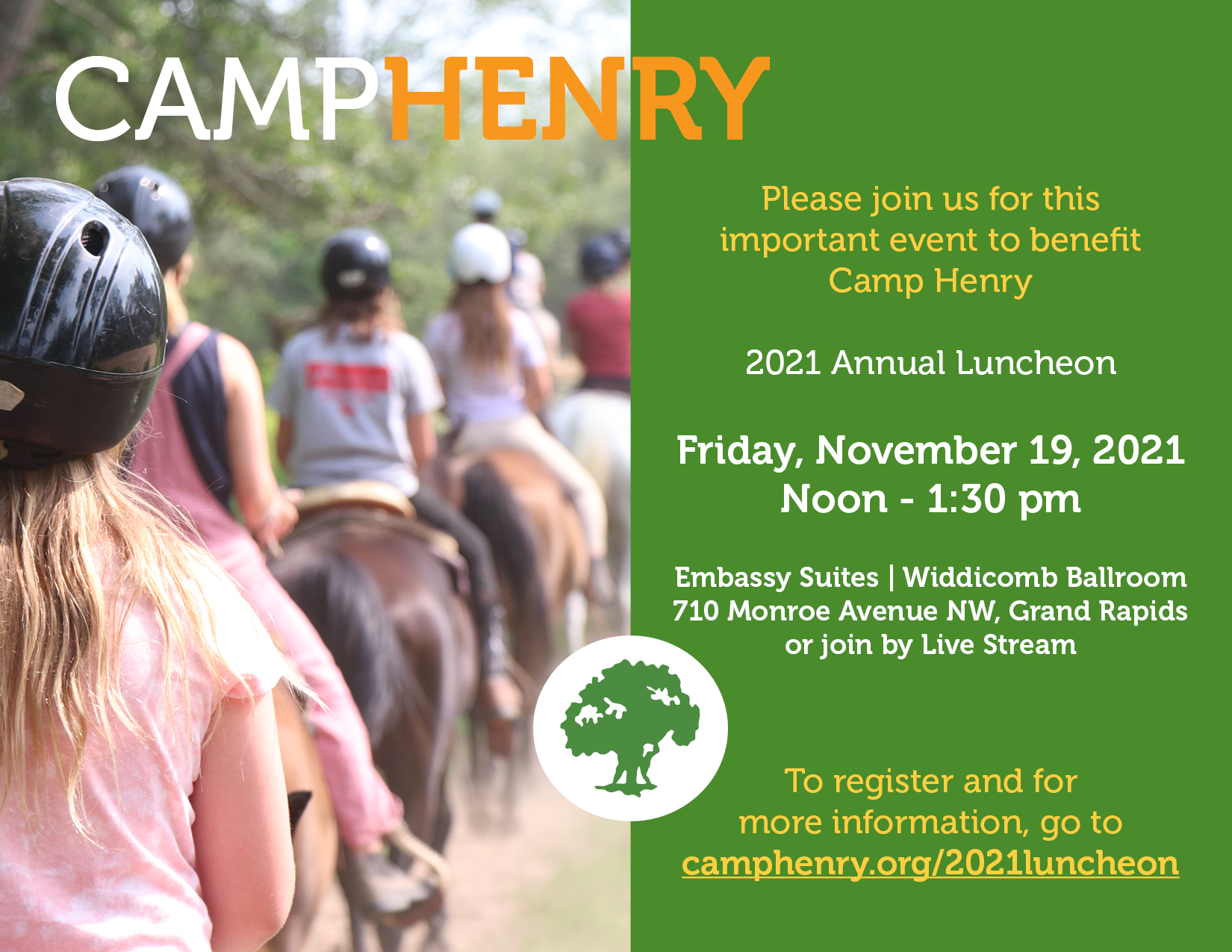 We are excited to be holding the Camp Henry Annual Luncheon back in person this year at the Embassy Suites in downtown Grand Rapids – with a Live Stream option. We will be hosting an awesome event that will provide guests with the information, connections, experiences, and inspiration that have made the annual luncheon such a powerful event year after year.
As we are emerging from the COVID-19 pandemic, we continue to work toward our key goals of increasing the number of people that are able to have a Camp Henry experience and working to continuously improve and enhance the camper and guest experience. Our hope is to be able to Extend life changing experiences to more campers and guests and beyond our current program offerings.
Please consider joining Camp Henry for this annual event - either by joining in person or watching on Live Stream. There will be a short program to help tell people more about the mission, vision, and ministry of Camp Henry – and about the amazing life changing successes and accomplishments that have happened during 2021 – even during a worldwide pandemic. There will be a time to consider making a contribution or to make a pledge to Camp. There is no minimum or maximum gift size…but, we're hoping you'll help out as you are able and as you are inspired to give. As much as anything, we want people to learn and hear about Camp Henry! The staff here at Camp Henry have shown extraordinary resolve during the COVID-19 pandemic to provide a safe and welcoming experience for campers and guests. Their efforts are not possible without the support and partnership of many dedicated friends and supporters.
A live streamed Annual Luncheon will be available to view at 12:30 pm on November 19th. Feel free to watch right at 12:30 pm that day - or as you find time that evening or weekend.
Watch the 2021 Annual Luncheon here
Were you unable to attend? Please consider making a donation.
Donate Here.
or mail a check to:
Camp Henry, attn: luncheon
5575 Gordon Ave
Newaygo, MI 49337
Interested in Hosting your own Table? We would love your help making this event a great success! Read through this Table Captain Toolkit - and contact Jennifer Robelli with any questions.
Thank you to our Annual Luncheon Sponsors!