Long time camper, Molly Malnor, takes a moment to reflect on her 8 summers spent at Camp Henry before she enters her last year as a camper.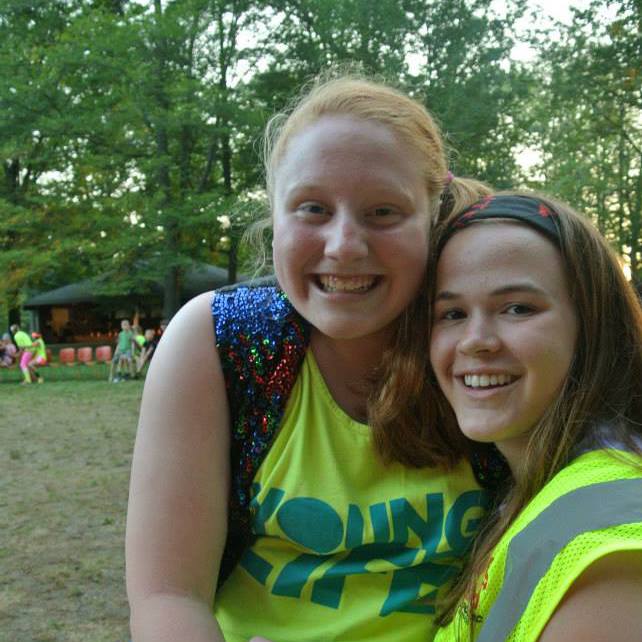 The first time I ever saw camp, I was much too young to be able to officially be a camper, but my parents and some family friends dropped off the kids who were lucky enough to spend a week at Camp Henry. It was always irritating being the youngest of three, but now I appreciate it more than ever. Thanks to my brothers who both went to camp sporadically through the years, I realized their fault, and started at age 9 and have gone every year since. That's eight whole years that my life has been influenced by the wonders of camp. Now, I am looking forward to pulling past the Nicely Center and lugging all of my camp baggage to a cabin for my last week as a camper, and while I'm sad to see my time go, I am more than excited to see what week six has in store for me this summer.

My first year I was in Shoshone Cabin, with Barbara as a counselor. Little did I know I was meeting friends I would see and get to know for years to come, and people who continue to inspire me to this day. Counselors and campers alike, I have learned so much about the world, other people, and myself. That is a feat. It really is. The ability that camp has to change people's lives never ceases to amaze me. For a long time, I really thought that camp magic was the power to make me a whole different person, more outgoing, fun loving, and overall, happier. In reality however, camp gives ME the power to be myself. Every week I've spent at camp has given me little pieces of information about myself, and that is a unique experience that I doubt most people will be able to have- unless they get to spend time on the shores.

Throughout this year I have been anxiously awaiting this summer at camp, and what that means for me, is looking at old pictures, and daydreaming about the wonders of camp. One of these camp throwback sessions, I was looking on the camp website, pretending that the weather was as nice as I wish it were, and reminiscing about my fondest camp memories. On that browse, I found the section of the site that gives the mission of camp. Ten adjectives are listed there: "Christian, Leadership, Tradition, Education, Diversity, Safety, Relationships, Teamwork, Sustainability, Fun". All are so astoundingly true. I also realized, that these were the qualities that I loved about camp, and their ability to shine through camp people. All ten are incredibly important to me; they are qualities that are influential in my day to day life and have been instrumental in making me who I am today.

Leadership is something that I've always strived to add to my personal repertoire. Looking at all the role models who have shown me their leadership at camp, it has made it so much easier for me to step into leadership opportunities in my school and community. Being an older camper last year gave me some insight into being able to cope with wild campers, lead activities even when people might not be thrilled to have been put in that group, and help to give advice to campers who might be going through tough times. Thanks to the most incredible staff people I've ever encountered, I've been able to find some resemblance of a leadership quality in my own personality, and used it to boost my success as a High School student.

Diversity is something special that camp adds to my life. I really try to put myself in situations to learn about different ways of life, and broaden my horizons, but most of the time, I have embraced diversity at camp. Diversity to me is being surrounded by people who have life stories that give you a new perspective on situations you may have never encountered. Learning about the various girls I've been so honored to spend time with at camp, it has taught me that people can rarely be judged fairly based on appearances or first impressions. This has also helped me want to get to know people who I may have been nervous to approach before my brilliant camp experiences.

Relationships are probably my favorite piece of camp that I carry with me today. Firstly I have gotten to know so many fabulous people who I still call my friends. Not only am I able to encounter new people and form relationships I otherwise might not be able to make without camp, but I have maintained many as well. It seems funny how there are people who go to my school, and I probably would not have had the opportunity to know well, but going to camp has made it possible. Making lasting friendships in approximately 45 minutes with the help of a plunge in the lovely lake Kimball has helped me learn to try and form bonds with varying people and taught me to be open to all different types of people.

The Christian aspects are also incredibly close to my heart because of how much they have helped me grow as a person, and camp always shows me that I still have so much room to grow. This past year, on one of the final nights of the week, my cabin sat in a circle on the floor of Ottawa cabin, and filled out each others last vesper papers. These sheets have a bare tree, and the idea is to fill out ways that your cabin mates are either rooted, or have grown. For our whole cabin people had little leaves labeled 'faith' which represents our growth in it, and that is the absolutely profound magic of camp.

Every now and again I remember all of the night chapels I have cried during, and I'm constantly thinking all of the worship that happens on the shores and I'm so glad to have been blessed enough to be a camper for these many years, and look forward to making new memories in 2014. Although I went to camp for multiple weeks for a few summers, I am now limited to just one as I struggle to schedule a hectic summer prior to my senior year. As I look forward to joining the group of my peers that have outgrown their days as campers, and even though many of the staff members have since moved on to different jobs and locations, my camp stories and memories, and theirs I'm sure, will remain favorites for years and years to come. Because as you may know, a camp friend is a friend forever and a day.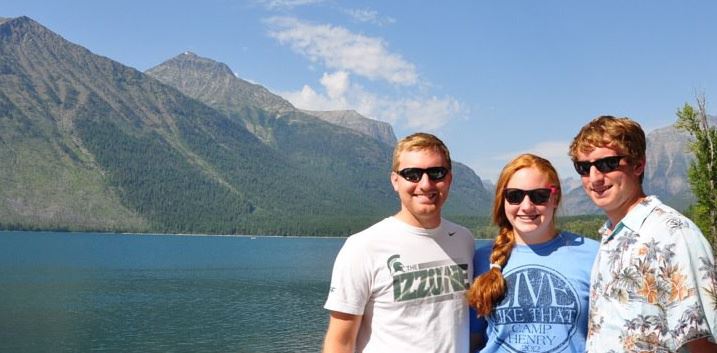 Molly will be a senior at East Grand Rapids in the fall and is looking forward to her last summer on the shores as a camper.

Meet the 2014 Summer Staff! These short bios will help you get to know our awesome staff before summer even starts. Be sure to check out Part 1 below if you haven't already.

Grace Erb aka Gerb or Gracie is so enthused to be spending a whole summer with kids outdoors! It's her goal to become an elementary school teacher. Grace is a native to Crystal Lake, IL and is studying at the University of Illinois. When she has down time, you will probably find her in a body of water, be it a lake, river or pool. And if she is not on the lake front this summer, you can catch her up with the horses as she used to ride competitively. Believe it or not, she actually spent an entire month in Australia with her family, snorkeling and riding camels! Grace hopes her actions this summer will show the campers they are loved and accepted.
Ryan Reisler aka Reis will be keeping Camp Henry running smoothly as he is the Facilities Director. When he has down time, he loves to go backpacking and whitewater canoeing. As a native to Vermont, he has an affinity for colder weather and can often be found wearing shorts in weather most people would consider wearing a winter coat in. Ryan completed his degree in Adventure Education at Messiah College in Pennsylvania. You can rest assured that Camp Henry's facilities are in good hands as this is Ryan's dream job! Click here to learn more about Ryan.
Tim Larson will be making the trek to Camp Henry all the way from Fort Collins, CO for his second summer. Tim is an outdoor aficionado and loves to go hiking, camping, rock climbing, mountain biking and so much more. You name it and if it's outside, Tim probably loves to do it. In fact, he has hiked to the top of two 14,000 ft. mountains in the same day! He is really looking forward to returning to Camp after a hiatus and can't wait to work with the amazing kids and staff. He hopes they know that they are loved and that they are important and that they learn to show other this love.
Ben Waterhouse aka Big Ben has found a great niche at Camp Henry. He is currently enrolled at Anderson University and hopes to work in the youth ministry field once he finishes up his degree in Bible and Religion and Nonprofit Leadership Management. He is excited to see the campers grow over the course of the week they spend at camp. While Ben enjoys playing Rugby now, he used to do gymnastics when he was little. His hope is that every camper will know how amazing they are and how much God loves them.
Blake Lopez, originally from Southern California, has made his way out to Camp Henry for the past two summers and excited to be here for his 3rd year on staff. Blake will finish his Recreation, Parks and Tourism Administration degree at Cal Poly San Luis Obispo this June. When he has free time, he enjoys going on hikes and hanging out in his hammock. He can't wait to see new and old campers and staff experience and embrace the 2014 theme of "You Are More" and he wants them to know that they are loved.
Colleen Roddy aka C-Rod or Rods is a fresh face on staff this summer. She grew up in Traverse City and is a student at Hope College studying Special Education. C-Rod enjoys playing sports, hiking, boating and skiing. A really cool fact about Colleen is that she has never had any form of soda. She is eager to have the opportunity to be with kids every day at Camp Henry! She hopes that each camper walks away being confident in who they are and embracing their unique quirks.
Liz Price aka LP is one of many staff members that loves a good dip in the lake and can really get into a good water polo match! Liz is taking a summer break from her studies at Grand Rapids Community College and is returning for her second summer on staff. She is looking forward to pouring into the kids in her cabin as well as connecting with other campers new and old alike. In her spare time and when she is not in the water, she can be found shooting hoops, picking flowers, long boarding, and eating canned peaches. Next time you see her, ask her to make her eyebrows do the worm. Her hope for this summer is that every camper that leaves the shores will know and believe they are more and are truly loved.
David Alorka will be coming over from England to spend his 4th summer on the shores. David is truly a man of many talents. He is passionate about football, the British kind, otherwise known as soccer. He also uses his degree in International Business Studies to help start ups and small to medium organizations grow through consulting work. David is also working on becoming a pilot for British Airways and is logging away as many hours as he can to reach his goal. David hopes that every camper that attends camp this summer will have their lives enriched by their time here.
Alejandra De Mingo aka Ali is traveling all the way from her home in Madrid, Spain to be on staff this summer. Ali attending Camp Henry as a kid and is returning for her first year on staff after several years away. She has a flair for sharing her international experience with other and hopes to pursue a career in foreign affairs. Ali is overjoyed to be returning and is eager to help campers have just as amazing a time as she had when she was younger. When she has some free time she enjoys working out, singing and spending time with loved ones. Her hopes for the campers this summer is that they love and appreciate themselves and in turn appreciate and respect others.
Cody DeLonge is super excited to be on staff this summer. He was a former camper and is glad to be returning as a counselor where he can connect with his campers each week. Cody is currently working on writing his first book and is studying Communications through Devry University. He aspires to be an journalist. When he is not busy writing, he enjoys playing disc golf and flag football. A fun fact about Cody is that he has actually grabbed a charging bull by the horns. He wants the campers to see how important they really are.
Angela Polmanteer, who is studying at Grand Valley, joins us for her second summer on staff. Her favorite outdoor activity is horseback riding, which is where she spends most of her time at camp as a wrangler! She actually won the Best Child Rider Award in 2006. She is excited to meet new campers and staff and be reunited with the returning folks. During her spare time, she likes to read, run, cook, and hike. Her hope and advice for the campers and staff this summer is that you should be proud of your faith and to never be afraid to exploring and furthering your faith.
Adam Swenson aka Swentz is a jack of all trades and is excited to be completing his third year on both year round staff and on summer staff. Originally from New Bloomfield, PA, Adam loves going boating, camping and traveling. He also enjoys baking and eating delicious food. In case you didn't know, he also has one two male pageants and toured Europe with a choir. He would love to own his own alpaca farm and call it "Alpaca you a Lunch." Adam is eager to see what this summer will hold and hopes that all campers get a better glimpse of who they are in the image of God. To learn more about Adam, click here.
Jennie Bander aka JB, Biebz, Jay Band, and Fever is getting ready to spend her second summer on the shores. She's a part of the year round crew that staffs camp during the school year for various school and retreat groups. If you can't find Biebz, she is probably off hiking or enjoy a good rest in her hammock. A University of Michigan alum, she studied Nursing and has a passion for working with people who have special needs. During her younger years, she was a competitive figure skater for 15 years. Now she's a volunteer coach in Grand Rapids in her spare time. Jennie is looking forward to spending time in the wonderful community of camp and assisting the campers in learning more about their identity in God. To learn more about Jennie, click here.
Catherine Bradley aka Cate is a Newaygo native and is excited to be on staff for her first time this summer. Cate enjoys horseback riding, swimming and a is always down for a mad game of kickball. During the school year, Cate is attending Western Michigan and studying Biomedical Science and Nursing. She hopes to use her education to do mission work abroad in orphanages. A interesting fact about Cate is that she has a twin brother! Cate is looking forward to the campfires at night and swimming in Lake Kimball. It is her hope that each camper that attends Camp Henry will leave feeling like Camp has made them a better "them."
Sarah Allaben aka Saqua is going to call Camp Henry home for her third summer and can't wait for the 2014 theme "You Are More" to be applied. She because everyone from ages 1 to 100 can benefit from being reminded of how wonderful they are and how perfectly they were created. Saqua is an avid water polo player and loves to swim in all bodies of water. She can also wiggle her ears just like Marissa. She just graduated from Michigan State University with her Bachelor's degree in dietetics and will be returning in the fall to start on her master's degree. It is her goal this summer to the campers not just know but truly believe they are more.
Maura Davis is gearing up for her first summer at Camp Henry and can't wait to see it in summer mode. As Guest Services Director, she is one of a handful of year round staff. She hails from Royal Oak, MI and studied at Alma College. In her spare time she like to go hiking with her family, attempt to garden and walk her dog, Porter. A fun fact about Maura is that she likes to find and identify spiders. With her BS in Biology Education, she is passionate about helping kids unplug and appreciate spending time outdoors. To learn more about Maura, click here.
Madison Wojtkowski aka Madi or Wojo is following in her mother's footsteps by returning to the shores of Old Lake Kimball. Madi loves to play all sports from football to kickball. She is busy during the year studying Special Education and Psychology at Indiana Wesleyan. She enjoys working on arts and crafts projects when she has a free moment. She also has a very unique middle name, ask her what it is next time you see her! This summer, Madi can't wait to meet all the kids and help them realized that God loves them no matter what.
Nate Peterson aka Gator is headed to the shores for his first summer on staff. He can be found either playing sports, swimming or laying in his hammock when he has downtime. In fact, he is so good at swimming, he earned a scholarship to study and swim at Olivet Nazarene University. He is hoping to go into business management after college. He loves to skate and be active but most of all he loves to share God with others and show them that their faith is something to be proud of.
Genevieve Howell aka John-V spoken with a French accent will be spending her 3rd summer on staff at Camp Henry. She has been a year round staff member for the past two years and playing on the High Ropes Course. Genevieve is also one of our musically talented staff. She plays piano, violin and guitar. She claims to have been raised by polar bear for twelve years, although this may be up for debate. John-V is looking forward to the chaos of summer camp and hopes campers will learn more about the height and depth of the love of Christ. Click here to learn more about Genevieve.
Ben Thompson aka Thompson is from Dowagiac, MI and will be coming to Camp Henry for his 1st summer. He is currently studying at Michigan State and is hoping to pursue a career working with children or following his calling to ministry. When he is not in classes, he enjoys playing the Spartan marching band, watching old movies and going to the beach to soak up the sun and play in the water. This summer he is looking forward to warmer temperatures and helping kids have a wonderful experience at camp, especially those attending for the first time. Ben hopes campers can find a deeper understanding of God while they are here.
Amanda DeKuiper aka Mandi has one of the most important jobs at camp. She is our Food Service Director, which means she is in charge of running the kitchen and getting delicious food prepared for every single meal this summer. She is excited to meet all the people and kids that will come through camp over the summer months. Mandi is from Fremont, MI and when she has free time she enjoys camping, hiking, boating, fishing and swimming. She also has a gigantic book collection, enough to fill a library! Mandi's goal for the summer is to show campers and staff that camp food is great!
Jennifer Robelli aka Jen or Knower of all Things is the master mind behind the scenes that helps Camp Henry run so smoothly. During her time at camp, she has worn many hats and is currently the Camp Administrator. And yes, she really knows just about everything about what is going on at camp or how to get things done. When she is not at work, she enjoys spending time with her family and their dog, Daisy. Her goal for this summer is to have everything on the office side of things run as smoothly as possible. She also hopes to get up to the horses for at least one trail ride and out on the lake to try out our new stand up paddle boards. For more information on Jen, click here.