Meet the Hotalings Part 1: Kenny
Kenny Hotaling, a key member of the Camp Henry's leadership summer staff, sat down with us...er, technically with his computer since he and his family live in California...and took the time to answer a barrage of questions about his 10 (soon to be 11) summers at Camp Henry. His presence at Camp is noted in his hard work, his kindness, his fatherly compassion for the staff and campers alike, and his humor. If this interview doesn't have you chuckling, then you should come spend some more time with him on the shores this summer.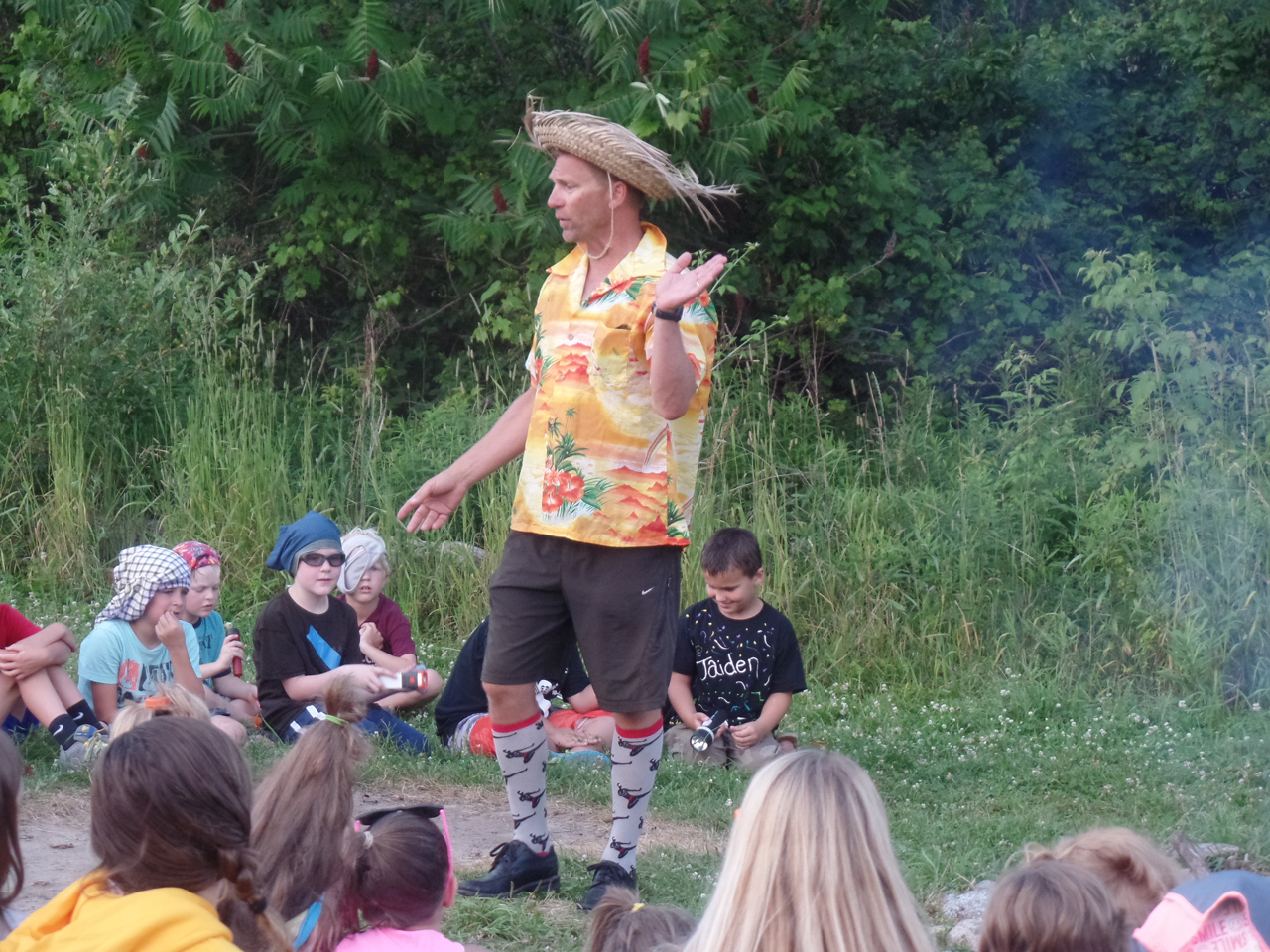 How did you first get connected with camp? Sitting around the Jacobs' dinner table here in California, my response to Jake's question was something like this" "What??? Chaplain? I've never been one before! Do I have to wear a collar or would the outfit from Princess Bride be ok?"
What made you want to get more involved? Sometimes God answers prayers immediately. As I began to consider whether my family and I should relocate to Michigan for the summer, with a newborn (Jane) mind you, He told me repeatedly that he wanted to challenge me by talking to campers about my experiences with God, my relationship with God, how God loves you, and how great it is to have God directing your life. I was nervous that I would blow it, but listened to God anyway. I sure am glad I did... for so many different reasons. It clearly showed me how big He is and how small I am... but I can still make a difference for His kingdom.
How many years have you been coming to camp? Year 11 this year! We've gone through a couple sets of tires, many oil changes, and a transmission, but have every intention to return for 12.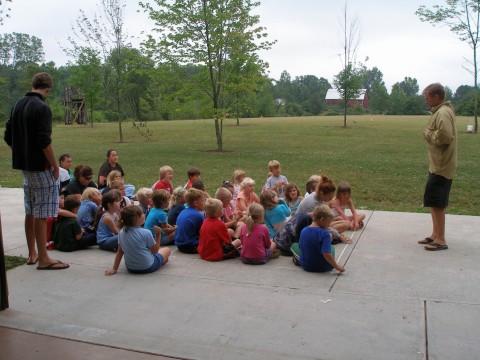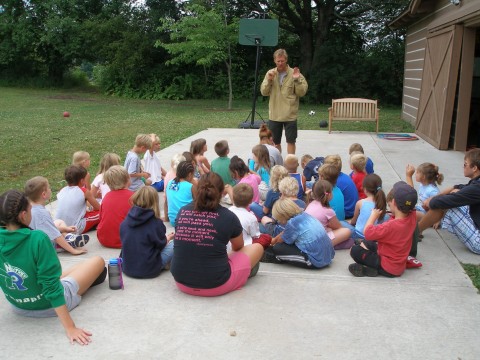 Did you attend camp growing up as a kid? If so, where, what was it like, what experiences do you still fondly reflect on now? I went to Rainbow Trail Lutheran Camp as a teenager, and it the spot where I finally understood what having a personal relationship with God is really all about. I found out that it was so much more than the "stand up and the right time, sit down at the right time, and repeat after me..." church experiences. What I remember most was the "peace that passes all understanding" as well as the friendship of another camper and the guidance of our counselor. John 3:16 became a part of my heart.
What would be your "ideal' day at Camp Henry? No such thing exists as there are infinite answers to the ideal day. Despite all the uncountable number of wonderful/funny/sad/life changing/challenging/ridiculous/inspirational/powerful moments that have already happened, I know that God has even more in plan to make room for additional entries into the "ideal" day.
How has camp changed since you first came? Camp changes every summer; sometimes dramatically, sometimes, subtly. Camp isn't supposed to stay the same. We can always get better, get kinder, get closer to God, and make more headway to making this earth like He intended.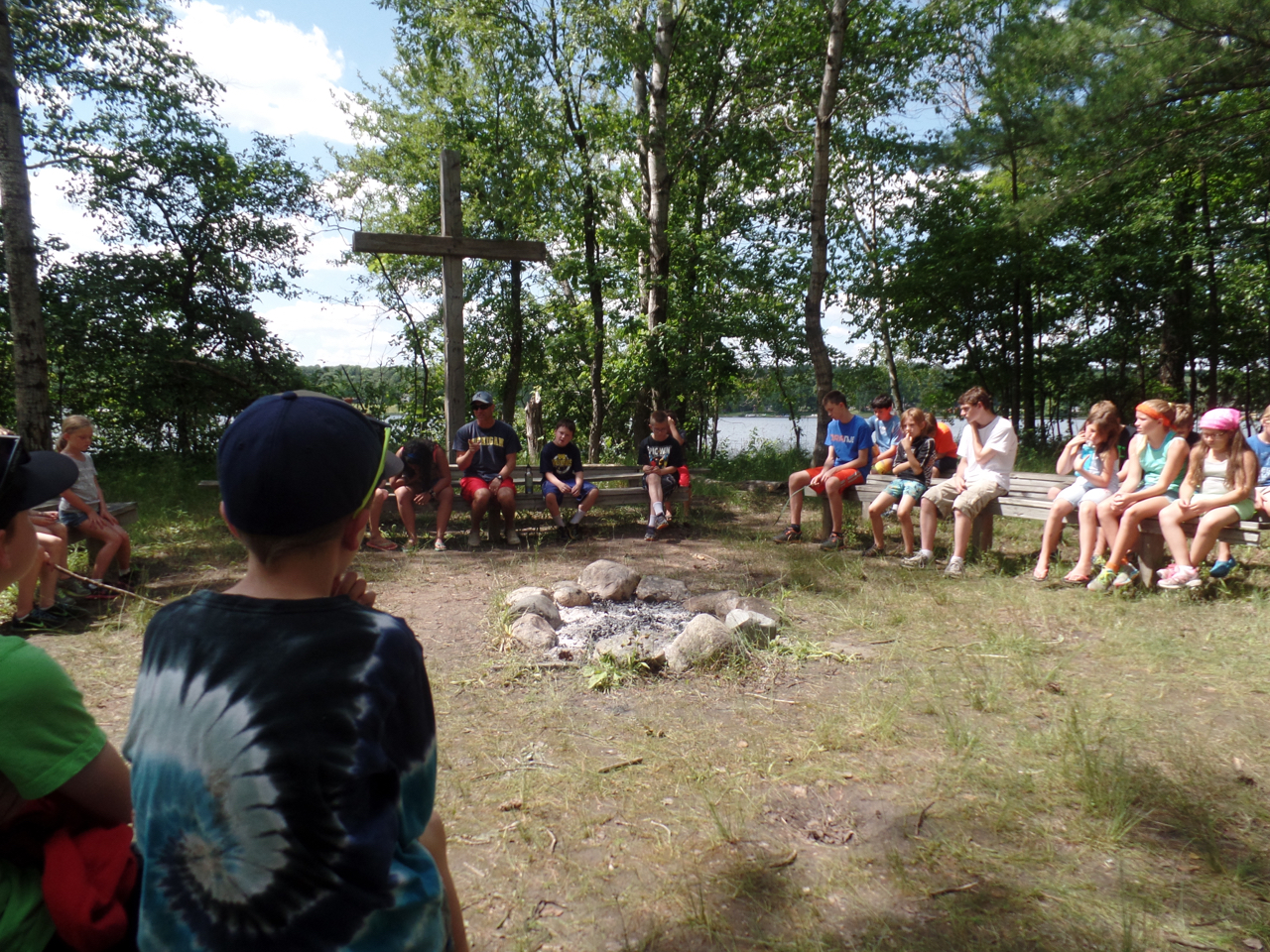 Many people would consider what you do each summer, taking the whole family across the country, living in small living quarters, etc., kind of crazy. What do you say to these folks? Yep. Nailed it.
What roles have you served/do you serve while at camp? I am just a humble "Happy Helper"- friend, chaplain, musician, mechanic, researcher, driver, reader, lifeguard, belayer, encourager, fire builder and plumber. I almost got the plumbing figured out for the bottom of the Blue House :) Maybe next summer.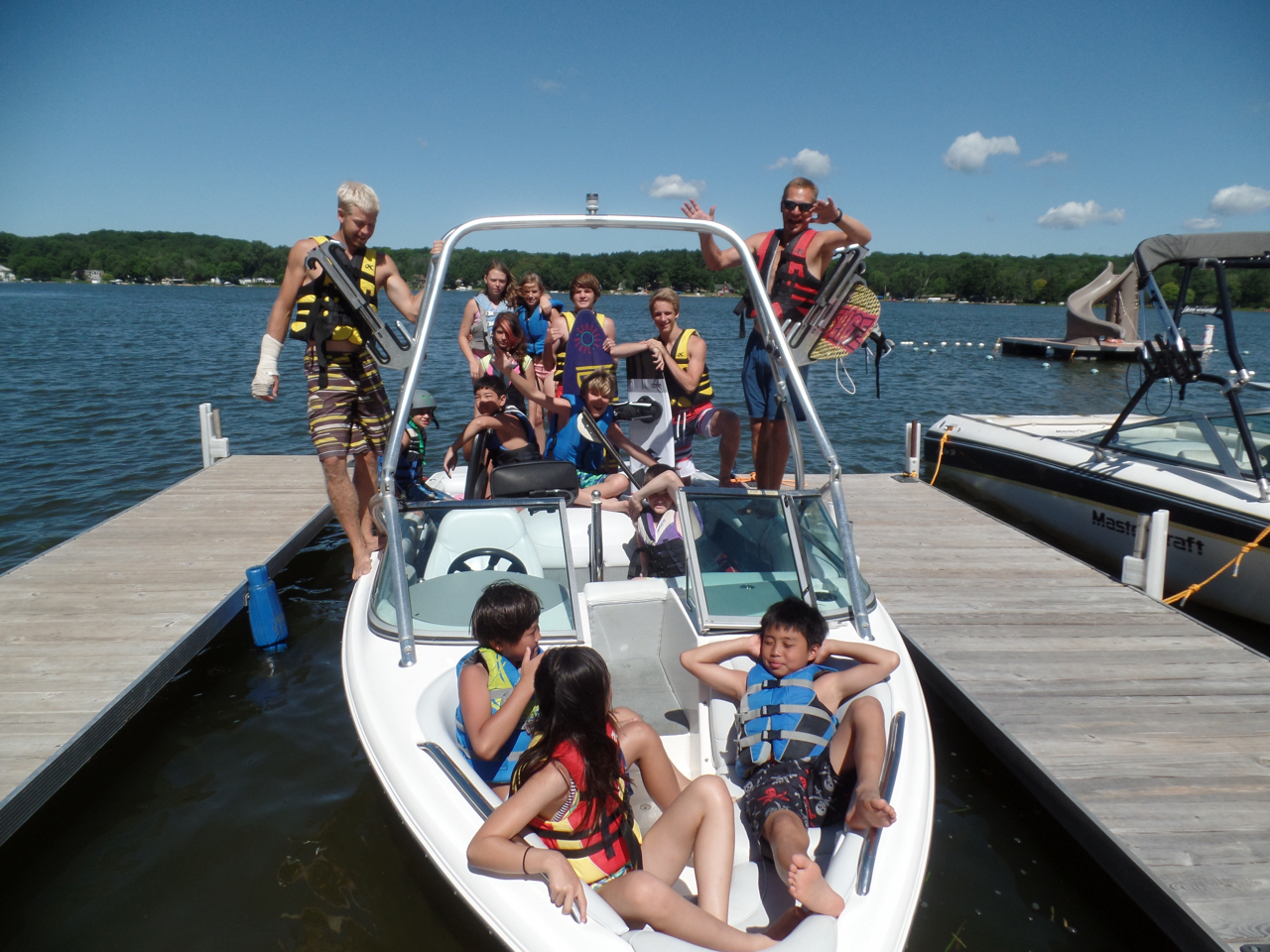 How has going to camp each summer effected your daughters? Camp have helped us immeasurably parent our children. It is impossible for me to comprehend how all these summers have had an effect on my daughters. Likewise, it's impossible to comprehend what they would be like without all of those wonderful summers. What I do know is that my daughters are smart, confident, kind, athletic, beautiful servants who love the Lord and others. I am so thankful for Camp Henry for all it has done to help shape Emma, Grace, and Jane.
Any fun stories to share from your adventures across the country? Nebraska is horawful (horrible + awful = horawful). What's the best thing that ever came out of Nebraska? I-80! Uncountable rows of corn for hours is all one can see. But, out of necessity, a new car game was created: Corn Wars! The game is played by naming a corn type product. For example, Corn on the cob. The next person needs to name another- Corn Pops. It turns out there are quite a few corn products. Let's see how many you can come up with!! Hours of entertainment! By the way, do you know what the "N" on the side of the University of Nebraska football helmets stands for? Knowledge!
Any fun camp stories to share? A king calls for his servant. The servant asks what the king needs. "Bring me my Royal Papers!" he shouts. It turns out his royal papers aren't recycled papers from the office, nor are they some of the left over sheet music from the Theater. It turns out what he really needed was some Toilet Paper!!! Oh! Those Royal Papers!! Hilarious!!!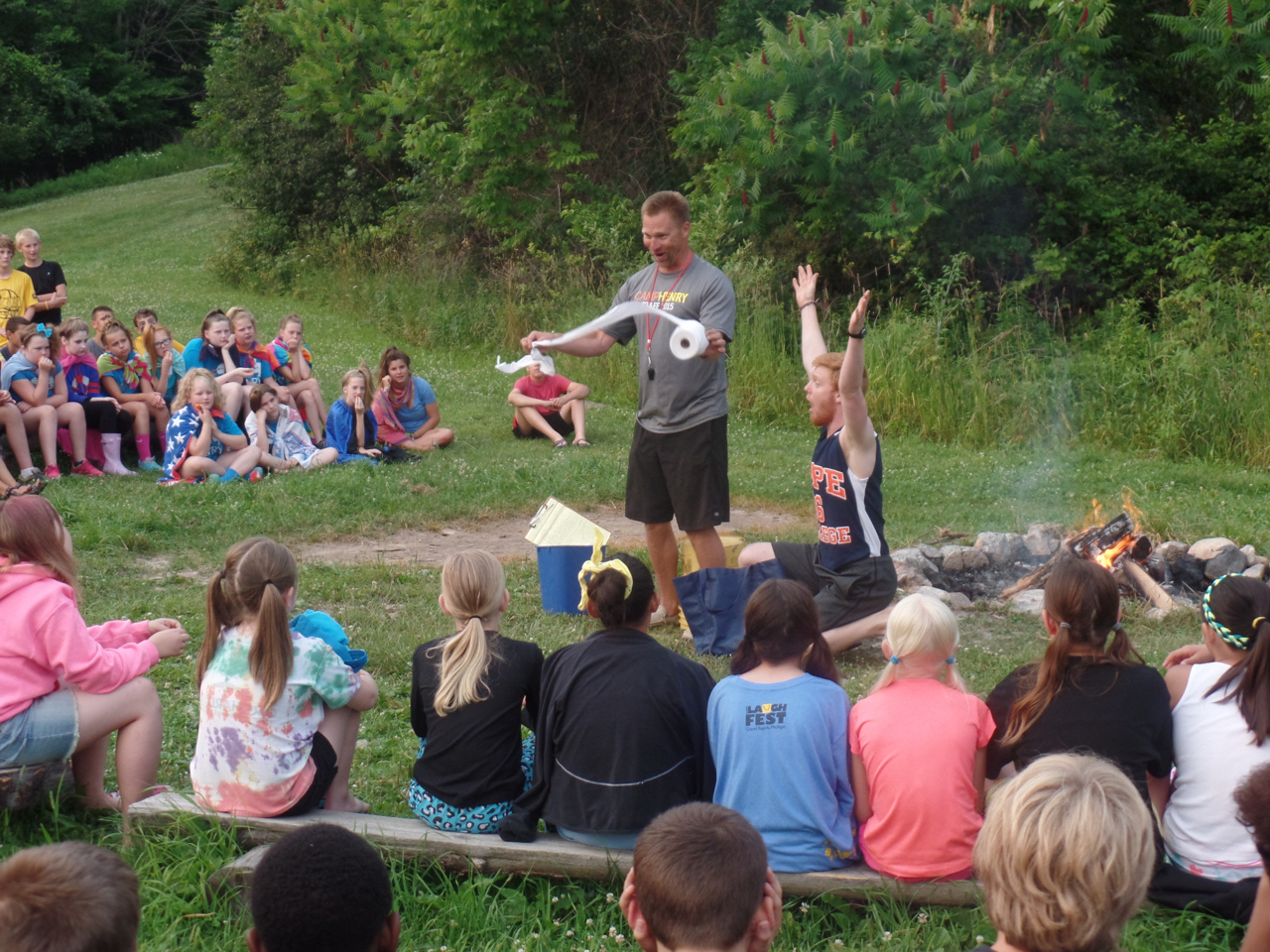 What do you do for a living outside of camp? I am a 17 year veteran public school teacher. I teach in an integrated classroom that focuses on math and science. It is a STEAM school that is heavy on engineering and computers so the math and science that we experience is applied to some sophisticated capstone projects. It's a blast going to work each day as I work with some very smart and motivated teachers.
What are some of your hobbies outside of camp? I have recently rediscovered my love of mountain biking! I'd ride everyday if I could. In addition, I also read a lot of non-fiction. Lastly, I am plowing through the Office on Netflix. Michael is so uncomfortably funny.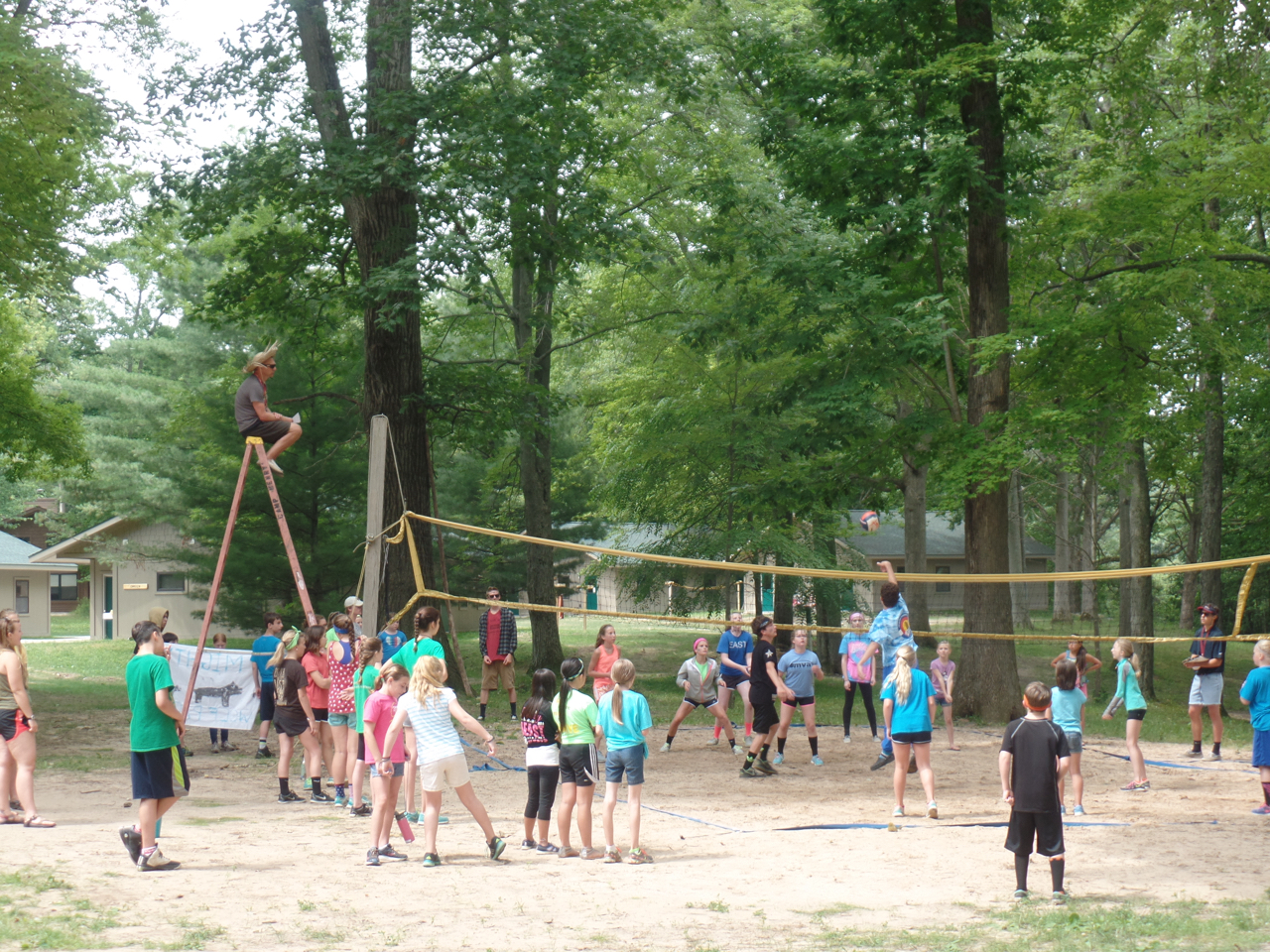 Favorite camp meal? Sausage patties. I eat the entire red basket.
Favorite camp activity to lead? Night Chapel. It's a blast to see God go to work in that sacred and beautiful place.
Favorite camp activity to be a part of? Christmas week's PJ sing. If you haven't heard Away In a Manger camp style... well, you are missing out.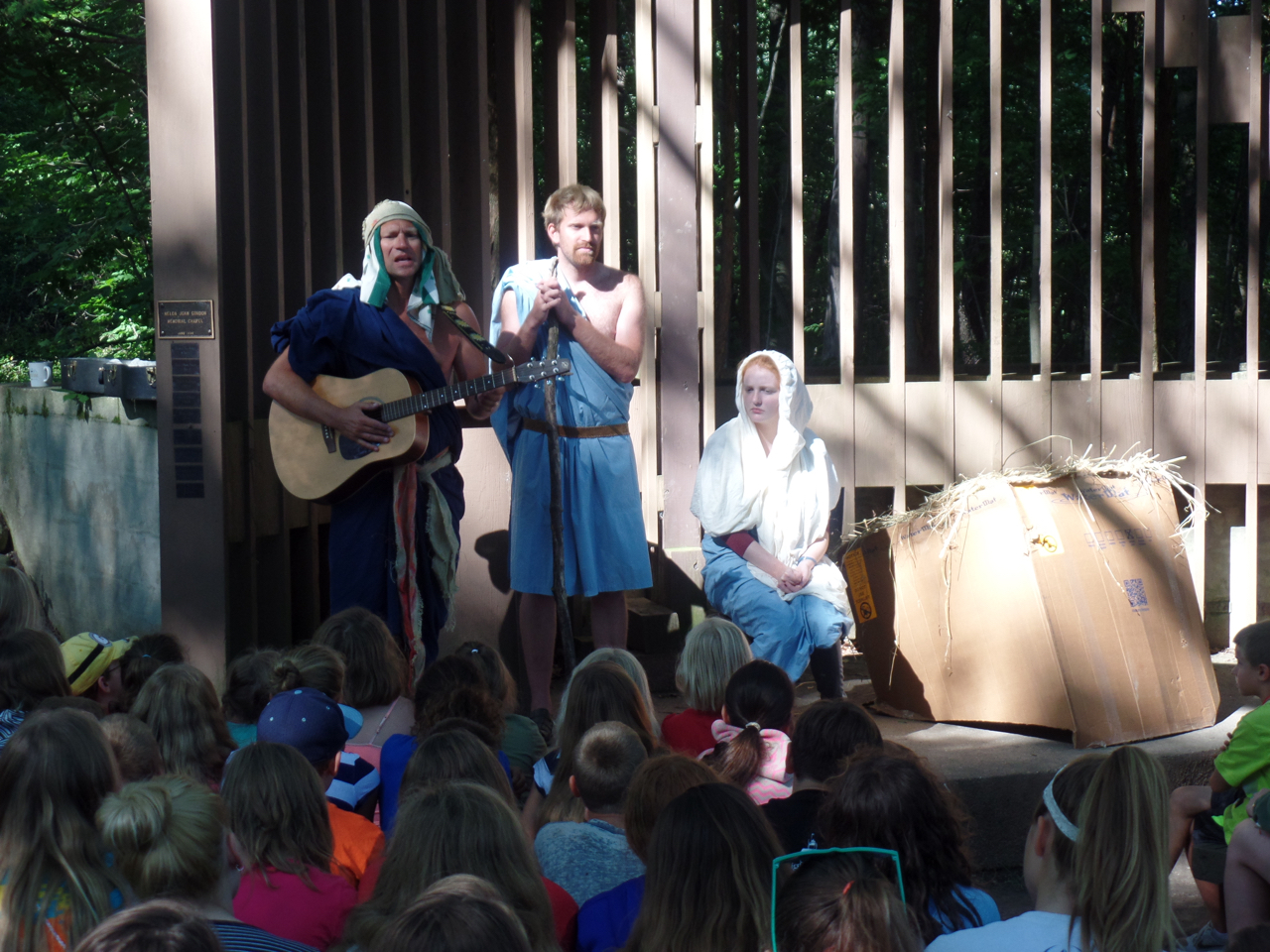 If someone was not sure whether they should send their kid(s) to camp, what would you say to them? I completely understand! Having your kids away from you for an entire week! Super scary. However, this week I promise that your child will experience God's love and I also promise that we will take tender loving care of them.
What is your hope for Camp Henry's future? Someone once asked a question about my church here in California. They asked, "If this church closed down, would anyone care after a couple of years?" It's a pretty interesting question. Now, ask the same thing about Camp Henry. Presently, in my opinion, there would be an uproar if Camp closed! So that's my hope for the future. If in 10, 20, 50, 100 years from now, Camp Henry closes... there would be an uproar!
What is your hope for your future with Camp Henry? I hope they hire my back as a Happy Helper!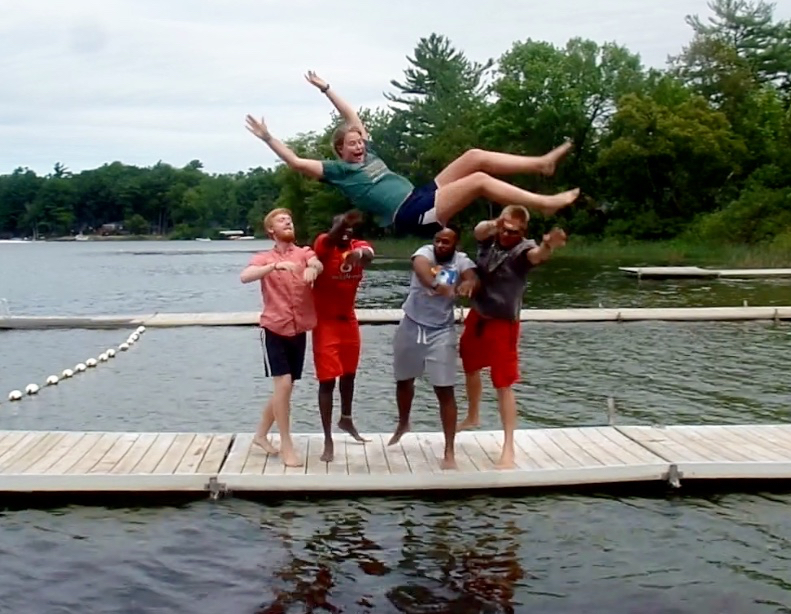 On Belay
By Adam Swenson, Program Director
---
'Belay is on' here at Camp Henry! It has been an exciting start to 2016 as we welcome so many new great elements to our high adventure program. With a brand new high ropes course, a giant swing, leap of faith, dueling zip lines, and a Quick Jump out of the trees, there is something for all ages to enjoy off the ground and we are excited to share the adventures with you!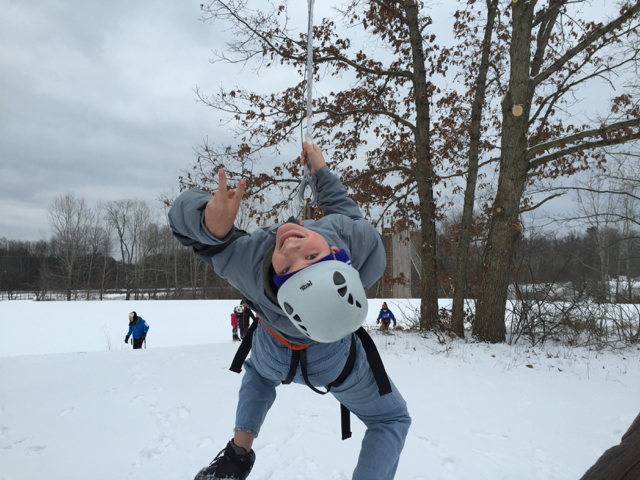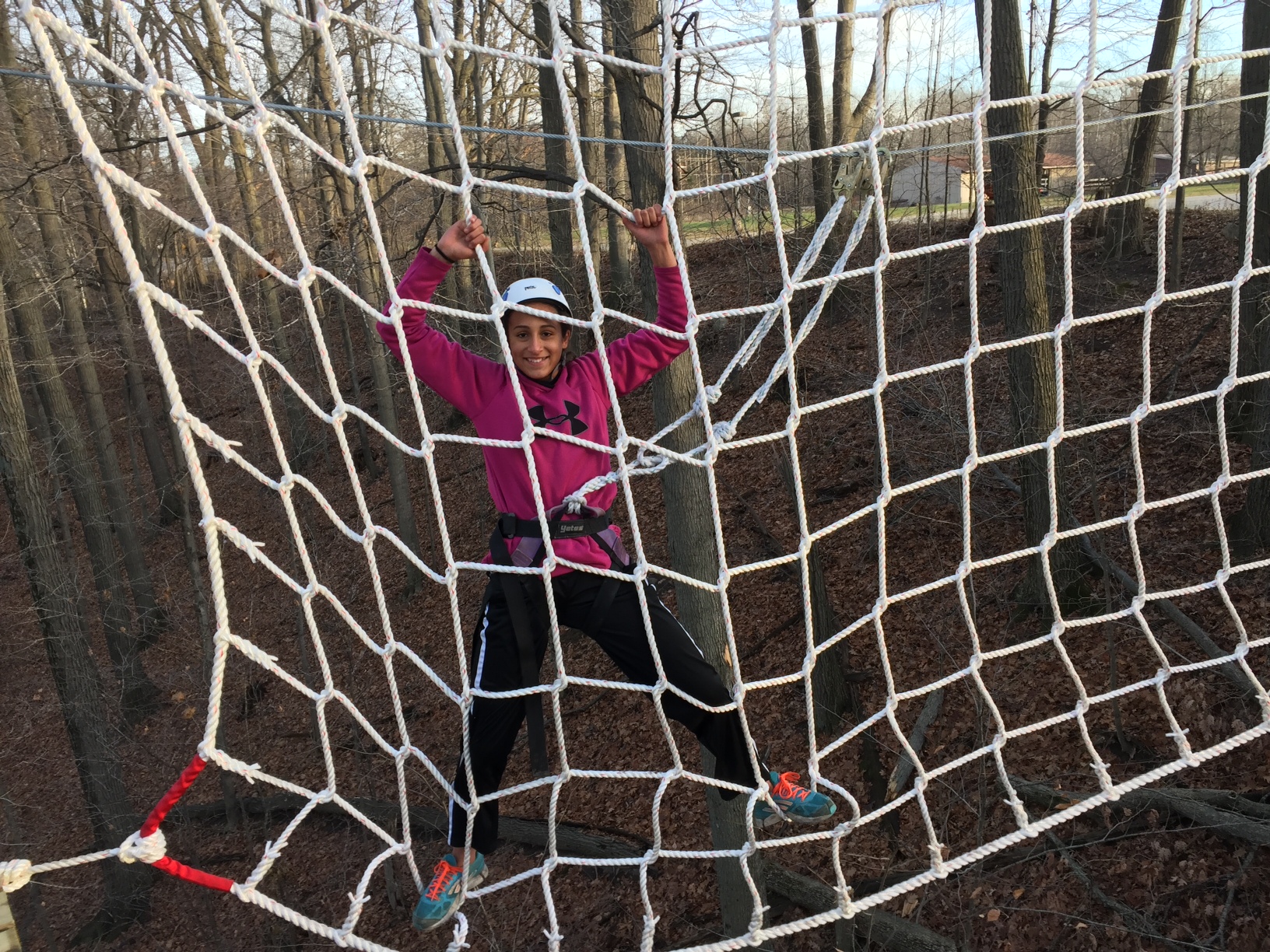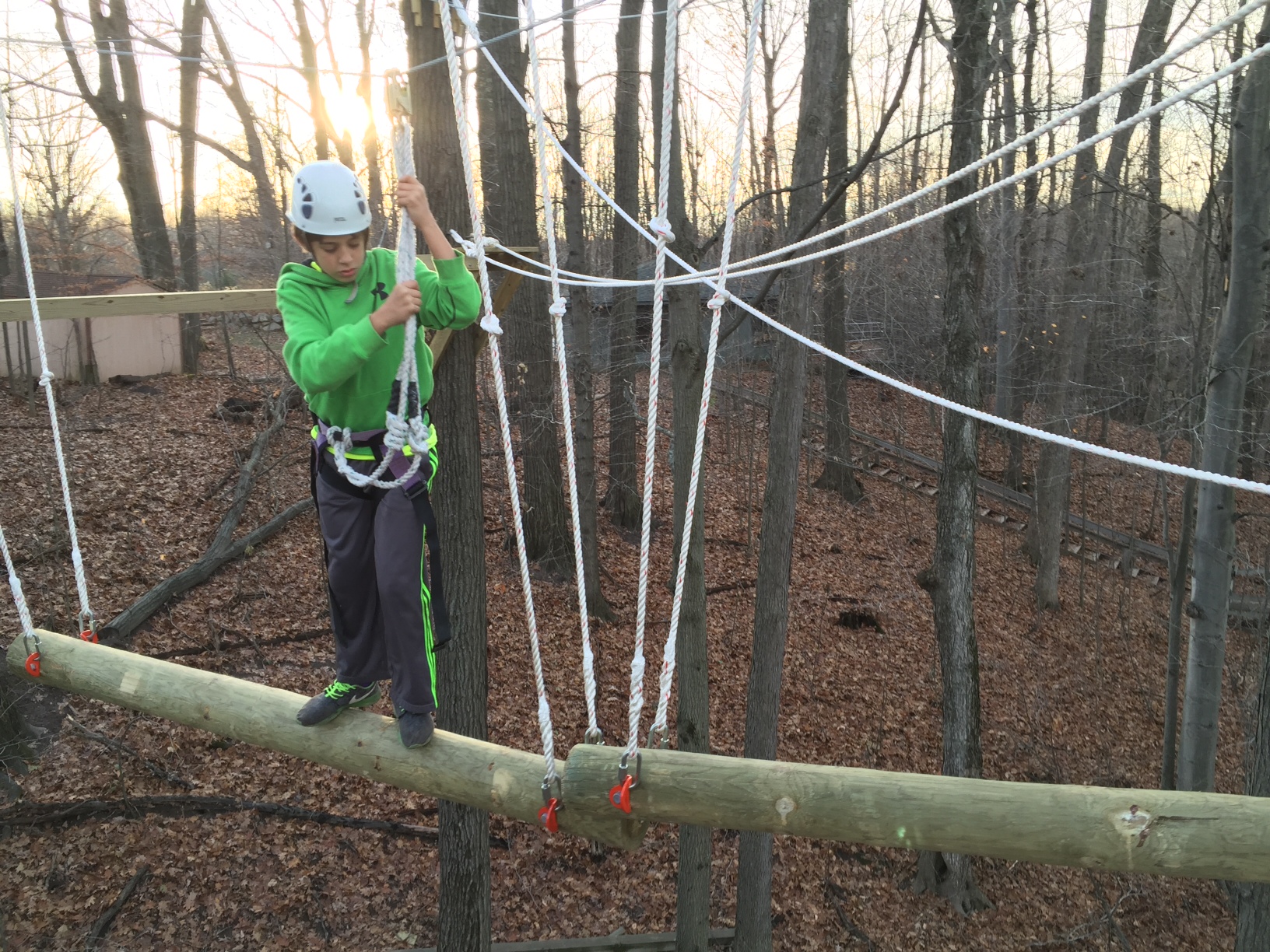 Whether it's facilitating team building with 6th graders or sending corporate groups down the zip line, the challenge program has become my favorite aspect of camp. I enjoy having a front row view of seeing the incredible growth through everyone's efforts as they work together towards a common goal. Being a part of this transformation is one of the most rewarding parts of my job and I love pouring my energy into helping folks leave camp feeling like a different, better, more confident individual or group.
The terms "Challenge Course" and "Team Building" have become buzzwords in recent years, and they have many connotations. Whether you're a corporate group, sports team, or school classroom, these challenge exercises are important not just for the immediate experience of the activities, but also for the group skills, communication and bonding that result. The activity, be it an obstacle course or 'Hot Chocolate River', is a high-impact learning experience. Team building programs provide realistic opportunities that empower individuals to contribute to their goals and feeds into our passion for providing life changing experiences.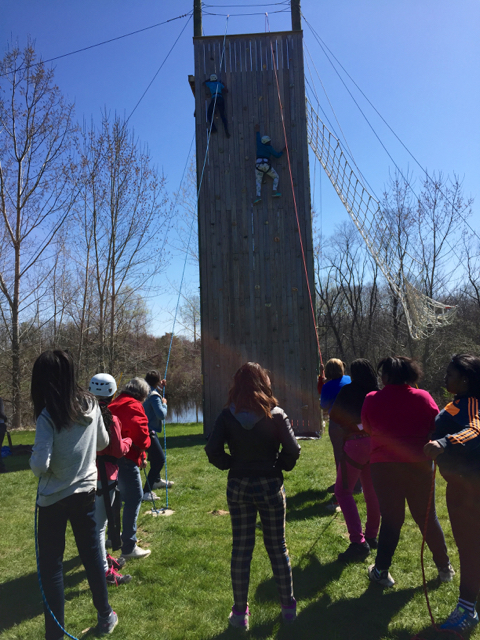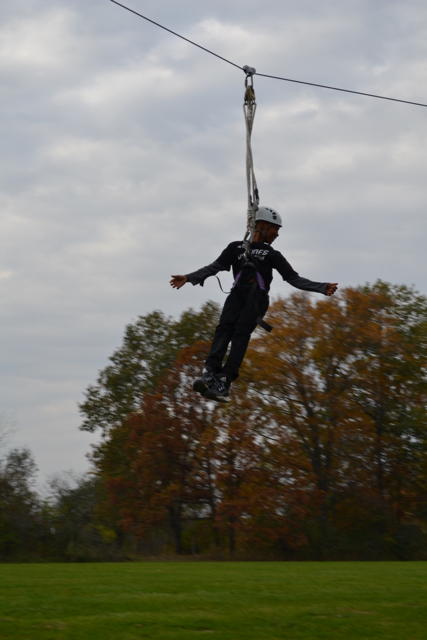 The main goals of team building are to improve motivation, productivity, and build relationships among peers. Taking folks out of their normal work/school setting helps groups break down barriers, eliminate distractions, and ultimately, have fun.
As we are continuing to grow in this area at camp, so too must the staff running the show. In January, I had the awesome opportunity to travel down to Austin, Texas for the annual ACCT conference. ACCT stands for Association for Challenge Course Technology. The ACCT establishes and promotes the standards for effective challenge course programs such as safety procedures, programs, and element designs.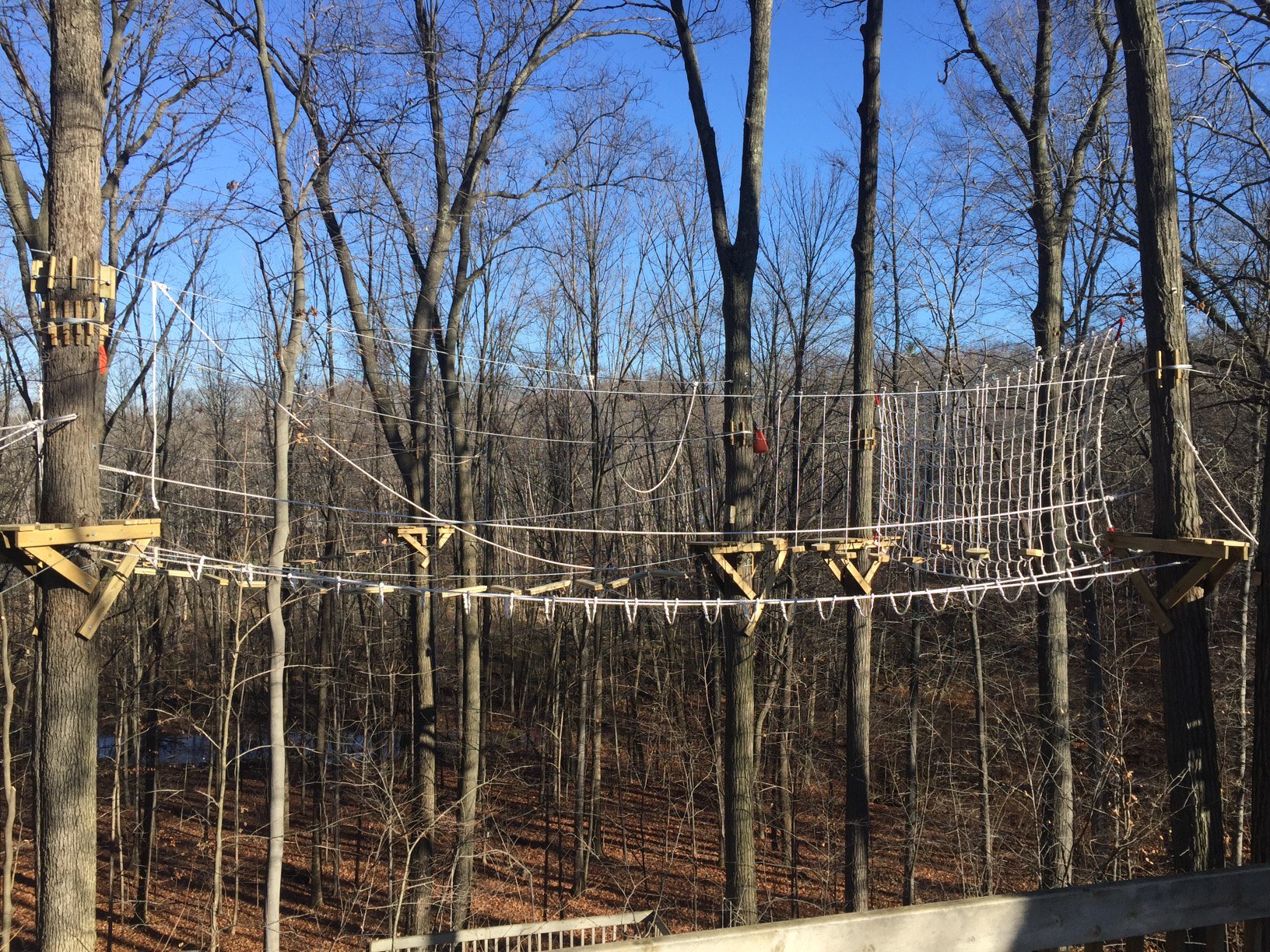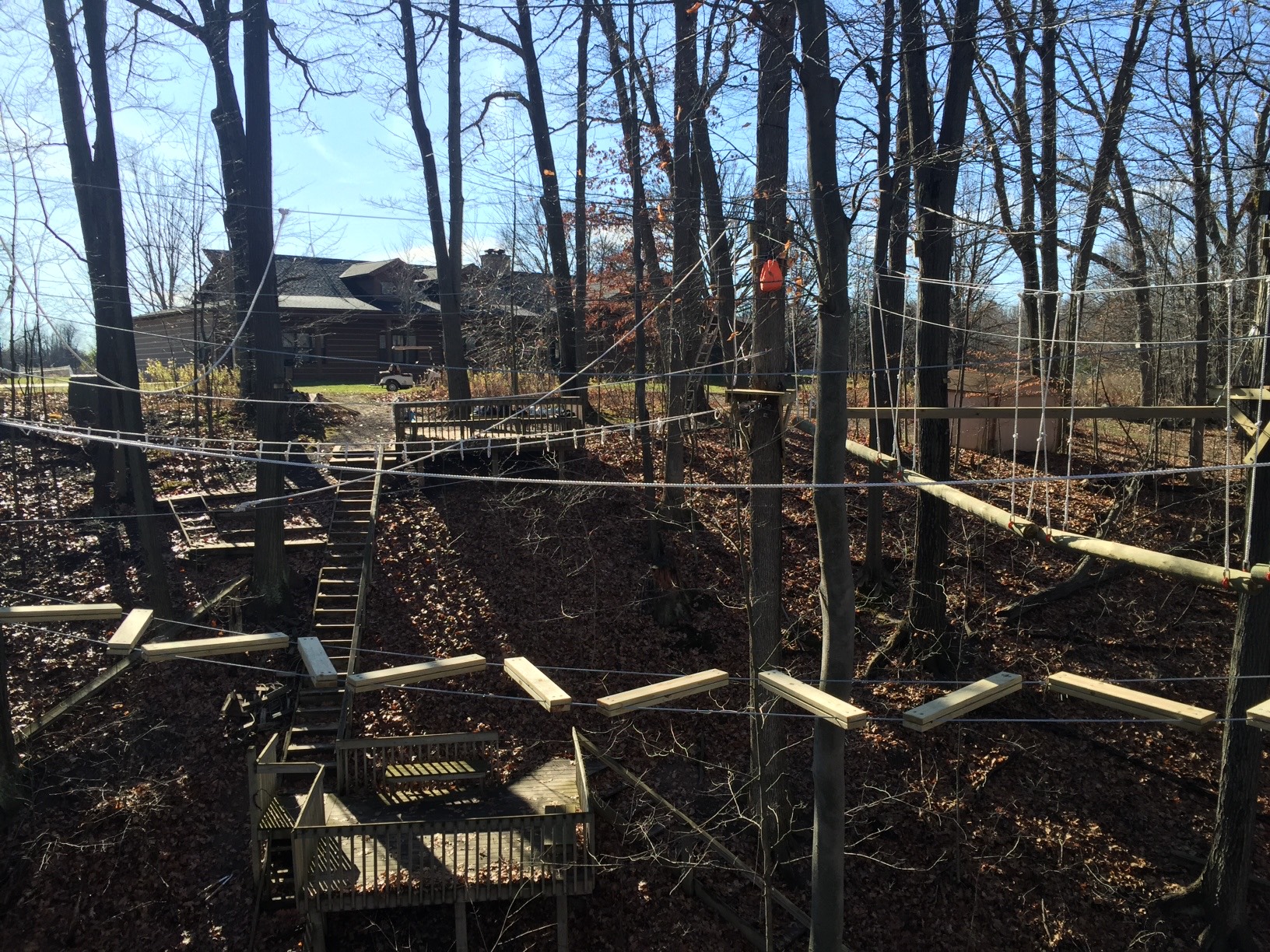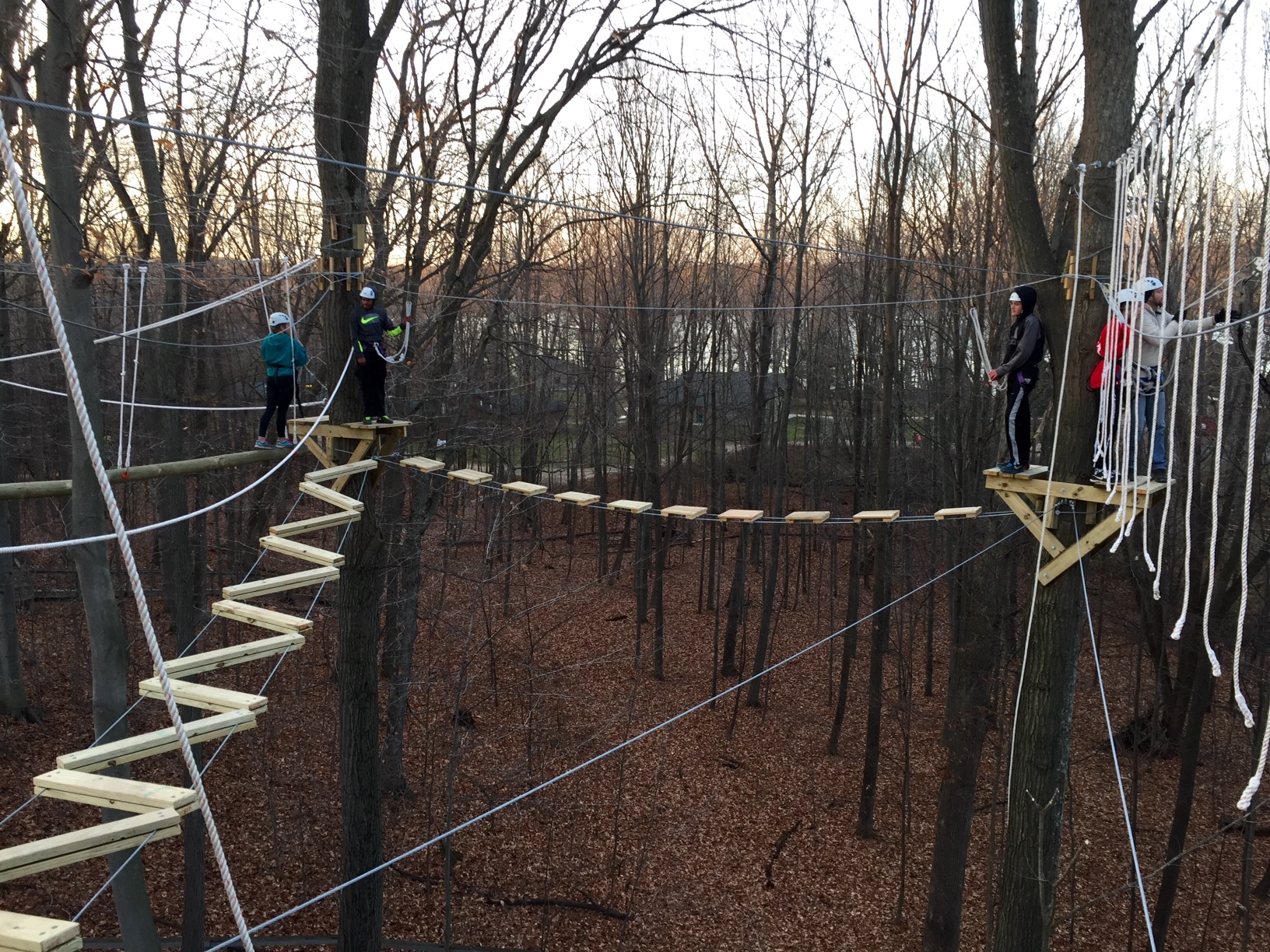 Facilitators and builders from all over the world met for the week to engage in workshops and share ideas as well as their experiences, which was a great networking opportunity for Camp Henry. During this time, I attended several sessions that highlighted areas such as effective debriefing tools, how to adapt initiatives to include everyone regardless of one's physical or cognitive abilities, and researching new material to keep returning groups invested.
Our keynote speaker for the conference was Pete Nelson from the show "Treehouse Masters". We are all familiar with him being 'the treehouse guy' and it was great hearing his background story of pursuing this unique and awesome craft. Like Pete and the rest of the attendees, it was refreshing to hear that we share so many common goals and reasons as to why we put so much effort into building zip lines and challenge courses.
If you have yet to participate in any of our challenge elements, I invite you to give it a try, whether it's with a dozen of your friends or an organization you're involved with throughout the year. You don't have to go to Cedar Point to experience the thrill or sit through a workshop on how to be a good team player, just come to Camp Henry! The adventure awaits.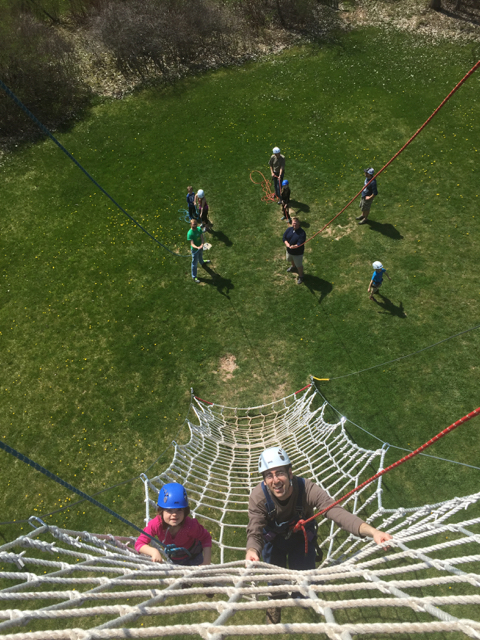 Summer 2016 Theme Reveal
Go and Do
"If you want to make a difference in someone's life, you don't need to be gorgeous, rich, famous, brilliant, or perfect. You just have to care."
This summer, Camp Henry invites you to explore what it means to Go and Do. As you come to camp, our hope is for you to be encouraged to extend God's love and grace through your passions and individual gifts.
Much of our inspiration for this theme comes from the story of the Good Samaritan (Luke 10:30-37). We are motivated by the acts of this ordinary Samaritan who went out of his way to care for a stranger in need. What really catches our attention are the two high rulers of the church who passed by this man on the side of the road before the Samaritan arrived.
Jesus later asks "which of these three do you think was a neighbor to the man...?"
The expert in law replied "The man who was kind to him."
Jesus told him, "Go and do likewise"
Who, in your life, inspires and motivates you to be the best version of yourself? Your parents? Your teacher? Coach? Counselor? Dog? Whoever it is, continue to discover why that is and go and do likewise so that you can be an inspiration to others in need.
Through simple actions of being generous, choosing joy, and accepting others, you will easily get a glimpse of what it means to live in the image of Christ.
We are so excited for this summer and cannot wait to have you here!
Couple of Sticks and a Bucket of Mud
By: Liz Allard
---
"We can do anything with a couple of sticks and a bucket of mud!" If you've ever sat in on a staff meeting with Jake at the helm, you've likely heard this phrase echo off the paper thin walls of Millar. I think about this phrase often and can't help but smile. Camp Henry is like an amoeba. It engulfs you with its inclusivity and makes you feel all of the feels-fun, happiness, empowered, confident, loved-the list of feels could easily take up this entire blog post. These feels, however, aren't derived from the buildings, the high ropes elements, the banana boat, four square balls, or any other resource we think is necessary to keeping the good times rollin'. Although all of these items are excellent, the Magic of Camp shines through when the resources are absent and we, as campers and staff, are left to our own devices.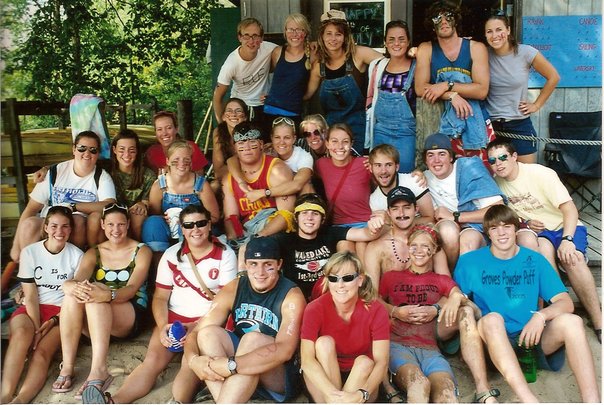 Plain and simple, Camp taught me the definitions of resourcefulness and resiliency. I remember once, as a camper, walking into Arts and Crafts during week seven of Camp. The room looked post-apocalyptic. The cupboards were bare, except for a couple of small bottles of primary-colored paint that stood like the last few campers during a game of British Bulldog. Random cuts of yarn and string were strewn about and old wax was hardened in beef stew tins on hot plates from weeks of candle making. This could have been a moment where my counselor threw her hands up and directed us outside onto the A-field for chill time, but instead, she instructed us to go outside and find a rock. Meanwhile, she began gathering the remaining paint bottles, sponges, and any decent brushes and plopped them onto the center of the table.
When we returned from collecting our rocks, she exclaimed with that 'fake-it-'til-you-make-it' excitement, that we were going to paint our rocks! This had the potential to be a totally lame activity, but in true Camp fashion, us campers humored our counselor and got way too into painting our rocks. We even did a gallery walk of our finished artwork at the end of that afternoon activity! My painted ladybug rock is still used by my Dad as a paperweight in his office.
Flash forward to when I was a counselor during the summer of 2009. It was Pirate Day at Camp. These themed days started popping up at Camp once a summer as soon as a certain counselor (*cough* Kerry Drake) discovered, in our staff manual, that Camp used to host Paul Bunyan Day, and insisted we bring it back. When campers arrive at Camp, they come with whatever they have, unlike many of us counselors who come equipped with an entire closet filled with costumes that can morph into whatever theme we desire.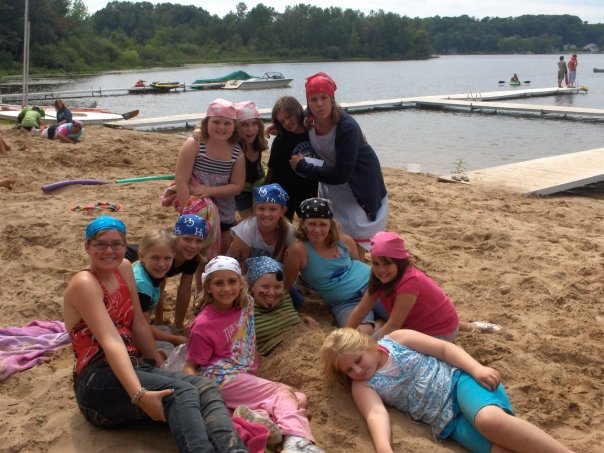 On Pirate Day, which ended up being another Olympic Day with pirate tendencies, it only seemed fitting that my entire cabin look pirate-appropriate. I began pulling out any pirate-ish clothing from my costume closet for my cabin of youngsters and drawing on face paint like our esteemed pirate colleague, Captain Jack Sparrow. Considering my costume closet was ill-equipped to dress 12 pirates in one day, I watched as campers pulled out items - scarves, striped shirts, bandanas - from their own bags and shared those items amongst themselves. We looked like a bunch of salty dogs by the end of rest period that day, and only spoke in pirate talk from then on. Being the youngest of the Girls' Village cabins, we weren't expecting to be the champions of all things pirate that day, but we certainly had the most fun. As my cabin and I got ready that day, I was reminded that at Camp, you don't have to have everything to be everything.
When I think back on my time at Camp Henry, most of my favorite memories revolve around instances where a camper or staff channeled this attitude of resourcefulness to create something unexpectedly awesome. Take morning activities during themed weeks at Camp, like Christmas in July. As you well know, there's no snow during the month of July in Michigan, but counselors, myself included, always insist on sledding as a morning activity, whether you're slip n' sledding on a soapy plastic tarp on the hill near the old corral or sledding on plastic mattresses down the stairs of Millar. Creating activities like these prioritizes imagination backed by innovation.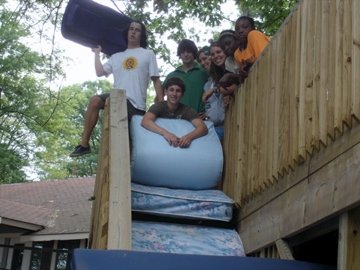 Like slip n' sledding, I definitely can't forget about the time that Jake wanted to make a go of a Camp Henry Rodeo as an evening activity. Us counselors were tasked with coordinating different events from line dancing to barrel racing to lasso practice. At the end of this newfound evening activity, Jake lined up the entire camp on the B-field to make the announce – uh, rather, share that the final event would be cattle roping! We all stopped and looked around at each other. To the best of our knowledge, camp didn't have any cattle. Jake then explained that two staff – Derek Whaley and Todd Boynton – would play the role of the cattle. Derek and Todd would have a ten second head start before the ENTIRE camp was to chase them down and lasso all four limbs together. I stood back and watched as Derek and Todd tore off across the B-field with hundreds of campers in tow. In an instance, dozens upon dozens of kids engulfed them as they disappeared amongst the pile of campers. When the campers cleared away, there laid Todd and Derek, disheveled and smiling.
At Camp, there's never an "I'm bored" moment because we are always thinking about those couple of sticks and that bucket of mud. In today's world, where cheap distractions and entertainment rest at the tip of my index finger, I'm reminded of the value of my experiences at Camp. Camp challenged me to reach beyond perceived limitations and to fill every moment with intention, regardless of where I was or the resources I had on hand. Camp Henry is about taking what might be considered mundane and building extraordinary experiences with the perfect storm of resourcefulness, imagination, intention, and can-do attitude.
---
About the Author: Liz Allard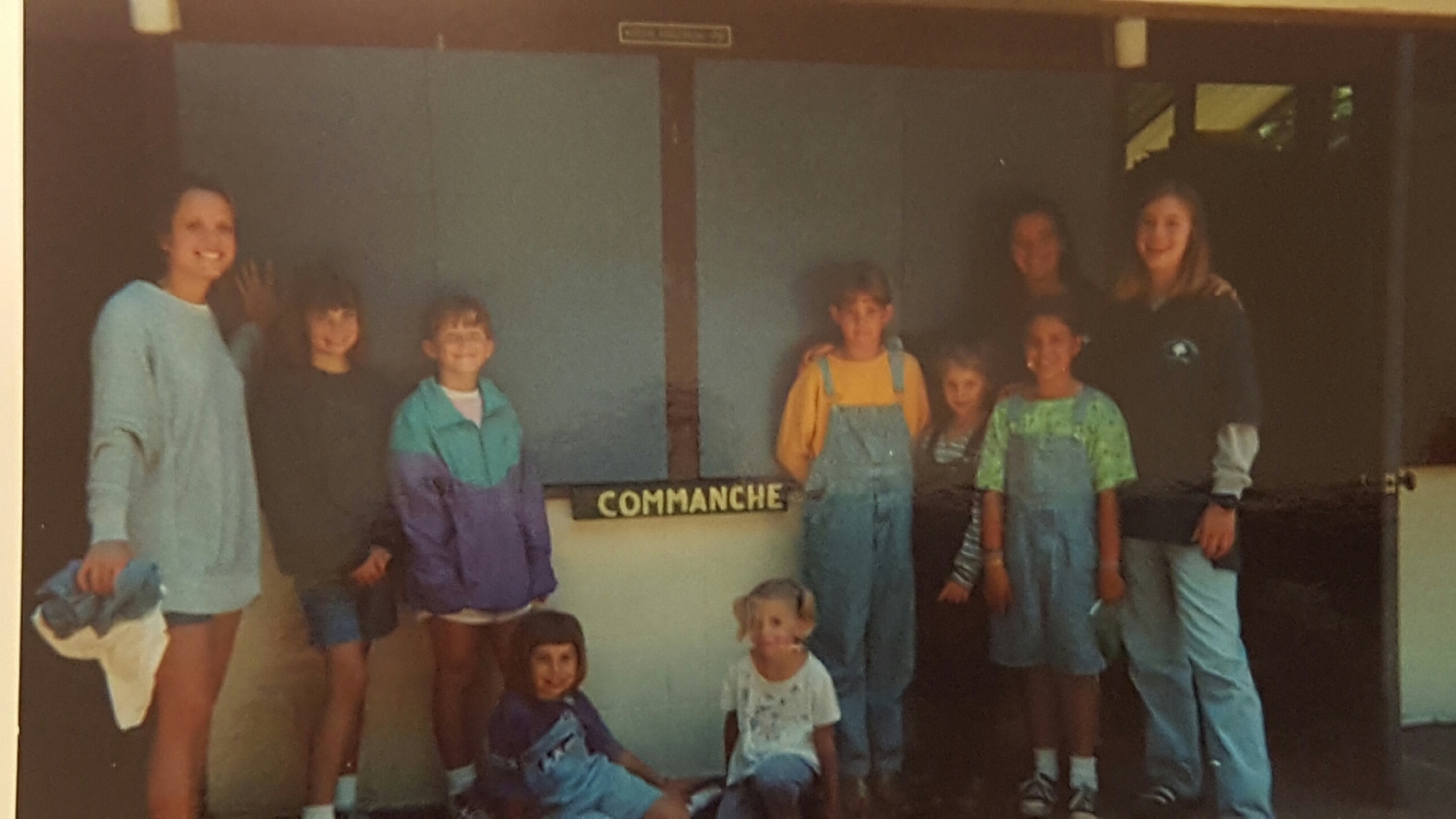 I first attended Camp Henry mini-week when I was eight years old. I remember showing up with the pack my mom used when she worked on a fire crew for the U.S. Forest Service. The pack stood a third of my height above my head and was packed to the brim. I wore my signature jean short overalls all three days and had Emily Clark as my first counselor in the old cinderblock Commanche Cabin. It rained all three days and one of my first memories from those three days at Camp was Jake on stage in Idema Theater screaming the words to "Singing In the Rain," while the rest of us sopping wet campers screamed along with him. When my parents arrived back at camp to pick me up after those three days, I begged them to send me back to camp the following summer.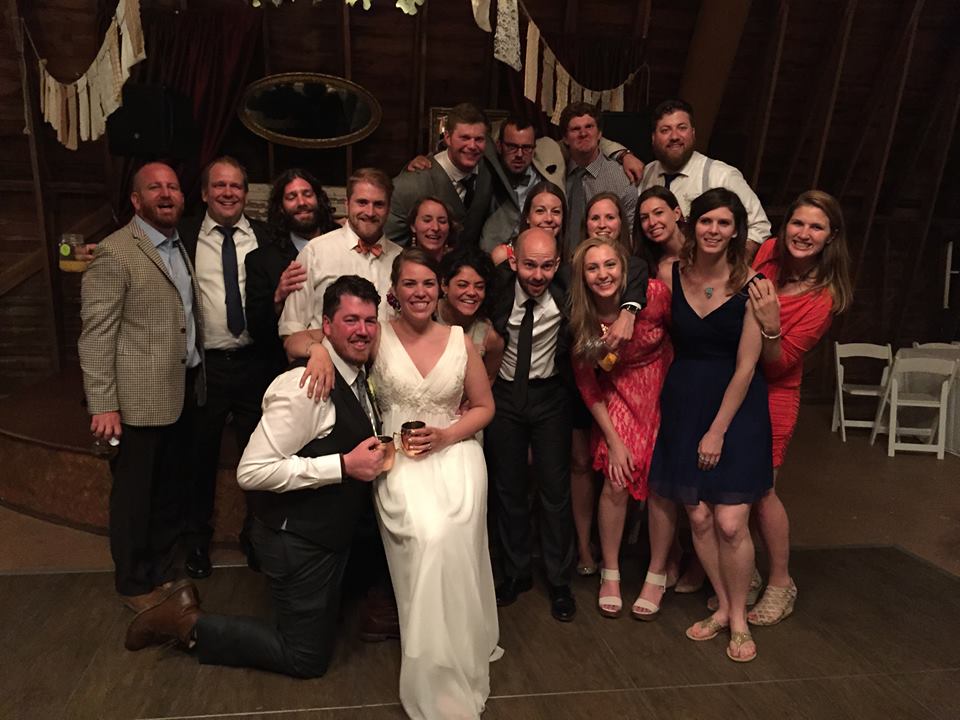 I spent eight years as a camper followed by six years on staff, during which, I met my best friend and husband, Derek. We married in May of 2015, surrounded by our Camp Henry family. I currently live in Alaska, which I first visited when I was 16 years old while on the Teen Challenge trip with Camp Henry. I am excited to help with the same trip this upcoming summer when the new crew of Camp Henry teens visit the 49th state in July.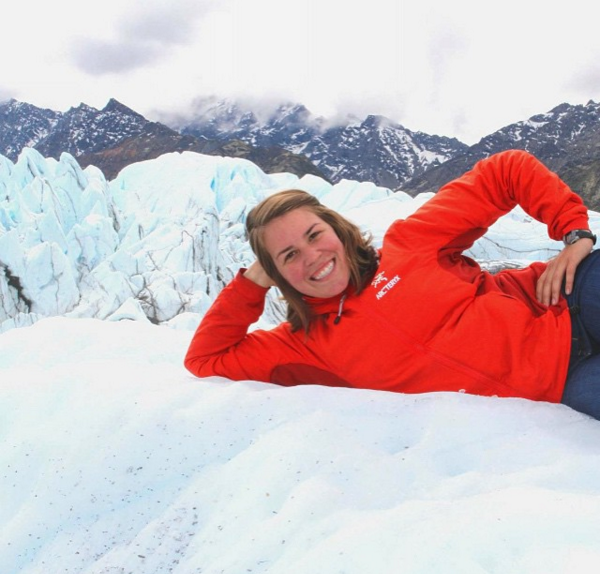 Jake: From a Mother's Perspective
By Wendy Jacobs
Wendy is the mother of Jeff Jacobs, aka Jake, the Executive Director of Camp Henry
---
Jeff, or Jake as he is known at Camp Henry, began attending Camp Henry as a 9 year old soon after we moved to Michigan from Ohio. I thought it would be a good place to meet some new friends...little did I know it was the beginning of a long term relationship with such a special camp. It is a huge part of his life as he has gone from camper to counselor, program director and then summer camp director to now he is the Executive Director! His love for Camp Henry shines through with his enthusiasm for making sure each camper has the best week of their lives at camp as well as his ideas for new programs (like spring break trips and off-site trips for teens), and new facilities. Yet he also retains the old traditions of camp.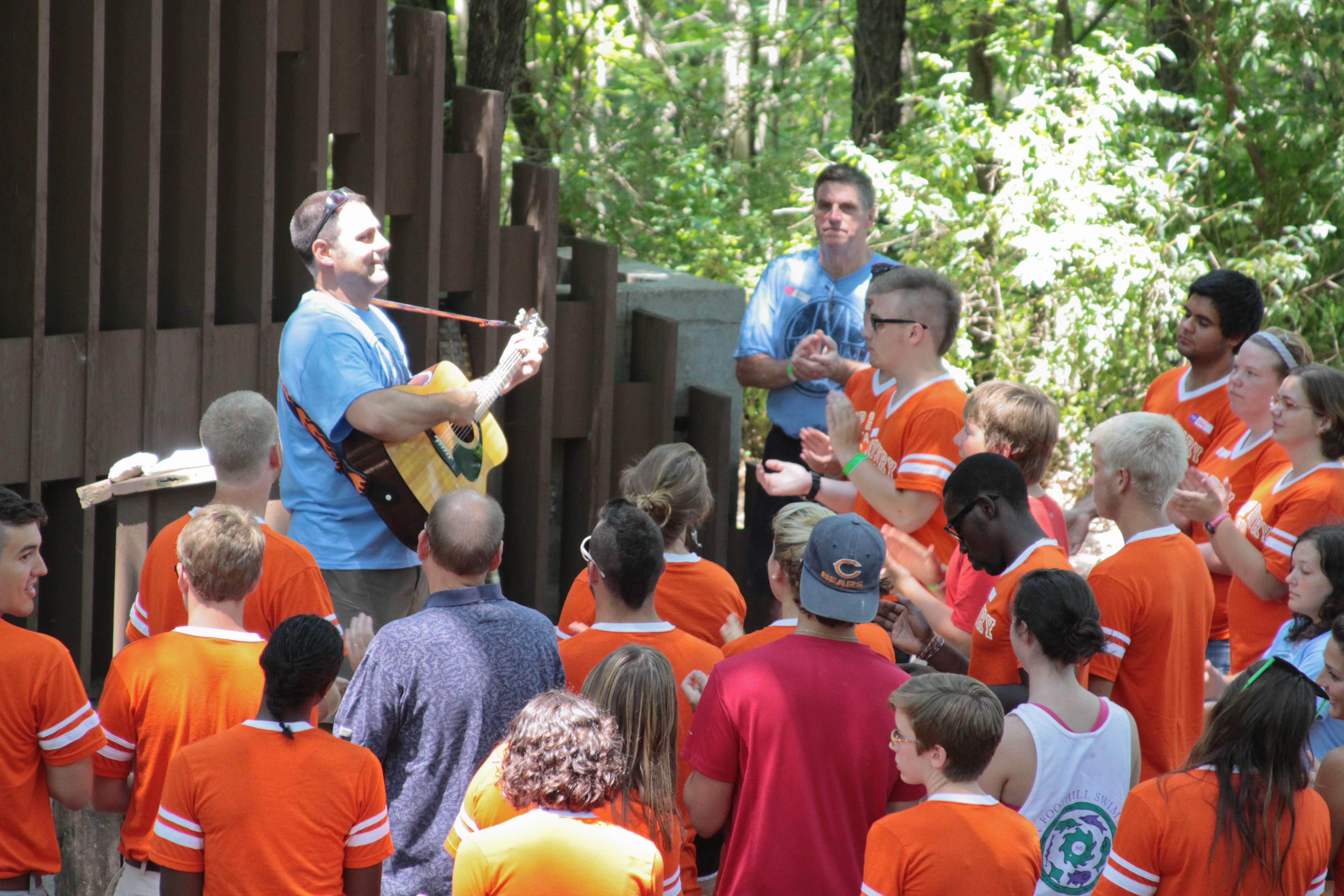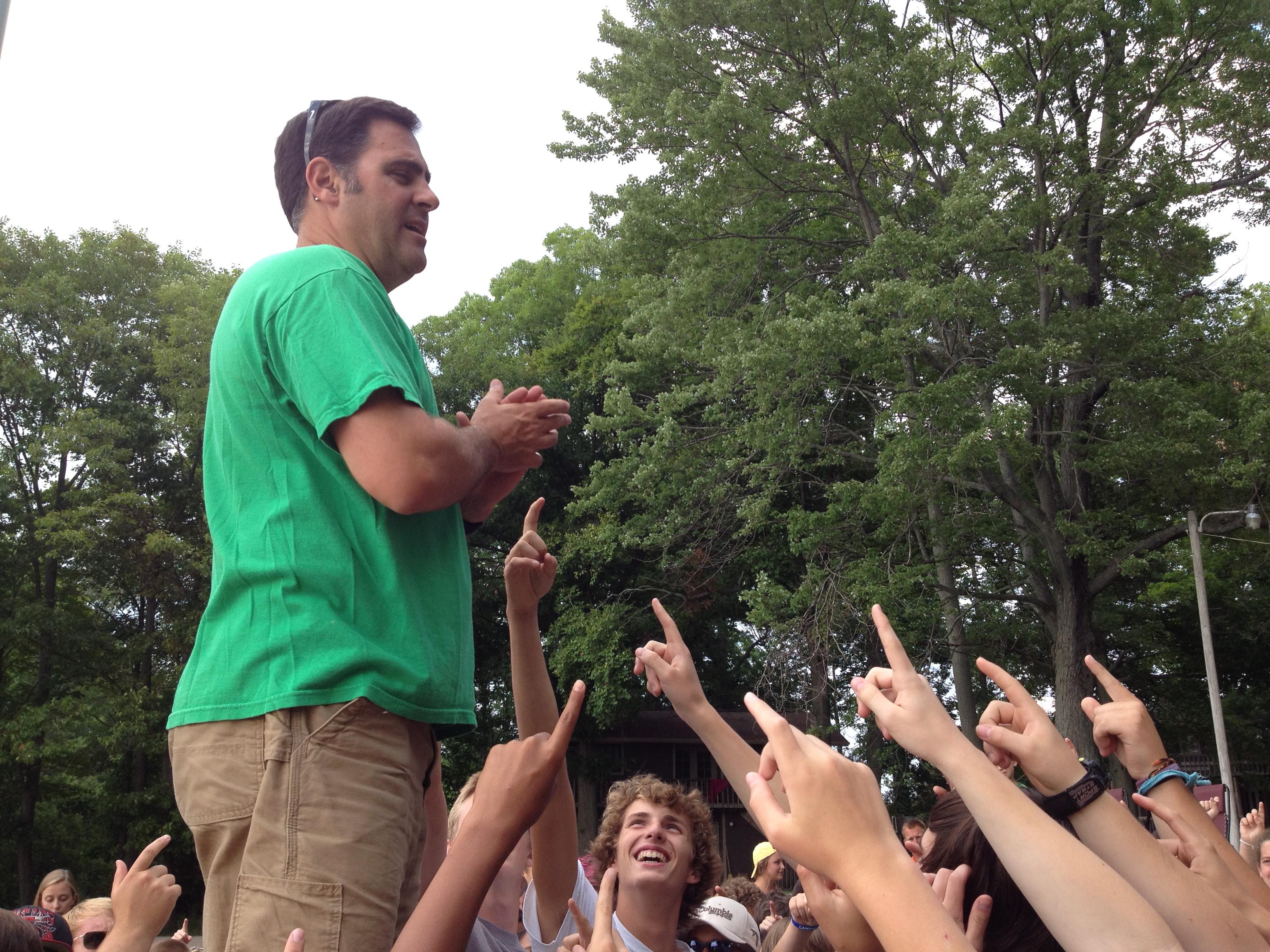 Our car can practically drive to Newaygo and the shores of Lake Kimball all by itself due to the many trips we've made there. Each summer Jake would invite us to come and share the various events, from the Indian campfires, with the horses picking up each cabin of campers, to observing Olympics week, watching talent shows, attending chapel services, to having the experience of eating in the dinning hall, or for special cook-outs, on the deck. During the years that he and J.J. (his wife) traveled from California to run the summer camp, it was a bonus for his father and I to be able to spend time with our grandchildren!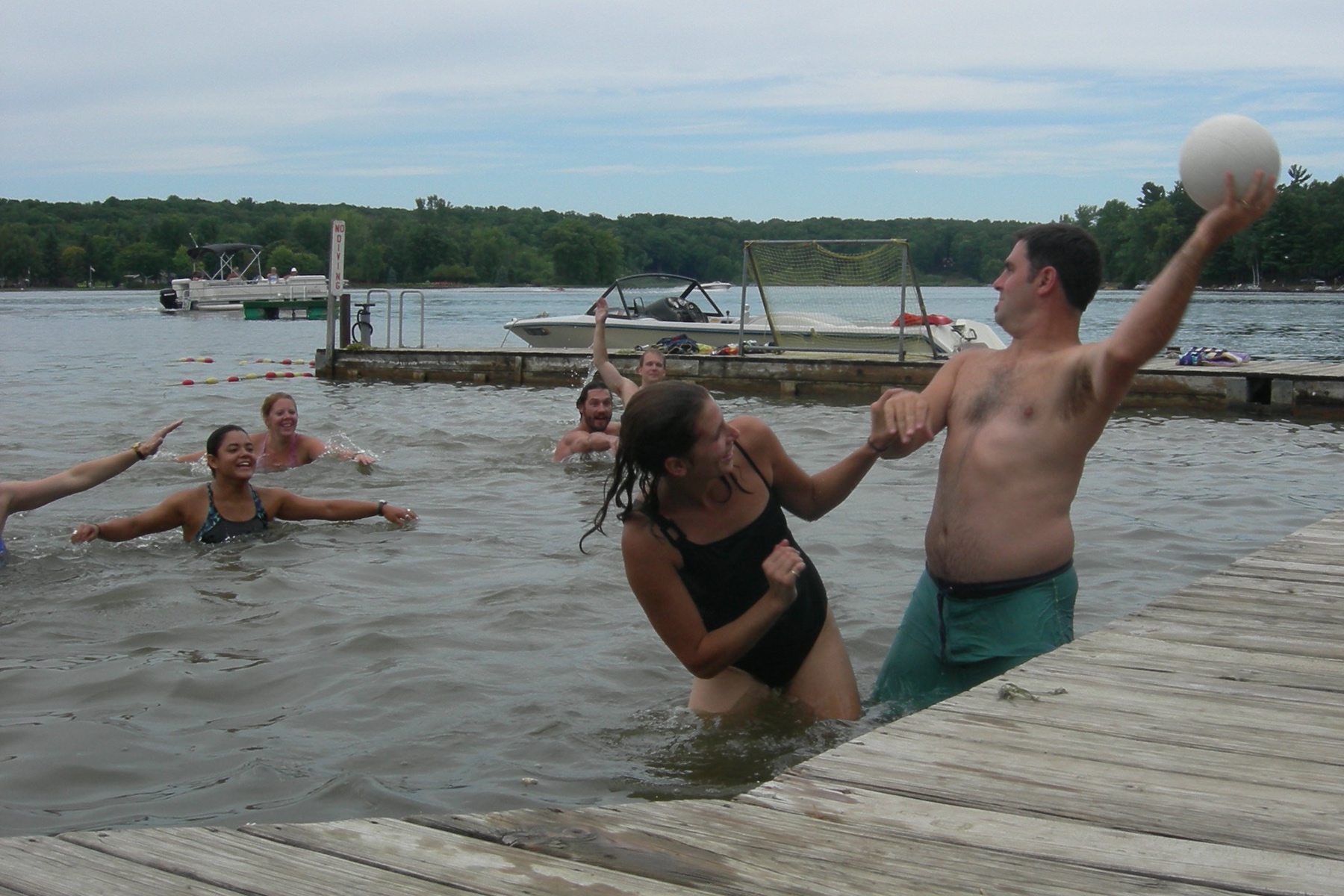 I'll never forget my first experience at the Indian campfire when Jake came across the lake dressed as an Indian and paddling a canoe to begin the traditional campfire. It was all so impressive and you could hear a pin drop. The campers were so engrossed in the ceremony!
Camp holds such a special place in Jake's life that when his first son was born, he was named Levi HENRY Jacobs! And where do you think he was baptized?....at the Camp Henry chapel!
Now he has three sons and what a joy it is for him to have them there as campers! Also now many of his high school and college friends are sending their children to old Camp Henry, old Camp Henry.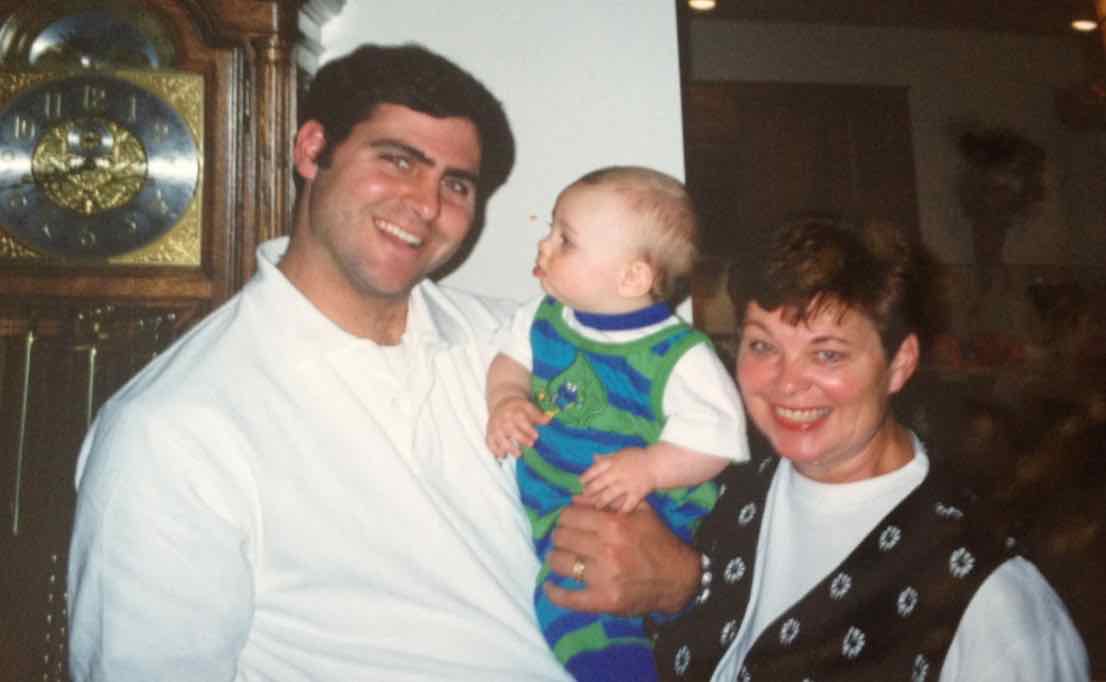 I know I'm a very proud mother, but I think Camp Henry is so lucky to have such a dedicated person at the helm. Jake is so knowledgeable of the camp history while at the same time he has great vision for the future. Any parent sending their child to camp should know that he will be in good hands with such a caring and capable director along with such a competent staff.
 Here's a poem that captures the impact Jake has on Camp Henry.
C amper,counselor,summer director, and executive director too
A well qualified man for the job to do.
M any friends made and a role model too -
P lus camper numbers growing - new cabins going up.
H elping each camper - being the best he can be,
E njoying a week at Camp Henry -
N ature, boats, games and songs
R elating to counselors all week long.
Y es, sad when the day comes to leave ---
But plans will be made to come back once more
To that special place Kimball -right on the shore!
---