Over the past 8 years, we have had over 10,000 campers come to Camp Henry for summer camp and we have nearly 1,200 campers signed up to come this summer already! But why do they come? What is it that makes them want to come or return year after year? You can ask any staff member, past or present, and they can give you a million reasons why. But that still doesn't answer why the campers return year after year. So we asked several campers to tell us what they love about camp and why they keep coming back! We found that regardless of age, each camper fell in love with Camp Henry, tried new things, challenged themselves, made new friends, learned how to work as a team or cabin, and grew as a individual during their time here.
In our last blog post, you had the opportunity to hear from one of Camp Henry's long time campers, Molly Malnor, about the impact camp had on her life and why she loves camp. Here's another opportunity to get to know more about the campers that come to Camp Henry and why they love it. I'll let their responses do the rest of the talking. Here's a quick introduction to the campers, followed by their responses to our questions about why Camp is awesome and what they love the most!
The Campers
Meet Allie Cole
Allie is 6 going on 7 in June and she first attended Camp Henry as a family camper at the ripe old age of 13 months.. The first time she went to camp by herself was when she was 5 and attended day camp. She is very excited to be attending mini week for the first time this summer. Allie found out about camp through her older sisters, Katelynn and Kimberly. Allie's favorite activity at camp is riding the horses.
Meet Katelynn Cole
Katelynn is 9 years old and first attended Camp Henry as a family camper at the age of 3. Yes, she is one of Allie's big sister! She has also been a day camper for 3 years and a mini week camper for one year. Katelynn's favorite activity at camp is skittle skattle battle because you get to eat skittles!
Meet Nadia Bowman
Nadia first came to camp when she was 9 years old. She has been coming for 8 years but she first heard about Camp Henry through her cousin. Nadia has been a camper for many different kinds of camps, from mini week to frontier, water sports, teen challenge and service crew. She is looking forward to her first summer as an AC or Assistant Counselor.
Meet Kurt Swieter
Kurt started coming to Camp Henry when he was 7 years old. This will be his 11th summer on the shores. Before attending Camp Henry, he spent time at his grandparent's cottage on Lake Kimball and couldn't wait to be old enough to come to camp. Kurt enjoys playing the various all camp games and loves a good game of four square.
Meet Catherine Croft
Catherine came to Camp Henry for her first summer when she was 14. She has come back three years in a row and is now looking forward to be an AC. She found out about camp through her friend, Ellie, and decided to come because it sounded like a fun place. Catherine loves going to Chapel every morning and looks forward to nights around the campfire, singing songs and watching silly skits.
Meet Raina Rodriguez
Raina, like Catherine, didn't discover Camp Henry until she was in her teens. But that didn't stop her from loving it! Her first camp experience was Olympics Week and she had a blast! Raina's favorite camp activity is outdoor cooking, making s'mores and hobo pies!
The Questions
What is your favorite morning or cabin activity?
"My favorite is definitely vespers. It gave us a chance to bond with each other along with a brother cabin as well" Raina
""I like the nature hikes, especially the wetland trail" Katelynn

"My favorite cabin activity would have to be on the first night where we all dress up to a theme of our choice. One year my cabin was lumberjacks and another year we all dressed up in rainbow colors." Nadia

"I liked doing water-ski camp. I also love foursquare and outdoor cooking." Kurt


What is your favorite camp song?
"Country roads, Where Have All the Flowers Gone?, Lord of the Dance, Big Yellow Taxi and Washed by the Water." Kurt
"I love the "peel banana" song [banana song] and "frog in the bog" [rattlin bog song]." Catherine *you don't even have to know the name of the song to love it!

"The banana song" Katelynn

"The chipmunk song" Allie

"Sing Hallelujah to The Lord is definitely my favorite" Raina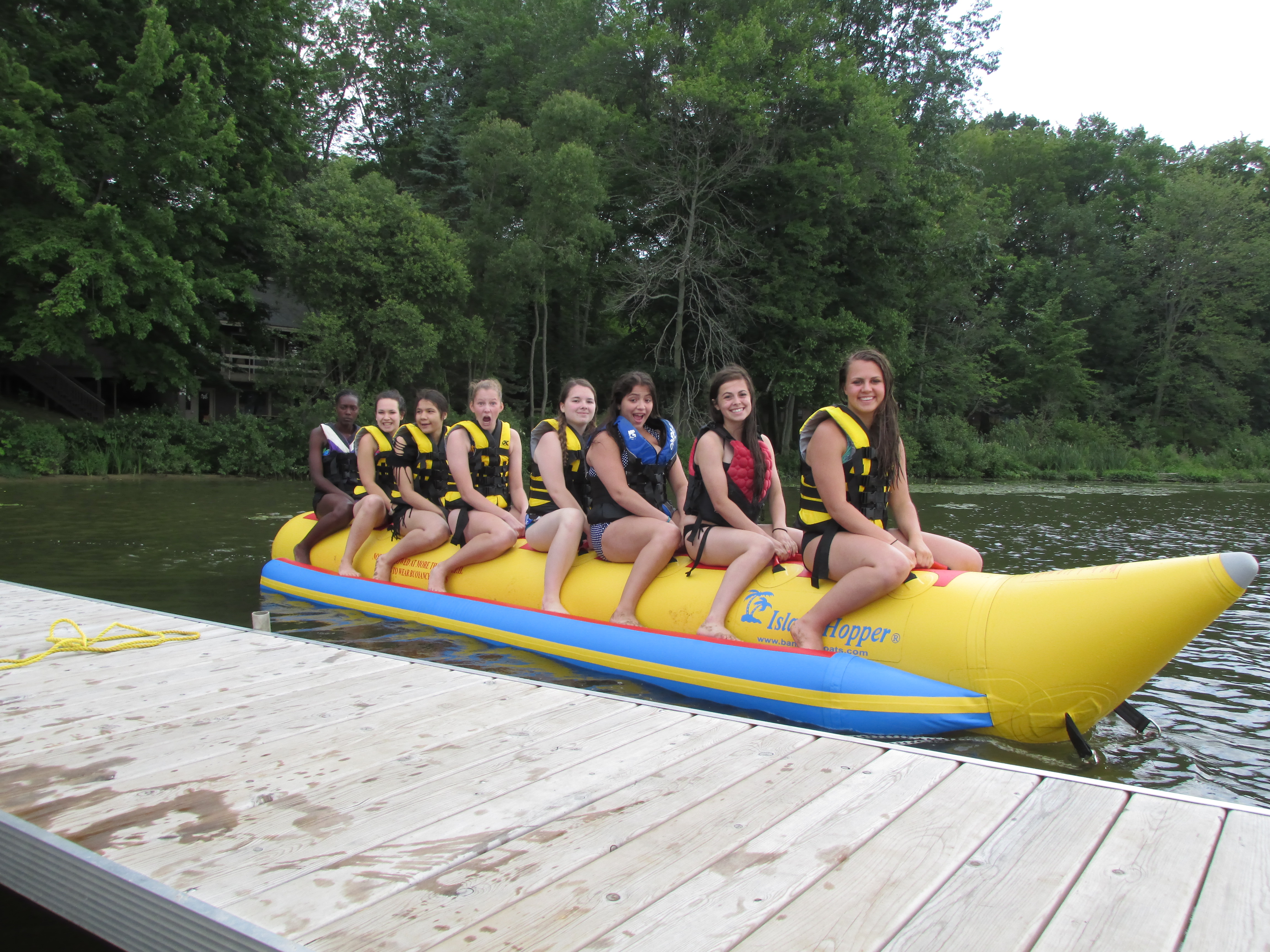 Have you tried anything new while you were at Camp Henry? How did it go? Were you scared or excited to try it? Were you glad you tried it?

"Banana boat and slide on the raft. I was scared but after not so scared, but still kind of scared. Going down was fun but going underwater was scary." Allie

"Every year I try something new at Camp, from doing my first lake swim to walking blind folded along the high ropes course. It is so amazing to try something new at camp because you have so much support from your cabin mates and staff. It is very exciting to try something new. At first I was really hesitant but once I took my first stroke or my first step, I knew I could do it. My favorite new thing I tried at camp was going down the zip line on the high ropes course for the first time. I was so scared at first and it took some time, but with my cabin and counselor supporting me, I knew I could do it." Nadia

"The high ropes course. I was always afraid of heights, it was a great to challenge myself and know that my friends and counselors were supporting me. After I was done it was great because I felt as though I had conquered one of my fears." Kurt

"I tried the ropes course and the zip line. I was very scared because I'm not a huge fan of heights, but I decided that I would regret it later if I didn't try it. I was so glad I tried it because it ended up being a lot of fun and it made me happy that I was able to overcome my fear." Catherine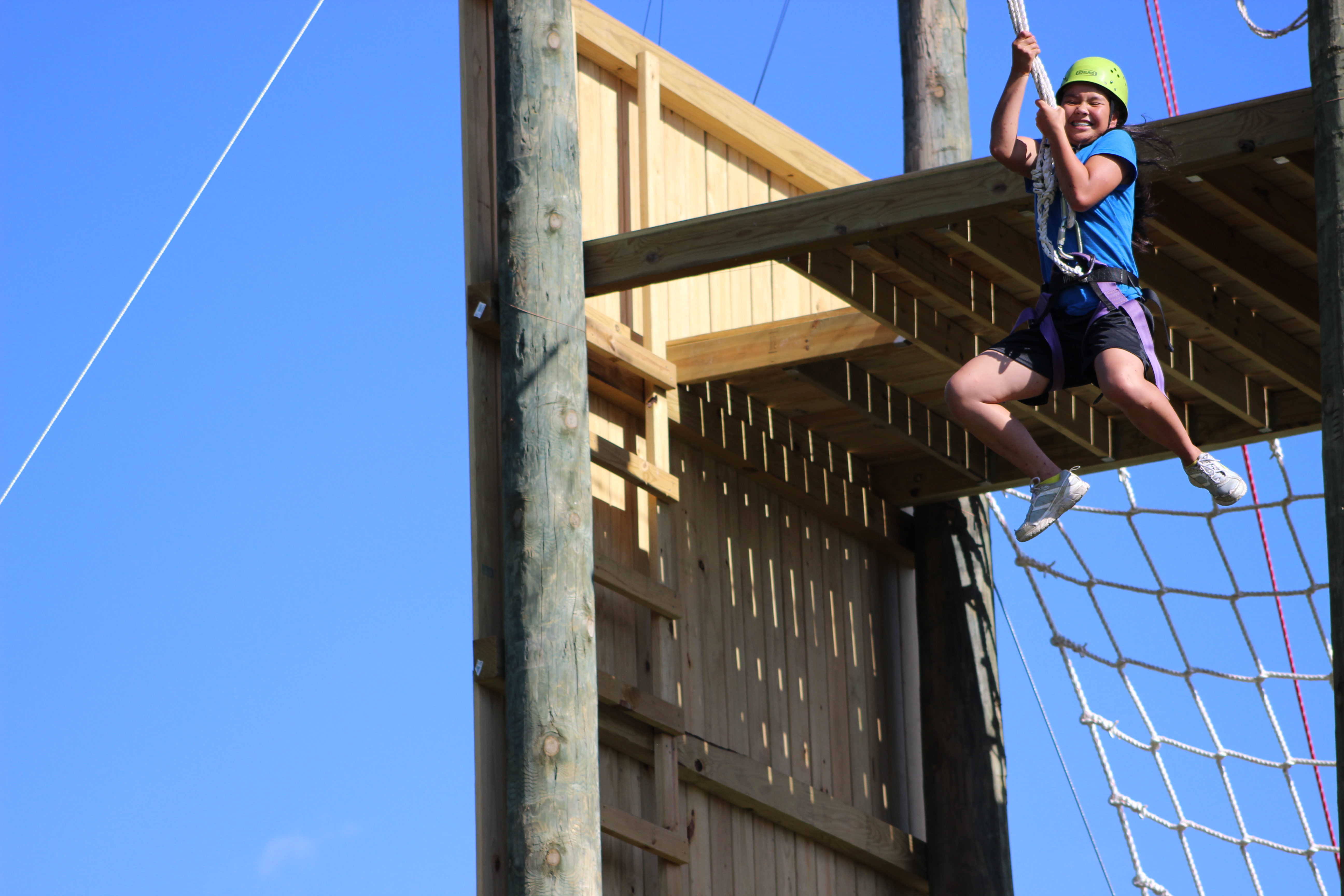 What is your favorite food at Camp?

"Pizza, chocolate milk, and ice cream on the first night." Kurt
"Quesadillas!" Allie

"The outdoor cookout burgers!" Raina
"My favorite food at Camp is the French toast." Catherine

Who do you look up to the most at Camp Henry? Why?
"I look up to the counselors the most because they relate well to the campers and always know what to do when there is a challenging situation." Catherine
"I look up to Jake or Kelly the most and I look up to them because they always know what to do and they are really fun." Katelynn
"Who I look up to the most would be the counselors and the staff at Camp because all of them are so nice, patient, and selfless. They are the prefect role models to follow. I think those are ideal qualities in a good Camp counselor." Nadia

"Probably Kirty. Everyone loves her and she loves everyone. I've only had 2 weeks with her at camp but she has definitely inspired me." Raina

"Claudia the AC, because she is fun and she likes to play with me." Allie
"David. He's a great guy, he's interesting, he shares great stories and his faith. It is cool because even though he is in England, he still is looking out for me, or sending me a message every once I a while. He's always there to talk to. I really look up to him, and want to have a positive influence on campers lives just as he did on mine." Kurt
What is your favorite evening activity?

"Capture the flag, I enjoy the all-camp games." Kurt
"My favorite nighttime activity would have to be PJ sing. It's so much fun because we all just get to sing and dance to our hearts content." Nadia

"My favorite nighttime activity is the campfires because I like the songs we sing and the skits we get to watch." Catherine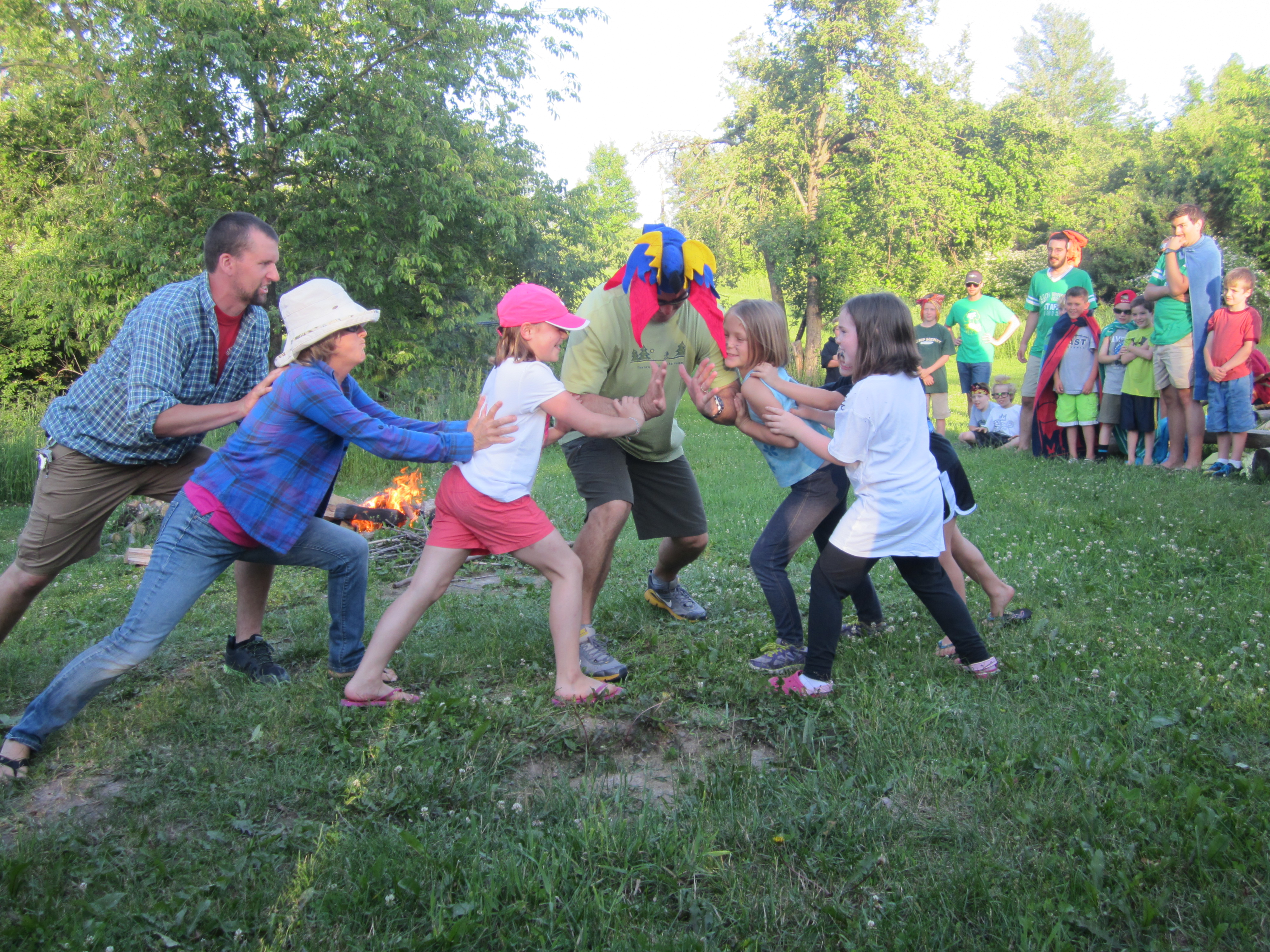 If you had the opportunity to tell a brand new camper something about Camp Henry, what would it be?

"I would tell them that they just found their second home & they'll never be the same. Especially after the sacred ceremony on the last night or the beach bonfire if you do Olympic Week." Raina

"I would tell them my favorite things about camp horseback riding or swimming and what they get to try." Katelynn

"If I had the opportunity to tell a brand new camper something about Camp, it would be, to be your inner crazy self and don't be afraid to make mistakes or try something new. Camp Henry is a place where you can be yourself and no one will put your down for it. You can be crazy and others will be crazy with you." Nadia

"Try new things, go out on a limb, and enjoy every second of it." Kurt

"I would tell them that they are going to have an unforgettable week full of adventure, laughter, friendship, and fun" Catherine

"I would tell them that it is lots of fun." Allie

Do you want to work at Camp Henry when you are old enough? And if so, what job at Camp Henry would you like?
"Yes, I would want to be wrangler" Allie

"Yes, I would be an Assistant Counselor" Katelynn
"I would love to be a counselor, I always looked up to my counselors and admired them. I can say they have all influenced me to be a better person, and I would like to do the same for campers." Kurt
"I would LOVE to be a counselor if my future college schedule allows that to happen. I've loved my counselor and they're inspired me. I want to be able to do the same for other kids!" Raina
"I would definitely love to work at Camp in the near future. It would be so much fun! I think any job at camp would be great because no matter what job I would have, I would still be at Camp and be surrounded by a loving family." Nadia
What was your favorite part of going to a specialty camp?

"I did the [Teen Challenge] trip to Alaska in 2012. It was a life changing experience and I was able to share it with my best friends. It was cool because before the trip we had a meeting a to talk through the itinerary and meet everyone. Everyone knew everyone through other camp related experiences, but there were two girls new to Camp Henry. Before the meeting was over it was like these girls had been to camp for 10 years and they really meshed with the group. By the end of the 2 weeks we were all so close." Kurt
"My favorite part about going to these camps is participating in the activity for the week and meeting new people who are also interested in the same adventure as you are. Like riding horses for a whole week and wake boarding everyday. Teen Challenge is also really great because you get to experience new places like South Manitoulin and Pictures Rocks. Service Crew is really fun too because I get to give back to a place that has already given me so much." Nadia

"I have been a part of a teen challenge camp. My group went to West Virginia for a white water rafting and rock climbing adventure. My favorite part about going to the camp was meeting new friends, overcoming fears, and the crazy fun car ride to West Virginia and back. I also cooked a cake over a fire for the first time!" Catherine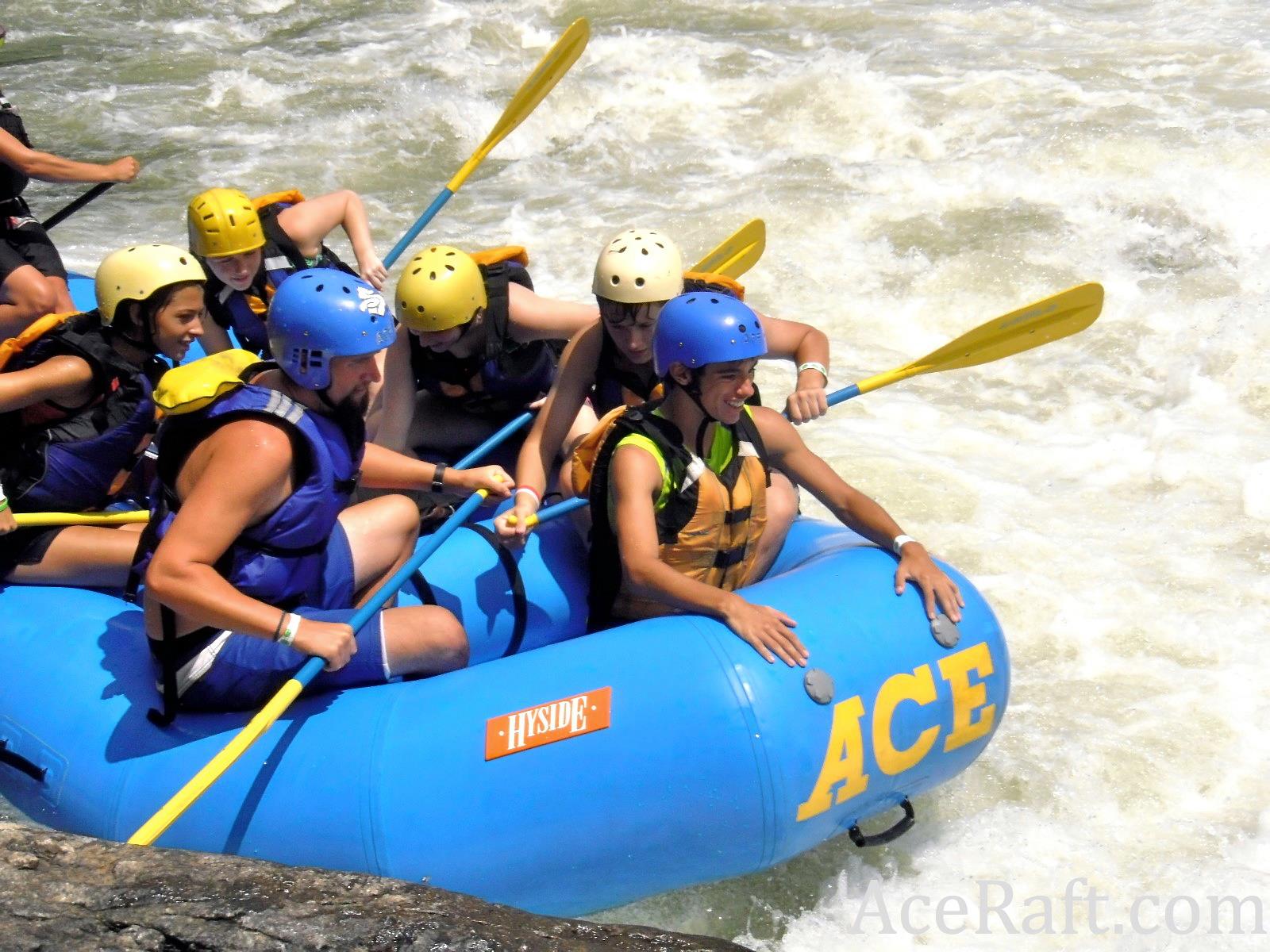 If you had the opportunity to help other kids get to Camp Henry, for example, participating in IronKid, would you help?
"Yes! And we are doing IronKid" Allie and Katelynn
"I would definitely love to help other kids get to Camp because I think every child should experience such a wonderful place. It's a place where everybody can goof around, have fun, and make new friends. I would be very interested in participating in IronKid." Nadia

"Yes, I think everybody deserves to go to summer camp. This is the reason I am doing Camp Sunshine, I want to give people the opportunity to go to camp who are not usually able to."

"I would definitely help other kids get to Camp if I had the opportunity. I would help because I don't want anything to get in the way of those kids missing out on the amazing Camp Henry experience." Catherine

"I would! I've been a kid who has applied and used scholarships because my mom couldn't quite afford camp for both my brother and I." Raina

If you were in charge of Camp Henry for one day, what would that day look like? (You get to choose what everyone does!)

"Well, it would be a little bit of each activity that you can get to. I would cram as much camp in as I could!" Katelynn

"We would play capture the flag and have night chapel with all the classic songs." Kurt

"The only thing I would add to a perfect Camp Henry day is a huge paint fight!" Raina

"Lots of horseback riding and swimming" Allie

What is it about Camp Henry that makes you continue to come back each year?
"The thing about Camp Henry that makes me continue to come back each year is the atmosphere. The people I'm surrounded by give off an energizing vibe. Everyone is respectful and cares about one another. I learn something new every day when I'm at Camp Henry, and I have a blast doing it." Catherine
"I keep coming back to Camp Henry because I love having fun and meeting new people. And Camp is the perfect place to do that. It's also a good place to go and be a part of nature and see shooting stars in the clear sky. I enjoy singing, playing games, and swimming in the lake. Everything about Camp is just so wonderful; the people, the food, the activities, etc.." Nadia

"There is just something about it I can't put into words that makes it different from any other place in the world. So many different types of people coming together to share the best week of their lives in a happy Christian environment. There is just something really special about Camp Henry." Kurt

"It's my second home and I'm homesick for it all year. I can't explain why." Raina
Well, there you have it, straight from the campers! Who's excited for summer 2014?! We are! We hope you are, too! Spots are filling up fast, so if you haven't signed up for Camp Henry yet, better do it now!
If you are interested in learning more about Camp Henry, you can give us a call at 616-459-2267, continue browsing our website, take a look at our 2014 brochure or check our Facebook page! Here's a link to our summer 2014 promo video as well!