Go on Camp Time
By: Amy VanHaren
Summer has officially arrived and with it a familiar five senses attachment to summer camp. Like having an invisible thread, or a piece of yarn from a get-to-know-you cabin activity on my finger, there is physical connection to Camp Henry that arises every June when a new batch of counselors gather on the A-field for Staff Training. It's as if those of us who have been there before are still part of that circle, still linked to the adventure of what lies ahead.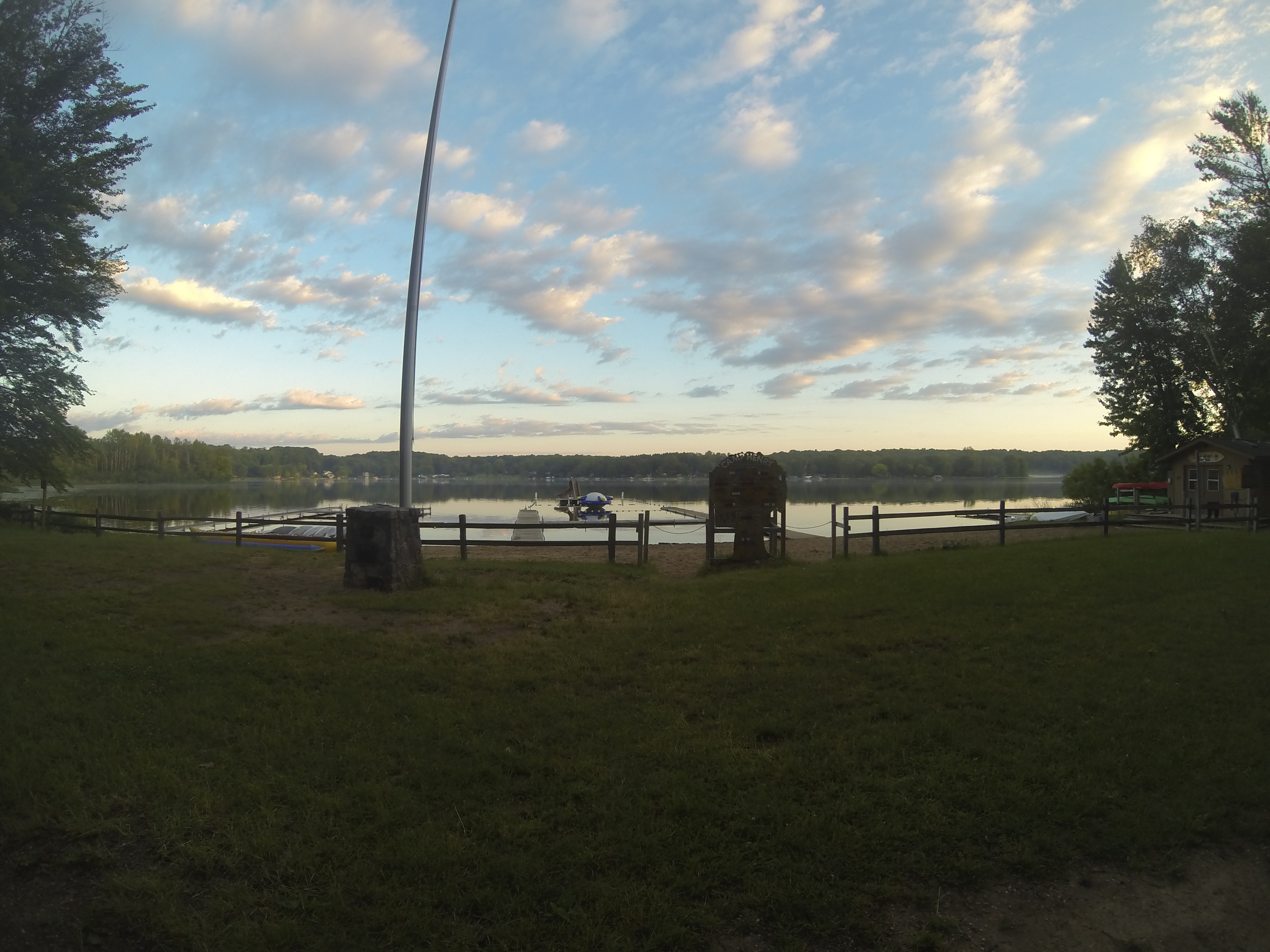 I'm right back in the dining hall when my daughter slams the door on our screen porch or sings "Bringing Home My Baby Bumblebee" in the back seat of the car. I catch the smell 0f camp in the air just before a rainstorm, on my swimsuit as it hangs, drying out from the lake, in passing the horse barn up the street. The sight of dew on the grass and a light foggy mist over the backyard at 6 a.m. make me feel like I'm walking to an early staff meeting instead of work, with the flag pole trivia questions running through my head rather than the day's marketing meeting agenda. I feel camp anytime I sit on wood in the evening - whether a dock or a log - and am always taken right back to a floating campfire or the opening campfire or better yet, a sacred ceremony.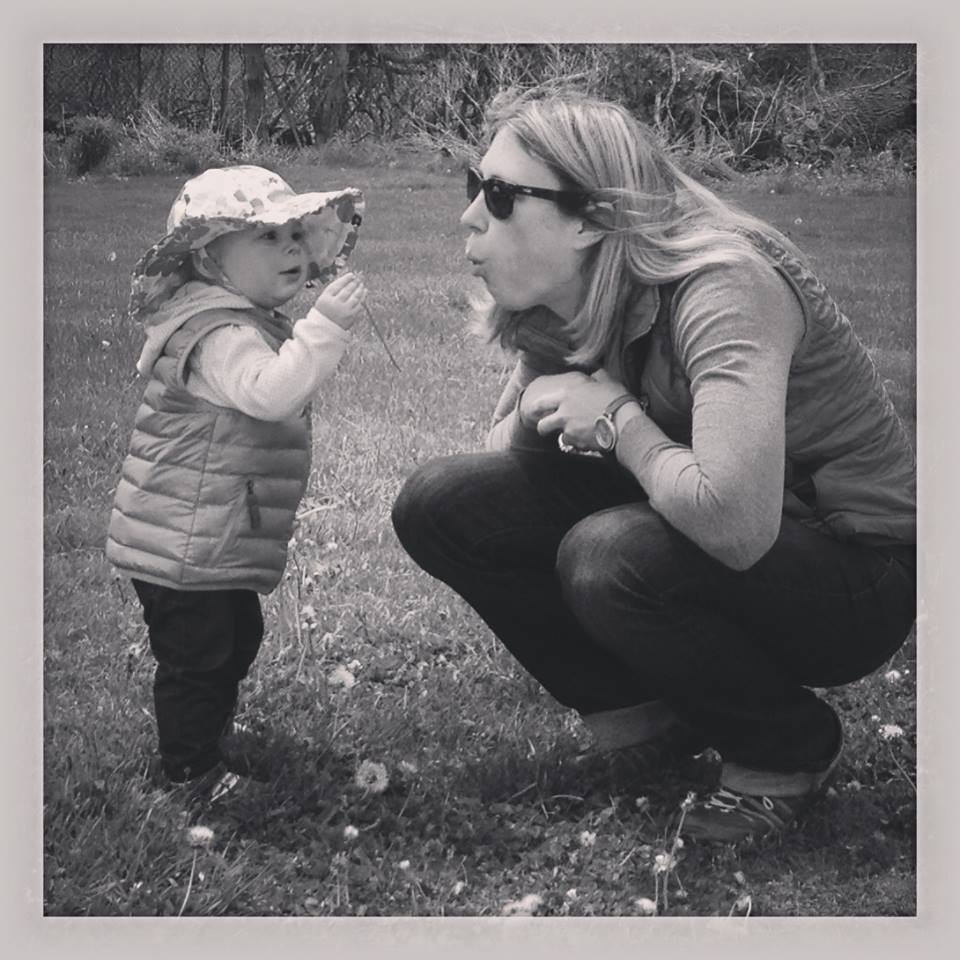 I feel camp on Friday nights and Wednesday mornings and Monday afternoon rest periods. I still feel the excitement of check-ins and the bittersweet emotions of Saturday send-offs.
There is nothing, however, that makes me feel camp's roots in my soul more than Sunday evenings. For that's when time shifts, when the week begins, when you slip into your own world to let the magic of camp really set in.

Sunday nights are when you go on Camp Time.

On Sunday night on the shores of Lake Kimball, after you've made it through the introductions and the swim test and the elevated noise of the dining hall, and you are tucking into bed to the sound of mosquitos buzzing, and bunk beds creaking, and the security of knowing your counselor is present in the room this time, you turn your clocks back one hour. Really, you do. You ignore the laws of time zones and the master universe and the rhythms of the world everywhere outside Camp Henry and you make time work for you.

You gain an hour of sleep and awake to the sense that this place - this camp - is really something special. This place has gumption. And you, by proxy of being at camp, have gumption too. You, are something special too.

This shift happens week after week and there are many times when it seems crazy to go forward and back, and forward and back - especially as a staffer when it affects your sleep (and a little of your sanity).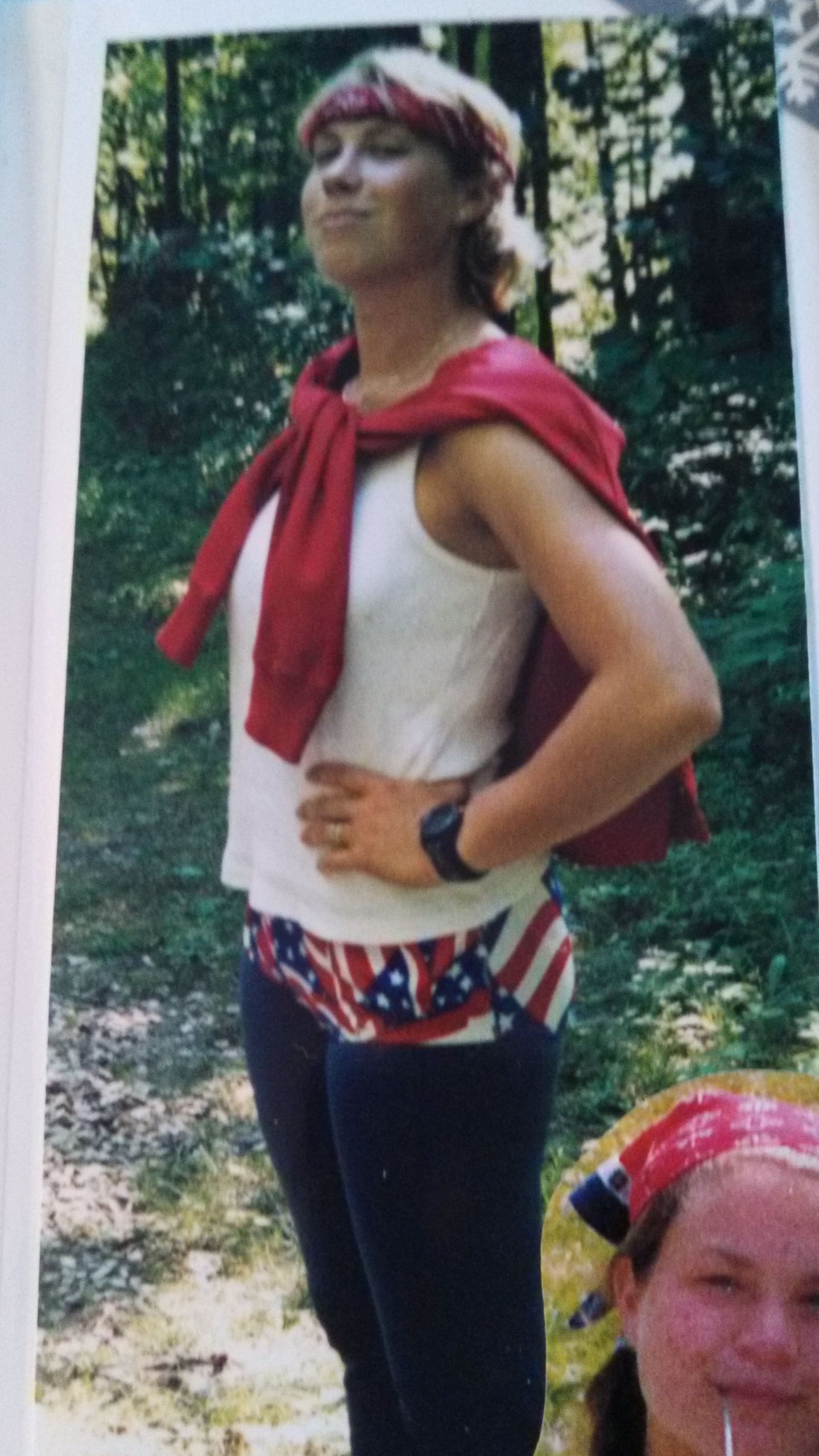 But always, there is more light in the morning. More dark in the evening. There is the magic of knowing you are all in a pocket, in a place, where you control what happens and even time bends to your whim.

I've come to see that that actual time shift, is really just a metaphor for the true shifting that takes place at camp. The way you subtly let yourself take more time to laugh. To sing. To sit on the H dock and watch the sunrise. To make friends with people you wouldn't think to in a normal time zone. To make way for being silly, spending hours in conversation, getting absorbed in a friendship bracelet or a frog hunt, or a song chorus that never ends. (Down her nose, to her toes! And she whistles while the...)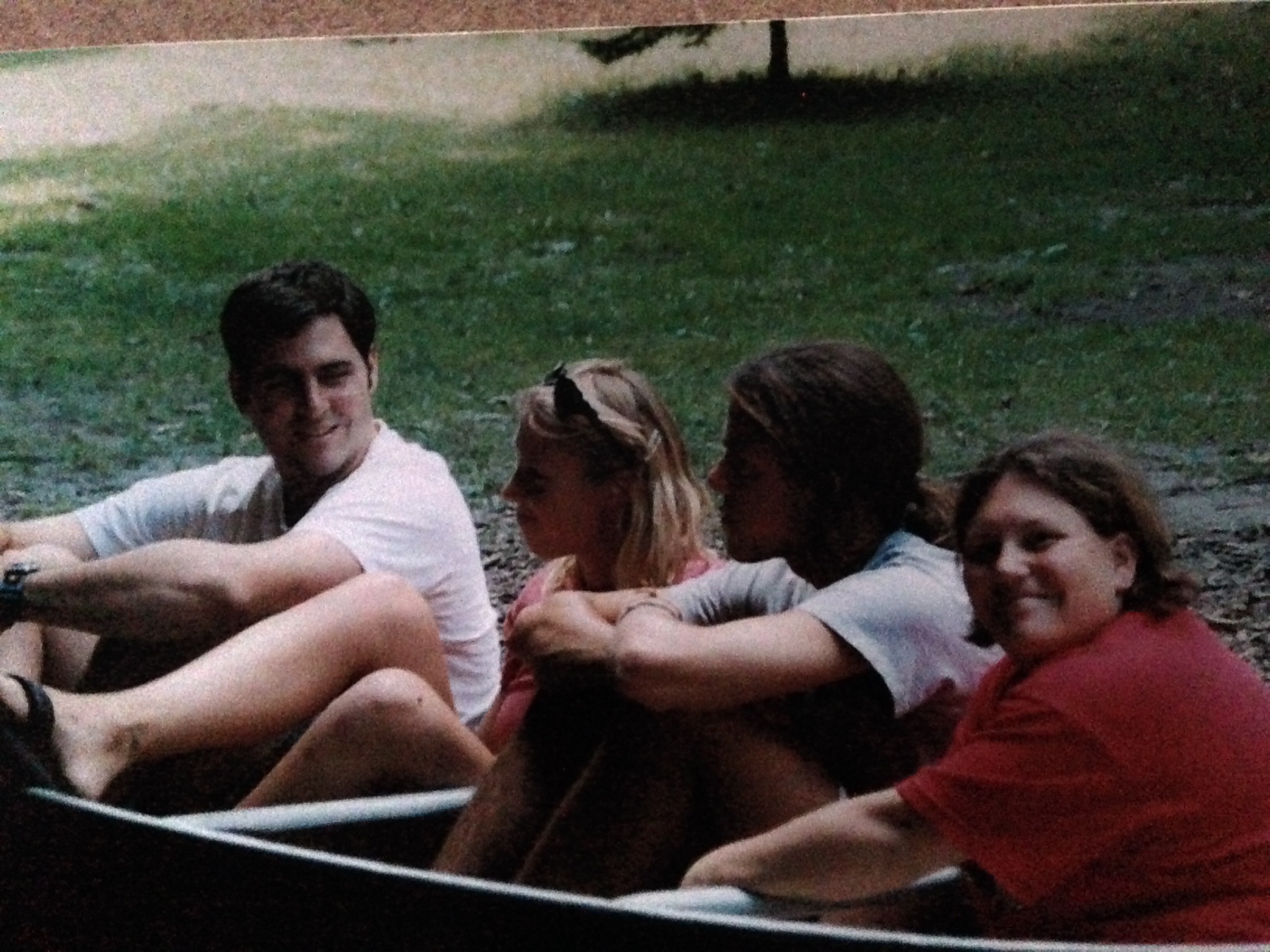 Camp Time is not about the numbers on the clock but about the state of your heart. The subtle shift in your soul. The surrender to an experience that demands your attention so completely and rewards you so richly.

I'm now removed from Camp Time, and not turning my numbers back on Sunday nights anymore, but along with the invasion of the senses, that feeling of Camp Time returns for me every year. I notice that stirring to slow down and make a little more time for the things that matter in life.

To appreciate people; to sit down at dinner and connect. To linger over the sunset and play certain songs on repeat. To turn off the technology and constant "to do list" and just be present in the moment. To call old camp friends.
Camp Time has taught me that you can control where your energy goes. It's taught me that deep relationships happen when you commit yourself fully to a moment, when you listen completely to a person and see them - really see them. It's taught me that tent time is the best time, forks are for dorks, the chocolate skit is always a bad idea - but hilarious to kids, that the boy loved the tree, and that you actually can jump off the green raft/play a guitar in front of people/ride a horse with no saddle in the dark/wear a bathing suit and tennis shoes (only a bathing suit and tennis shoes).

Most of all, Camp Time has taught me that the moments move too fast in life, that you must embrace them. Because whether in Michigan or Maine, not even controlling the time can make it stop.
I feel fortunate to see so many others connected to camp still living on Camp Time. Just this past week, there were signs of it all around me: The ten lovely camp ladies I adore sent a fury of emails and photos getting ready for the newest Hanks Honey's weekend, Sarah Hammer sat next to me on my porch, Nick Koster taught his new family to wakeboard for the first time, and the inspiring Trout Steak Revival - made up of Travis, Casey, and Will - three guys who used to play guitar at PJ sing - won the Telluride Bluegrass Festival! And that's only the beginning. I see Camp Time taking place all around (mostly in my Facebook feed but thank goodness there is a place to remain visually connected!) and it makes me feel as though I'm still back in that pocket, in that time warp.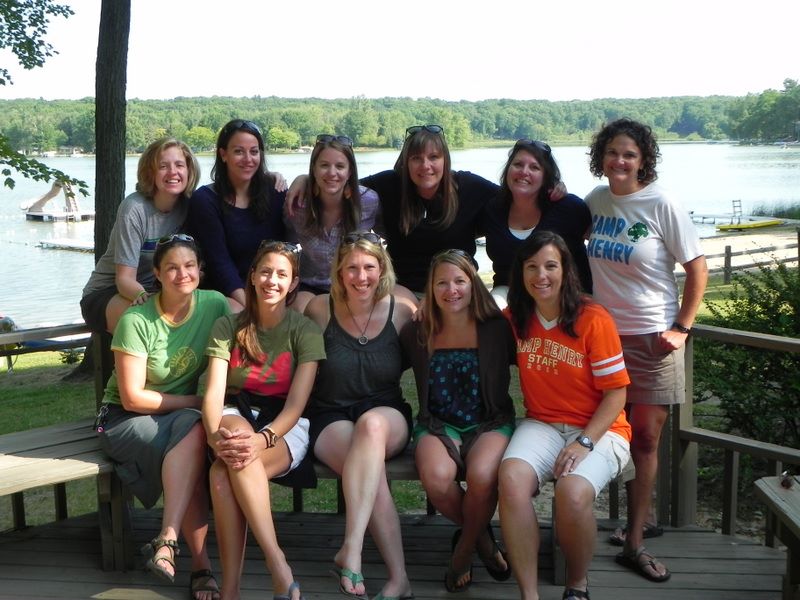 I hope to never go off Camp Time. I hope to teach my daughter that special camp time spirit and to continue to help Camp Henry give others the gift of Camp Time. I hope to keep it going until I am out of time.

Maybe, if like me, you feel the pull, we should all turn our clocks back once a year, during the first week of camp, and imagine we're in our bunks, trying to sleep without fear and overrun excitement, and wake up knowing we have an extra hour and a whole week - a whole summer - of magic before us.
Amy VanHaren is becoming a regular alumni blog poster for Camp Henry. She wrote a post for Camp back in March 2014 that you can't miss, check it out here. Amy is the owner of VanHaren Creative, a social media marketing company. Her first visit to Camp Henry was for mini-camp at age 7. She stayed in the Ottawa cabin and had so much fun she came back for an entire week that summer and kept coming back every year until she turned 17 when she went on work as Camp Henry staffer for 10 summers. Stay tuned for more posts from Amy and keep up with her on Facebook and Instagram.
Camp Sunshine at Camp Henry
Next Sunday, June 29th, Camp Sunshine will arrive on the shores for their first summer at Camp Henry. Maureen Sullivan from Camp Sunshine took a moment from preparing for Camp Sunshine at Camp Henry to reflect and share what Camp Sunshine is all about.
"In just a few short days Camp Sunshine will host its first session at Camp Henry. Established in 1983, Camp Sunshine provides an opportunity for people ages 12 – 50 with special needs to experience summer camp just as other children and young adults do.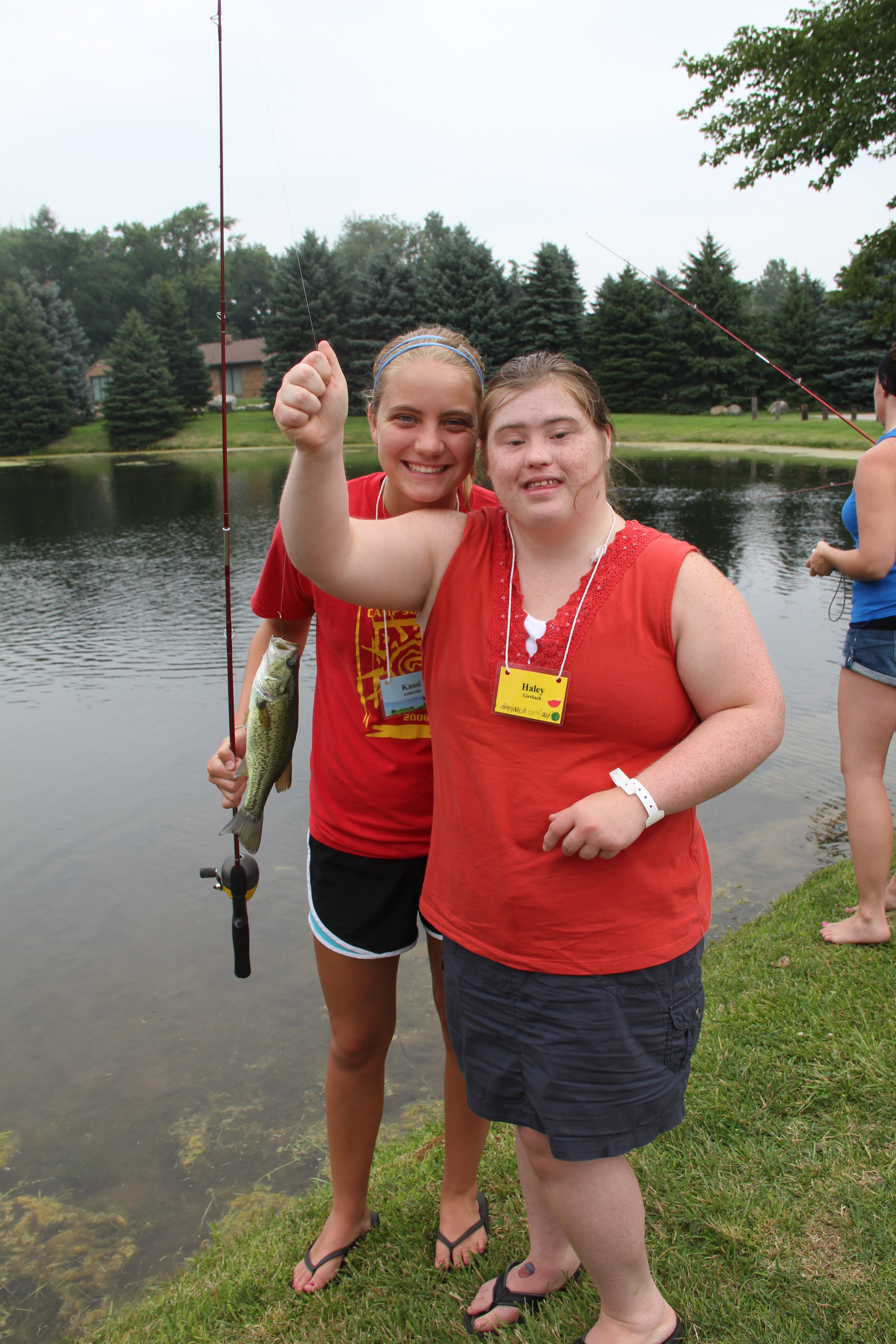 Camp Sunshine is fueled by the hard work and effort of more than 500 volunteers each year. When campers arrive for the inaugural session at Camp Henry on June 29 they will be greeted by a familiar group of volunteers. These friendly faces belong to former counselors who will be returning to serve in a new capacity. The Professional Alumni Group (PAG) is made up of young professionals who have previously served as counselors at Camp Sunshine and are ready to serve in a greater capacity.
All of the PAGs have at least three years of experience at Camp Sunshine, and some up to seven years. They are college graduates whose experience at Camp Sunshine impacted them personally and professionally. Their professions include teachers, social workers, nurses, business professionals, coaches, youth group leaders, athletic director, among others.
For some people who associate Camp Sunshine with a particular location, having camp at Camp Henry is scary. They think it won't be the same. The PAGs will provide continuity from Camp Blodgett to Camp Henry and help to carry on the traditions of Camp Sunshine in its new location. They will embody our vow to be "one camp in two locations." They will serve as mentors to counselors, facilitate cabin team building, provide breaks to counselors and much more. In addition to their leadership role, the PAGs will also serve as trouble shooters, taking charge to do whatever is needed during camp.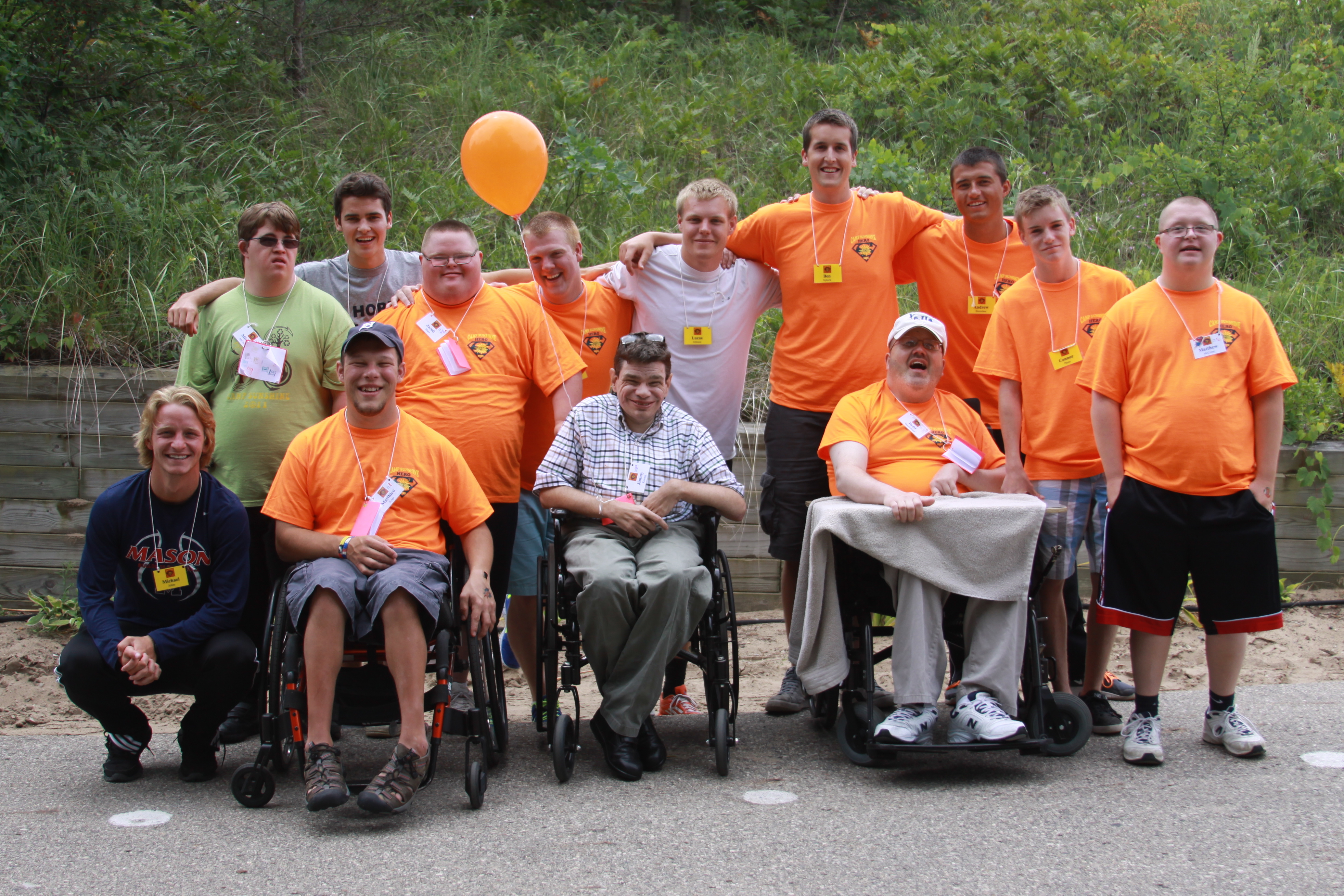 What would motivate a 20-something professional to take vacation from a new job to volunteer at Camp Sunshine? The depth of emotion one feels about volunteering at Camp Sunshine is best summarized by this male PAG:
Camp Sunshine is not a place or an event to me. It's more of a state of mind. We are being tasked to create an environment that a very special population can enjoy things they don't typically get to experience. I chose to be a part of Camp Sunshine many years ago because I wanted to help make a difference in one special person's life, yet I experienced a profound change in mine because of them. This special population can change you; they will grab you and not let go; they will relentlessly welcome you every morning with an "I love you." They can give you energy that you never thought you had; you will do things with and for them that you never thought you would do; and most importantly, the memories of them will be with you forever.
Those who volunteer at Camp Sunshine have the privilege of seeing life through the eyes of a person with developmental disabilities. This experience increases tolerance and personal awareness, reduces stigmas, and creates lifelong friendships. Here's how a female PAG describes the experience:
I think that Camp Sunshine as a whole is inspiring. The people who volunteer their time are one thing, but the people who come--the population we serve--THEY are the inspiring ones. Being able to see, even just for a brief few days, the world through new eyes is so humbling. Each year, I leave camp exhausted, but blessed; feeling humbled to have been able to sacrifice a sliver of my time to friends who cherish those moments all year long.
I usually shed some tears at camp--exhaustion, frustration, love, and happiness. I am always in awe, each year, of the ability of the individual campers to get up each new day, and teach me something new about the world; to show me something I hadn't seen before. To teach me that life is to be celebrated, enjoyed, and cherished with enthusiasm. To teach me to look challenges square in the face and meet them head on. Life is coming at us, and we can choose to close our eyes and ignore the ugly parts and the challenging moments or we can choose to stand up (or wheel ourselves forward!!) and greet it head on and change it into something beautiful.
At camp, you can't go unnoticed. There are campers who will MAKE SURE you are greeted, you are hugged, your hand is shaken and a smile is shared. Even now, thinking about the upcoming week makes me smile. The thing that ALWAYS gets me, every year is the gratitude, the smiles, the JOY that is in this place.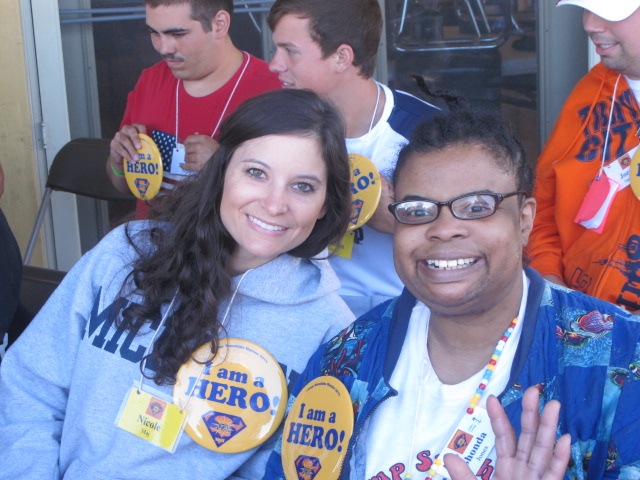 Lives are transformed at Camp Sunshine, campers and volunteers alike. Lifelong friendships are created. In fact, several of our program staff met their spouses while volunteering at Camp Sunshine! On June 29 when campers arrive for the first ever session of Camp Sunshine at Camp Henry, the magic will begin again."
To learn more about Camp Sunshine, you can visit their website.There is information for campers, counselors and those who wish to support Camp Sunshine through volunteering their time or through donations. Camp Henry is very excited to be hosting Camp Sunshine and is looking forward to having Camp Sunshine become a tradition.
Sacred Space
Callie Ogland-Hand, a Camp Henry camper shares her experiences as a camper with us and the impact Camp Henry has had on her life. She returns to Camp Henry for her final summer as a camper in a few short weeks.
As a member of Westminster Presbyterian Church in Grand Rapids, I started going to Camp Henry when I was 2 years old with my family at Family Camp. Then, I attended Day Camp, making crafts with JJ in the Nicely Center and playing games on the B-Field. After 2 years of Day Camp and 3 years of Mini Week, I was finally old enough and comfortable enough to go to a full week of camp.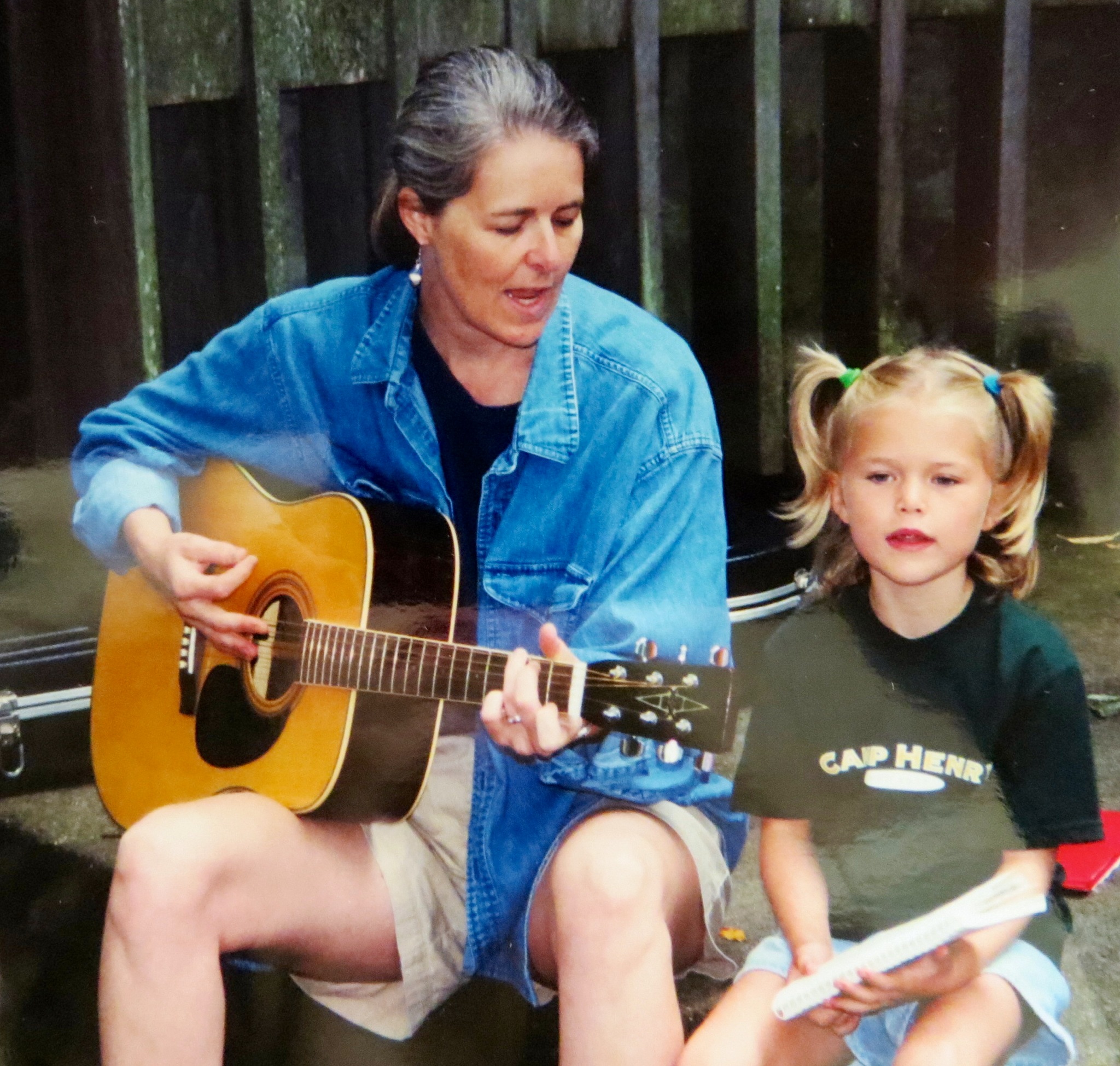 I vividly remember the first time I stayed in one of the new cabins, Commanche. My counselors were Beth and Leah. They were best friends who loved every minute they spent at Camp. I remember them so well because they were always laughing and cracking jokes, and trying to make us young campers have the most enjoyable and fun experience possible. They were so comfortable with themselves and they perfectly embodied Camp's easy going and comforting atmosphere. It still amazes me how Camp staff seem to be the most wonderful, kind, and loving people imaginable.
One of the mistakes I regret most in my life is the summer after fifth grade, when I did not return to Camp. Looking back, I can't help but wonder what kind of a person I would be today had I continued going and been surrounded by the positive and loving people at Camp. Fortunately, Jake and some year-round staff visited Westminster's youth group last year, when I was a sophomore, to promote Camp Henry. Even after 5 years of not going to Camp, Jake still remembered me as a young camper and said it was fun to see me grown up. I signed up for Summer Camp again. Having a cottage on Kimball Lake and being a part of Westminster Church, I was still connected to Camp Henry through Westminster by the Lake and Family Camp, however I was a little nervous to go back to Camp after not attending for a few years.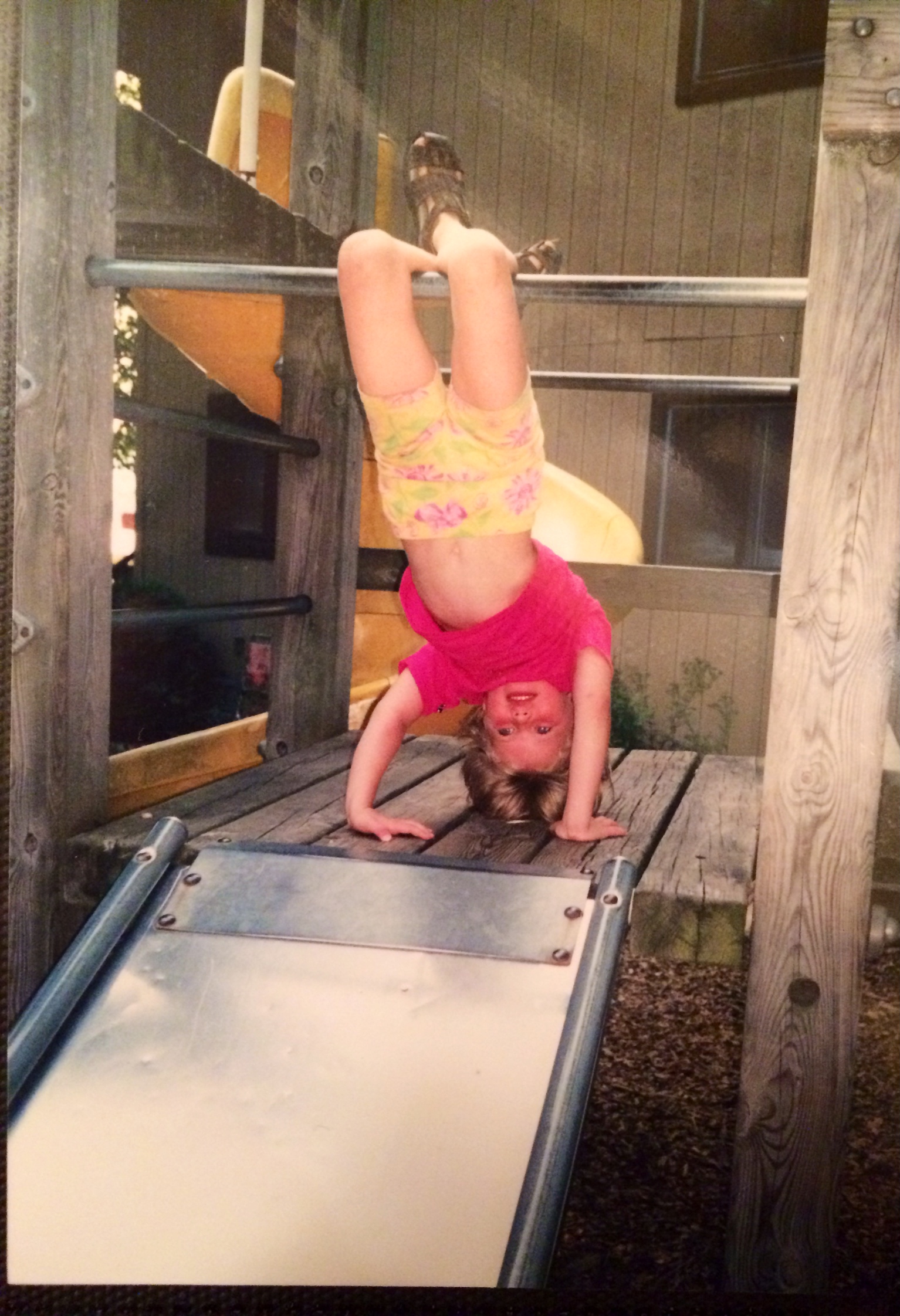 Although some things had changed, like the Green Raft and the Camp Store, Camp's core values and atmosphere had stayed the same. I was immediately welcomed and immersed into Camp life and throughout the week I was continually amazed at the kindness and love that Camp embodies. I am so happy to say that I signed up for Camp this summer and I am excited to go back!
I am having a hard time putting in to words what makes Camp so great. I think it is the combination of everything—the relaxed atmosphere, the encouraging and accepting environment, the loving and kind counselors, and the focus on what it means to be a follower of Christ and doing good in the world—that makes Camp such an amazing and wonderful place.
Camp has easily been the highlight of my summers and is one of my favorite places to be. Camp Henry has a way of bringing the good out of every single person and it provides people with countless opportunities to be a better version of themselves and to learn and grow. It is sad that after this summer, I will be too old to be a summer camper, however I am very grateful that I had the opportunity to come back to Camp before it was too late.
Sherrill Vore, a leader and member at Westminster, has been a huge part of my family's experience at Church and at Family Camp. She describes Camp Henry so well: it is a sacred space. It is special, a place where you grow individually, with others, and in your faith. That's what Camp Henry is to me.
Passing on the Memories
By Stephanie Wojtkowski
The last time I was at Camp Henry was in in 1988. I had graduated that previous May from Alma College and was not quite ready to give up my summers of camping fun on the shores of Old Lake Kimball. This was my final gift to myself, one more summer after many years as a camper, then a CIT, counselor and Arts and Crafts director before heading into the real world. When I left camp at the end of summer I took a parting gift, a little black kitten I named Millar.

I watched Camp Henry change and grow through the years. The director I had worked for and loved, Ron Goodyke retired. Jeff Jacobs, who had once worked with me as a counselor, took over the reins, and I knew all was well at camp. So even though I was not there, I knew in my heart, that in the summer every Sunday night there would be an opening camp fire and every Friday a closing indian campfire.

This year the camp counselor tradition is being passed on in my family. My daughter Madison is headed off to Camp Henry. Now it is her turn to experience the joy of being a Camp Henry counselor!

Madison has heard many stories of camp through the years. She thought it was hilarious that I used to ride a horse into camp as Stinkin Steph with Mad Dog Merrick and hold up the dining hall which had been transformed into a saloon.

Madison leaves for her summer at camp this Friday. This morning I went into her room to wake her up and something caught my eye. Something so simple, so plain, a black waterproof watch, similar to the one I wore each summer at camp. And for a moment I wished it was me, that I was going to be putting on that watch and heading off to camp.
Stephanie Wojtkowski returned to the shores in March 2014 to drop Madison off for a Summer Staff Retreat. She hadn't been back in years, yet all the memories came flooding back. A big thanks to Stephanie for writing this month's alumni blog post.
If you were or are apart of Camp Henry and would like to share your story or memories of Camp Henry, email [email protected]
From Caterpillar to Butterfly
Stephanie Rustem, a former camper and staff member at Camp Henry, took a moment to look back on all her years at Camp Henry and has a wonderful story to tell from her experiences!

From Caterpillar to Butterfly: How Camp Henry Changed My Life
It isn't every day you get the opportunity to share memories from one of your favorite places with the rest of the world, but I am one of the lucky few who has been given that chance.
During my last few summers working at Camp Henry, campers and staff were likely to find me chanting at the top of my lungs, eating out of my cabin's "gut bucket", pulling snacks out of my pocket, or even refraining from showering for an entire week in the name of "stink". I was, and continue to be, confident and comfortable in my own skin whether it's covered in paint or clad with a 1980s frock.
Many people today would probably be surprised that I was not always a lover of my own quirks nor did I always have the confidence to crawl on stage during the rules of flashlight tag. Those with whom I worked during my first summer as a counselor in 2007 probably remember me as a shy, quiet person who laughed often, but only spoke out of necessity. I was always cheerful, but found myself intimidated by the seemingly outlandish traditions and high level energy that the other staff members managed to bring from the first day of staff training.
I knew that camp was a judgment free zone since I had experienced it first-hand as a camper. However, I kept to myself for fear that my true quirkiness was beyond the tolerable level of "weirdness" that was camp. As a high school student, I had allowed myself to fade into the background and preferred being overlooked and invisible over taunted and teased. I had unknowingly built an armored wall around myself. Given how shy I used to be, to this day I could not tell you what possessed me to apply for a counselor position in March of 2007 as a 19-year-old kid without a single friend on staff. Perhaps I wanted the challenge of growing into myself while helping kids find their own path in life. In any case, I was terrified.
With each passing day as a staff member, however, I realized that camp really was a special place where judgment of individuals' unique personalities was embraced—a place where "flaws" were viewed as positive attributes and "normal" was absent from our vocabulary. Rather than feeling ostracized for things I viewed as "abnormal" about myself, they were embraced. I could feel my wall coming down stone by stone. I was no longer afraid of letting others really see me. I felt myself transforming from a caterpillar into a butterfly.
What I learned during that first summer on staff was that the location doesn't make a place special, it's the people. I am one of the lucky few that has had the opportunity to grow up at Camp Henry as both a camper and a staff member. I've learned to love myself and share my quirks with the world thanks to the amazing staff members and, most importantly, campers, I now consider my family.
We often talked about the "Magic of Camp" which made it different from the "real world". What I'm realizing now, however, is that the true magic lives in the hearts of the campers that attend and the staff that support them. It can be carried away from camp and shared with the "real world". The camp experience does not need to begin and end at 5575 Gordon Ave, but a small piece of it lives on wherever you might go. Even though I am now a Camp Henry camper and staff alumni, I know that camp lives on in my heart because of the people I had the chance to know.
While at camp, I learned to embrace the "powdered donut" and that no matter how ridiculous a nickname is, it is ALWAYS a term of endearment. So, yell at the top of your lungs, run as fast as you can, and roll in the mud. After all, life is to be lived out loud, not hiding behind a wall.
If you allow it to happen, camp will change your life forever. Embrace its people and traditions and you, too, can become your own sort of butterfly.
Much Love,
Stephanie "Rustamove, Rustemus Prime, Crusty, Aunt Jemima" Rrrrrustem
Stephanie Rustem is currently the Assistant Director for the Michigan United Conservation Clubs Youth Camp in Chelsea, Michigan. She received her Master of Science degree in Community Sustainability in May 2014 and hopes to pursue a career in environmental education and youth development at the end of the summer. Stephanie was a two-time Camp Henry Teen Challenge camper to South Manitou Island at the ages of 15 and 16. She stayed in Dome Village before it saw its demise from a tree. She returned to camp at the age of 19 and served as a counselor, nature director, and assistant director over the next 7 years.