God Gave Me Camp
Christina Koehler, a long time camper and high school senior, reflects on her camp experiences and how it has affected her life. She encourages all of us to "go and find out for yourself" what camp is all about. Camp is a certainly best experienced first hand!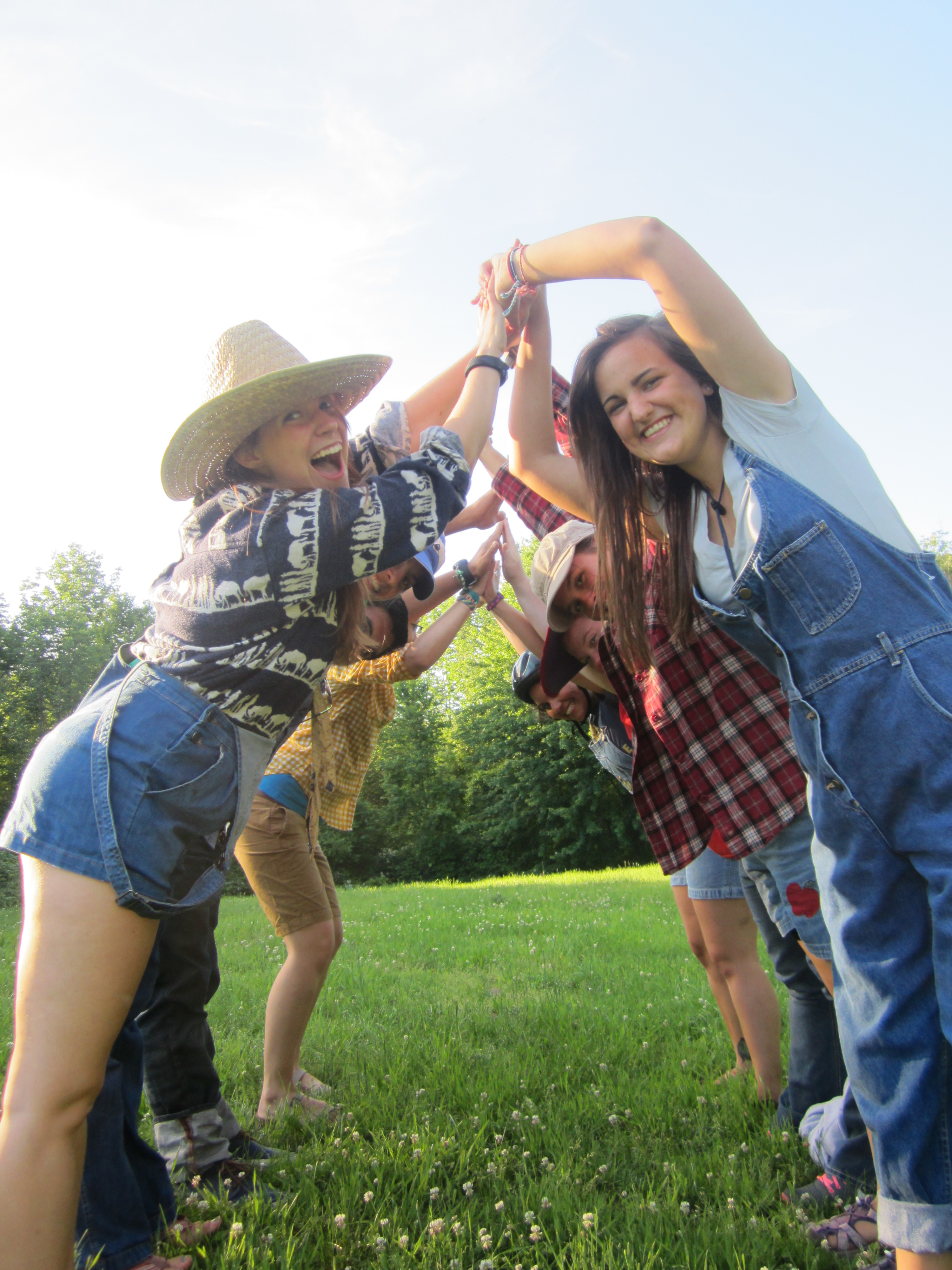 "Camp is a place like nowhere else. I want to say that if you look hard enough that you will find a place like camp, that makes you feel as good as camp, but trust me, you won't. Camp is one of those unique places where no matter what you say or do, everyone around you will still love you. Between the campouts and the games, I met people who will stay with me for the rest of my life. I met one of my best friends seven years ago at camp and we are still best friends to this day even though she lives 5 hours away from me.
People always ask me what I love about camp, that's actually what I am supposed to be writing about, but I can ever put into words just what it is that makes me love camp. The only thing I could ever tell my friends when they would as why it was so important to me is "Go. Go and find out for yourself, because I sure as heck cannot describe it."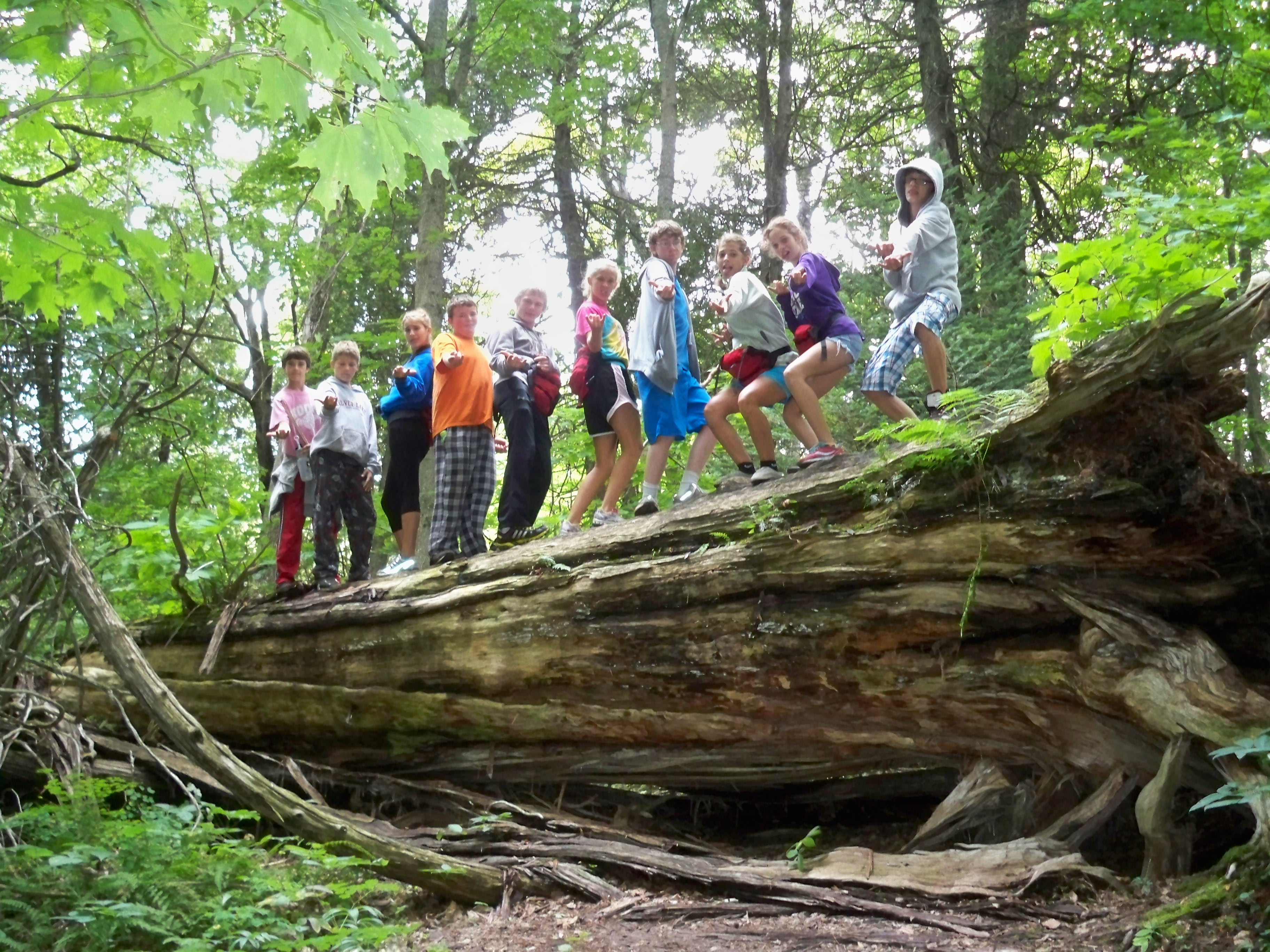 I have gone on canoe trips, 2 UP trips, and an Alaska trip with Camp Henry. I have been blessed to be able to see the beauty that God has put on this Earth and I have been blessed to be able to recognize that it is God who put that beauty there to share with all of his children. I truly believe that without camp, I would not be the forgiving and caring human being that I am today. Matthew 7:7 says "Ask and it shall be given unto you." Well I asked for love, acceptance, and happiness; God gave me camp."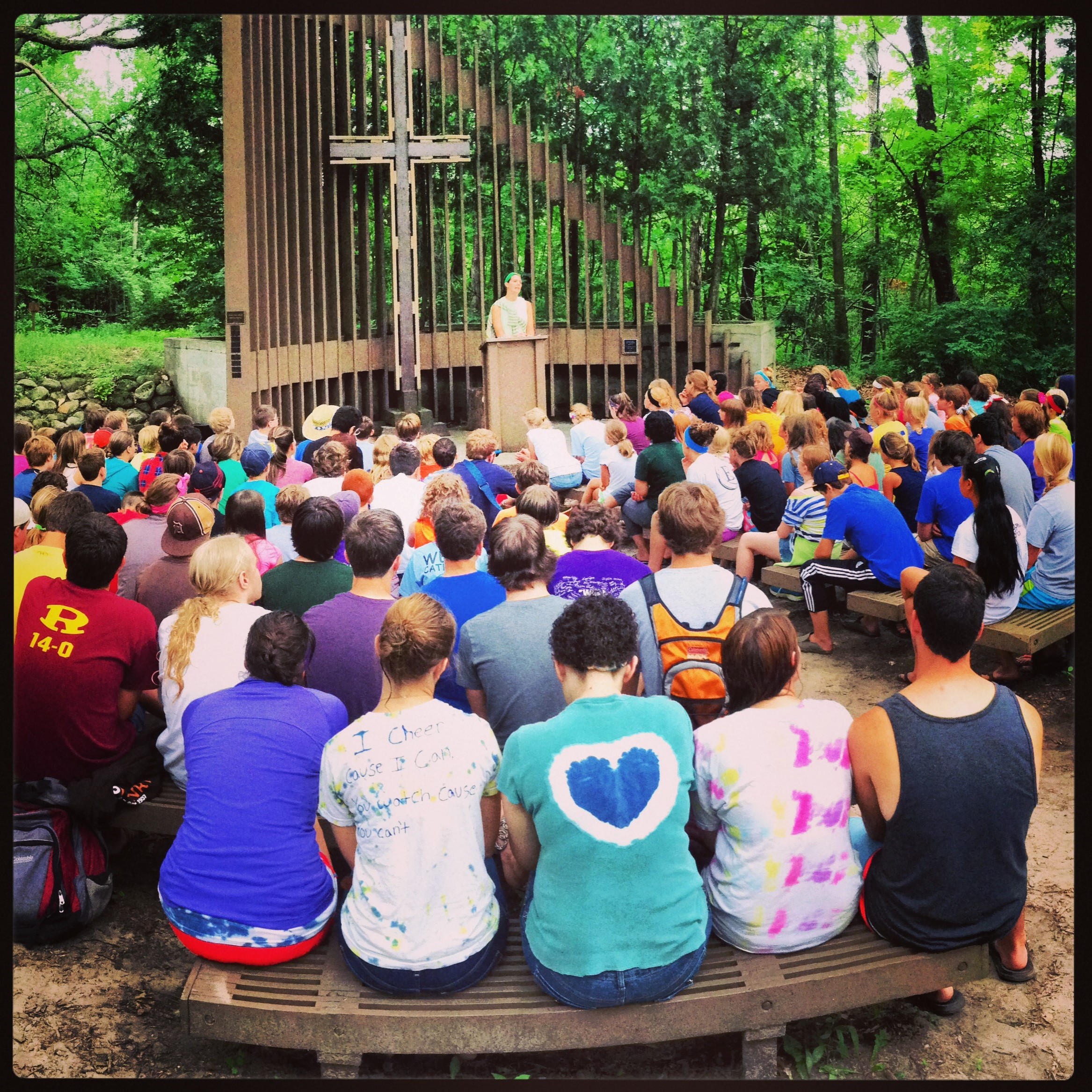 Christina Koehler
Long Time Camp Henry Camper
High School Senior
Christmas is like Power Tools
Genevieve Howell, Facilities Specialist, takes a moment to reflect on her position at Camp and Christmas time. If you have ever spent time with Genevieve, you can appreciate her unique and entertaining perspective on life. If you haven't spent time with Genevieve, you are missing out big time!


"Christmas is like power tools.


I recently started working with Ryan in facilities at camp. I was like, man, I'll probably get to climb on every roof, discover things people have forgotten about for a hundred years (like old poop grinder pumps, yay!), drive every vehicle at camp (t minus 9 to old bus to lift off), chop down trees, and find out that the facilities people of the past have actually created an underwater world beneath barb's point.
You know, the norm.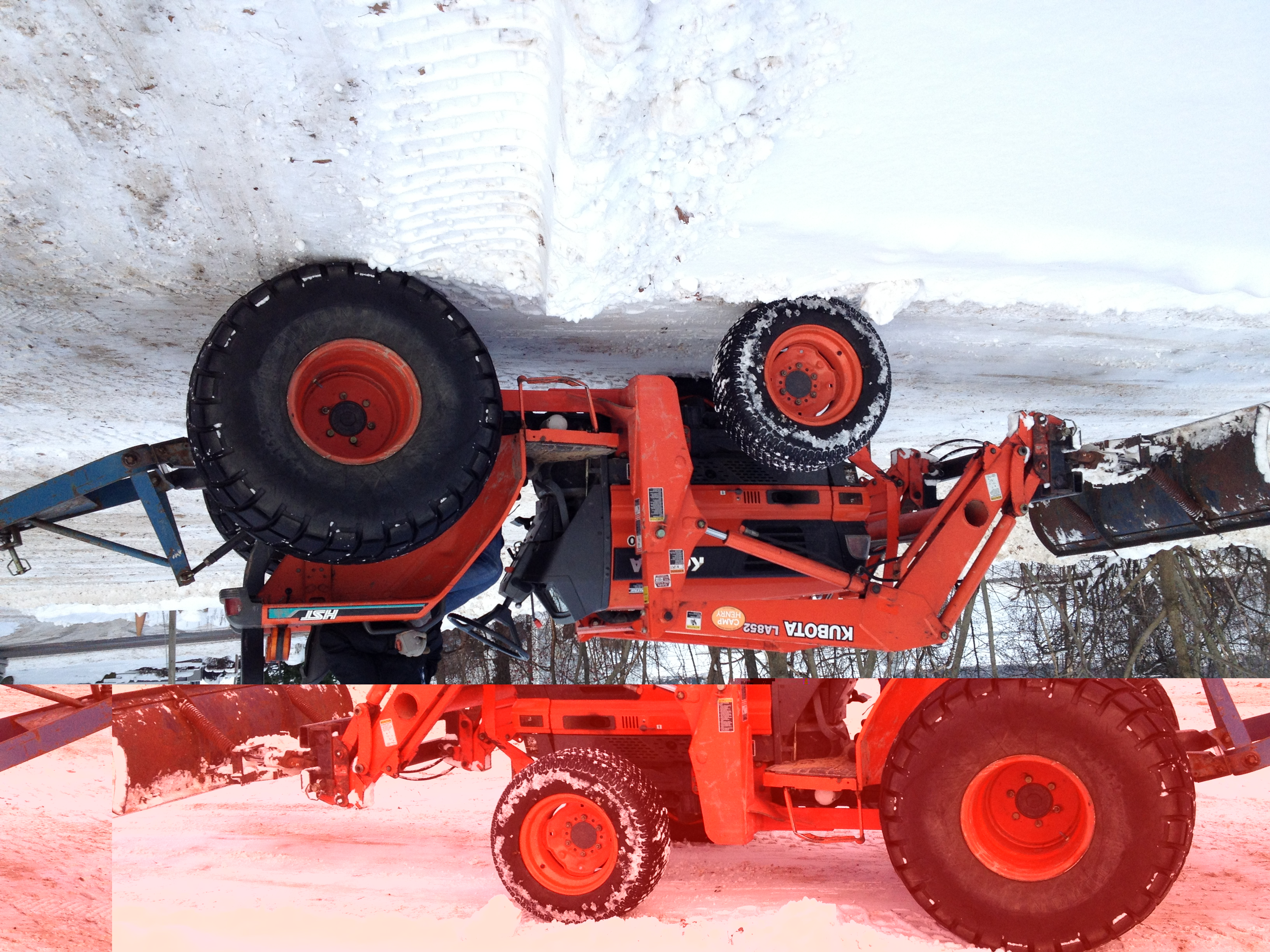 But I was also pretty stoked because I had never used a power tool before, or let's be real, even been allowed to hold one. I'm not accident prone nor am I known for breaking things often, I'm not opening up discussion, this is just fact. However, with Ryan claiming I've nearly killed him three times, even though I say only twice, I understand that truth can seem subjective. All this to say I've been pretty excited about the power tools here at camp.
So how is Christmas like power tools? There's this little tool called the sawzall here at camp.
It's straight evil.
This thing has enormous potential, you just plug it in and you're off cutting holes in everything within arms distance. You could probably trim your Christmas tree to look like Jesus without breaking a sweat. The only flaw is that every so often the saw blade comes loose and flies at your face going 500 miles an hour. It's cool though, it's like Hunger Games but REAL LIFE!
You might be thinking, yeah this really is not like Christmas at all. But here's where I'm going with this. Imagine Christmas is this thing you hold in your hands. The holiday space of time is in front of us and if you're anything like me you're sitting somewhere feeling on the brink. Each year I feel like I've been handed this strange little break at the end of the year. All around me money's flying through the air as people check off their "to-buy" lists and people are preparing their answers to the slightly veiled and always threatening questions of "so what do you have to show for your life?" The radio and tv make me want to punch things and forever tear red and green out of the rainbow. Only kidding. But sometimes Christmas can seem a little man-made, cluttered and chaotic.
The other day I went out on Lake Kimball and with Ryan attempted to jump through the ice (That's right folks, we're getting the lake ready for New Year's Camp! Bring your swimsuit! But actually, bring it). The lake starts with a thick layer of snow (seriously I can't remember a time before it started snowing), has a layer of thin ice, then water, slush, and more ice. In that split second that you bust through the first thin layer of ice, you think there's nothing solid at all and it's the end of the world. But after getting through all the slush, you realize there's actually something holding it all up.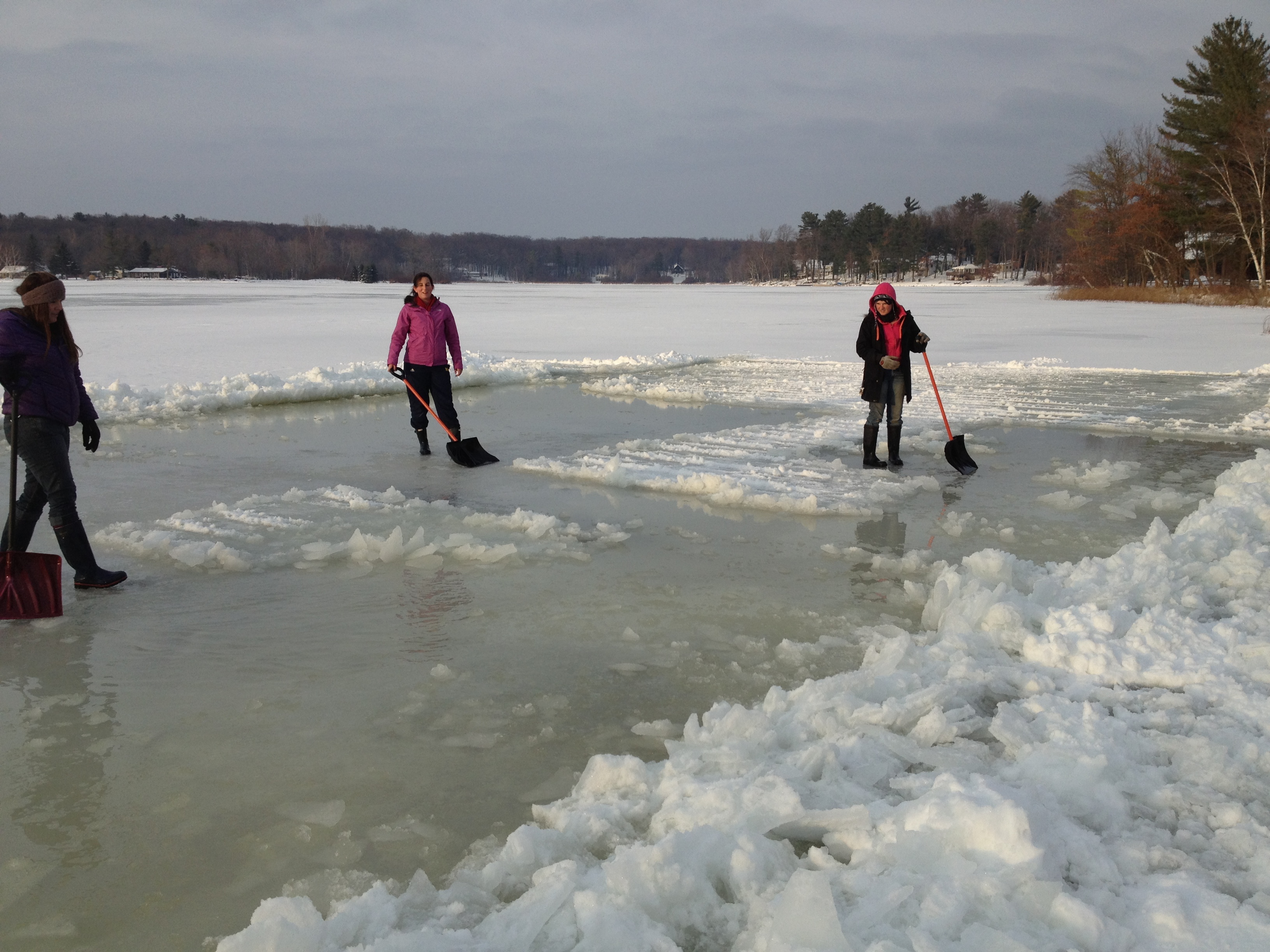 To me, this is Christmas. Without all the flash, stripped down, it's pretty much the best day of the year, because it's the day God said to each of us, "I love you so much I'm coming down!" If I had to pick one thing I've honed in on here at camp, it would be this: sometimes there's a lot of sludge and excess and you have to dig down past it to get to the good stuff.
So enjoy your power tool/ice breaking Christmas, use it right, make it count, and in the words of that Insanity work out guy, "DIG DEEP!""
Staying Rooted
Mama Munch wraps up the 2013 Rooted theme by taking a look back at the impression Camp Henry has made on her life during her time here. Her wisdom and insight will be greatly missed.
"Last month I moved to Grand Rapids. It has been a time of transition for me as I've left my position at Camp Henry to head to seminary in January. It is with a heavy heart that I left a place I love so much and will miss each day. I am so thankful for God's little reminders - especially in this time of change. The other day I unpacked a box that contained many camp memories. Among them were some notes I had from a chapel I led this past summer entitled "Advice From A Tree." It could not have come at a more perfect time, and as we all transition into the last month of the year, I wanted to share the message again and ask us to always remember our roots.
A tree gives us the following advice:
1. Stand tall and proud.
2. Go out on a limb.
3. Remember your roots.
4. Drink Plenty of water.
5. Be content with your natural beauty.
6. Enjoy the view.
Camp Henry will always be a place that means a lot to me because of the many ways it has enabled me to follow the tree's advice. It has given me the confidence to stand tall in what I believe. It has encouraged me to take risks and be vulnerable. It has reminded me of the importance of community and to stay rooted in God's love. It has reminded me that I need to nourish myself with truth. It has challenged me to accept myself for who I am. And of course, it has made me appreciate God's creation.
Perhaps the thing I appreciate most, is that Camp Henry isn't just a wonderful place. It is something that I can carry with me in my heart always, wherever I go. The lessons I have learned and the ways God grew me during my time at camp don't end with a summer or a season or a job. And my challenge for all of you is to take another look at that tree today. What lessons of from camp do you need to be reminded of? Are you living out the version of yourself you love most? Are you pursuing God as much as He is pursuing you? Are you staying connected to the Camp community?
Stay rooted, my friends."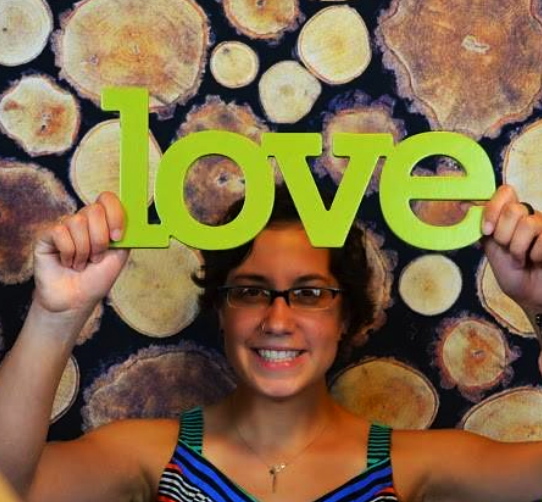 Ashleigh "Mama" Munch, Program Director 2011-2013
Creating Community: The Perspective of a School Group Leader
The beloved phrase "Only at camp..." can be heard in use around the country at all kinds of camps. It encompasses all the wonderful things a camp experience offers that sets it apart from the rest of the world. The magic in spending a day playing large group field games, challenging your group through a low ropes course or team building session, kayaking, practicing archery, learning about nature and then spending the night around a campfire, singing songs and roasting marshmallows before heading back to the cabin to bunk with new friends. It really is an experience that can't be recreated anywhere else but at camp!
You have probably heard the Camp Henry staff raving about all the fantastic activities and experiences Camp offers. But it's not everyday you have the opportunity to hear this from someone else. Elizabeth Topliffe, Head of School at Stepping Stones Montessori and guest blogger this month, details in the paragraphs below, her experience as a school group leader when she brought over 50 elementary age students, 1st-6th grade, to Camp Henry for a 1 night, 2 day experience.
You may find yourself chuckling as she writes with an honest and humorous perspective, juggling her expectations for her students (what she hoped to have happen) with the pleasantly unpredictability kids bring to any situation (what actually happened). She brought her students with the hope of creating lasting bonds, skills to work together as a team and a community to bring back to school with them for the school year. Here is what she had to write about her experience.
"I'm a school leader, and I've learned that educators lean toward the idealistic. We believe in potential and in possibility, especially as we imagine the beginning of a school year.
As our staff talked about adding a Camp Henry experience for the Stepping Stones Montessori elementary students, I pictured children exploring the woods, dining together, and singing songs around a campfire. This experience would begin our year so beautifully that during our entire year, there would be no fights, every utterance would be kind and polite, and we would return completely connected to nature.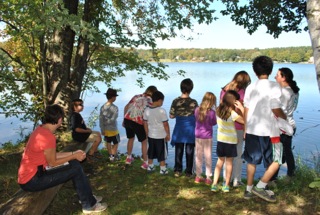 As the date for our camp experience approached, my picture clouded with anxiety. What were we thinking planning an overnight trip with first grade children? How would this work? Would anyone sleep?
My anxieties worsened at camp. Some students chose not to participate. They sat out. They refused invitations to join the group. Everything was in place for my vision to occur. And these kids were being difficult.
Then, things changed.
The first thing I noticed? One of our students dumped an entire two liter pitcher of juice at lunch. Most of it landed in the lap of another student. That student reacted to the spill with irritation and annoyance. She was wet. She was cold. She was sticky. The first student was visibly upset. In tears, he found a rag and started to clean up.
Enter the third student. She quietly walked over to the sink and grabbed a rag. While she was there, she reassured the first student that it was okay. Just an accident. The second student just reacted because she was wet, sticky and cold. They cleaned up the mess together.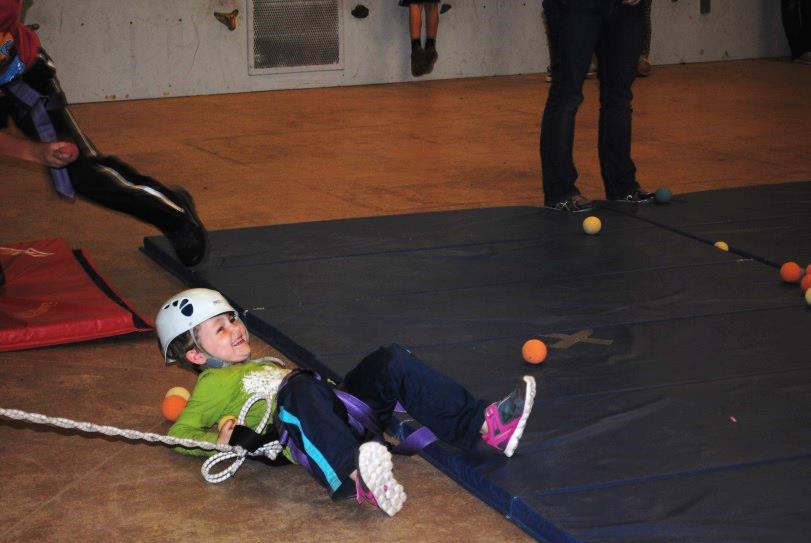 Later, one of our older students invited a student new to our school to share a canoe. He reassured the newer student. "Don't worry. I've canoed a lot. You can just relax. I'll take care of everything."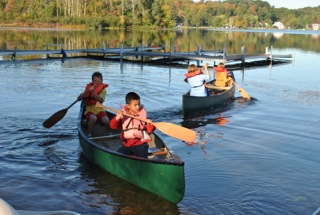 When a teacher commented how kind that was, the student said, "I could tell that she was feeling anxious and no one else was going to invite her. She didn't have any friends there. I figured I could do it."
I could share many similar stories about how our students used camp to transform themselves. In some ways, nothing changed. Our agenda, schedule, menu, staff was the same. In other ways, nothing was the same. Our students created a community. They taught one another what the community expected. They demonstrated who they were and how willing they were to take risks with one another.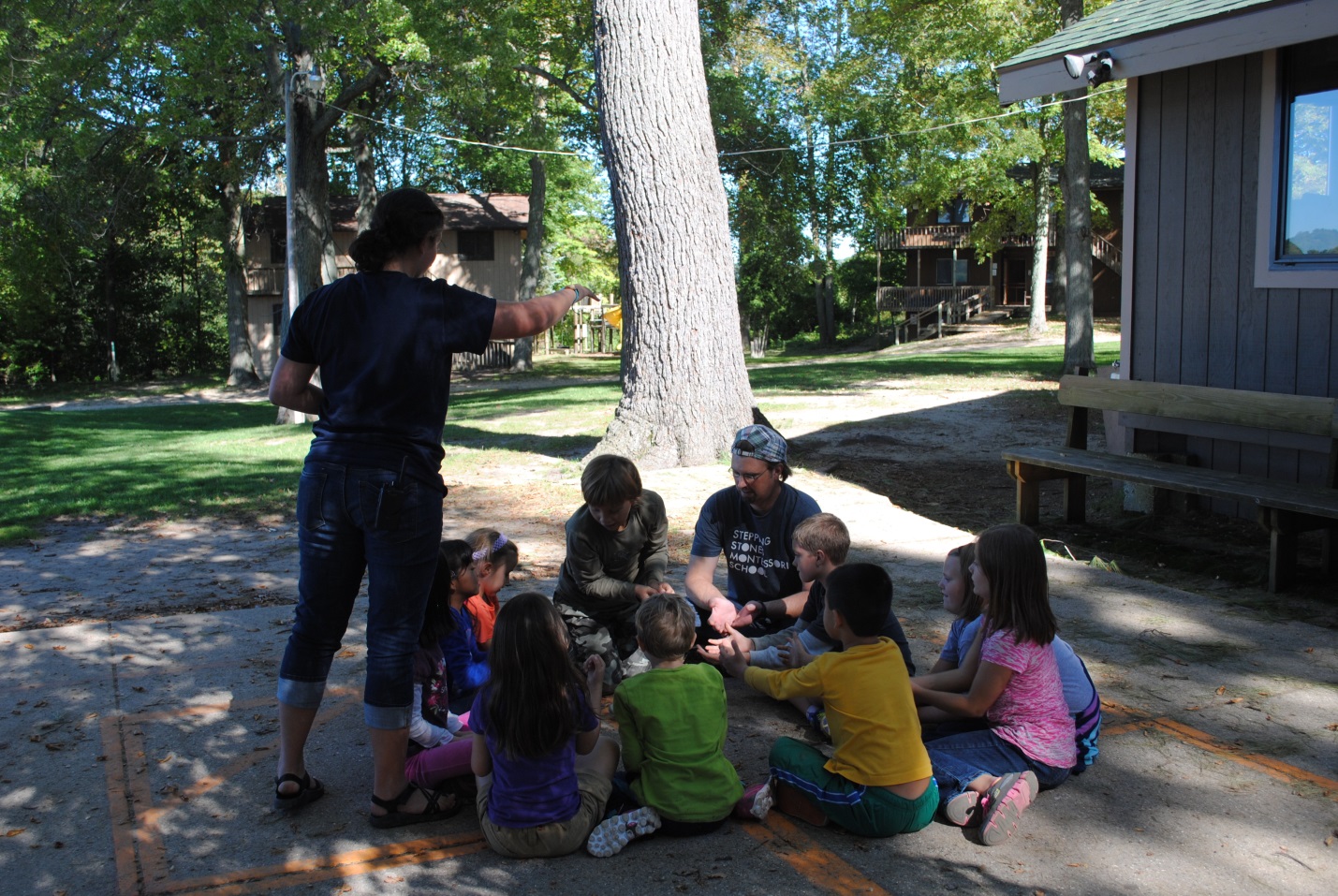 Community is at the core of Stepping Stones. Our students do not need to do math or language as soon as their eyes open and before their feet touch the floor. They don't have to count, multiply, diagram a sentence or understand cultural differences before they arrive at school.
That said, before they rise in the morning, they feel and know whether they belong. Before any work happens in a classroom, they will know whether they feel safe enough to work and risk a mistake.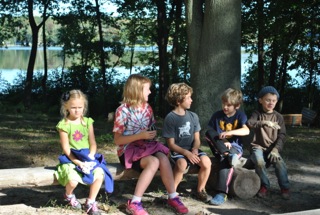 The Stepping Stones elementary students created their community at Camp Henry. Sure, we could have created community without Camp. It would have taken longer. It would have been more adult-driven. It would not have been nearly as breathtaking.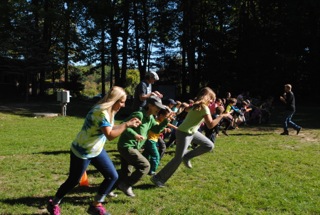 Our children still have conflict. They occasionally speak unkindly. [But] They know that they are capable of resolving it, of forgiving and of moving forward together.
As for my vision, It wasn't big enough. My vision settled for perfection instead of the imperfect beauty of a community. We'll be back next year for more!"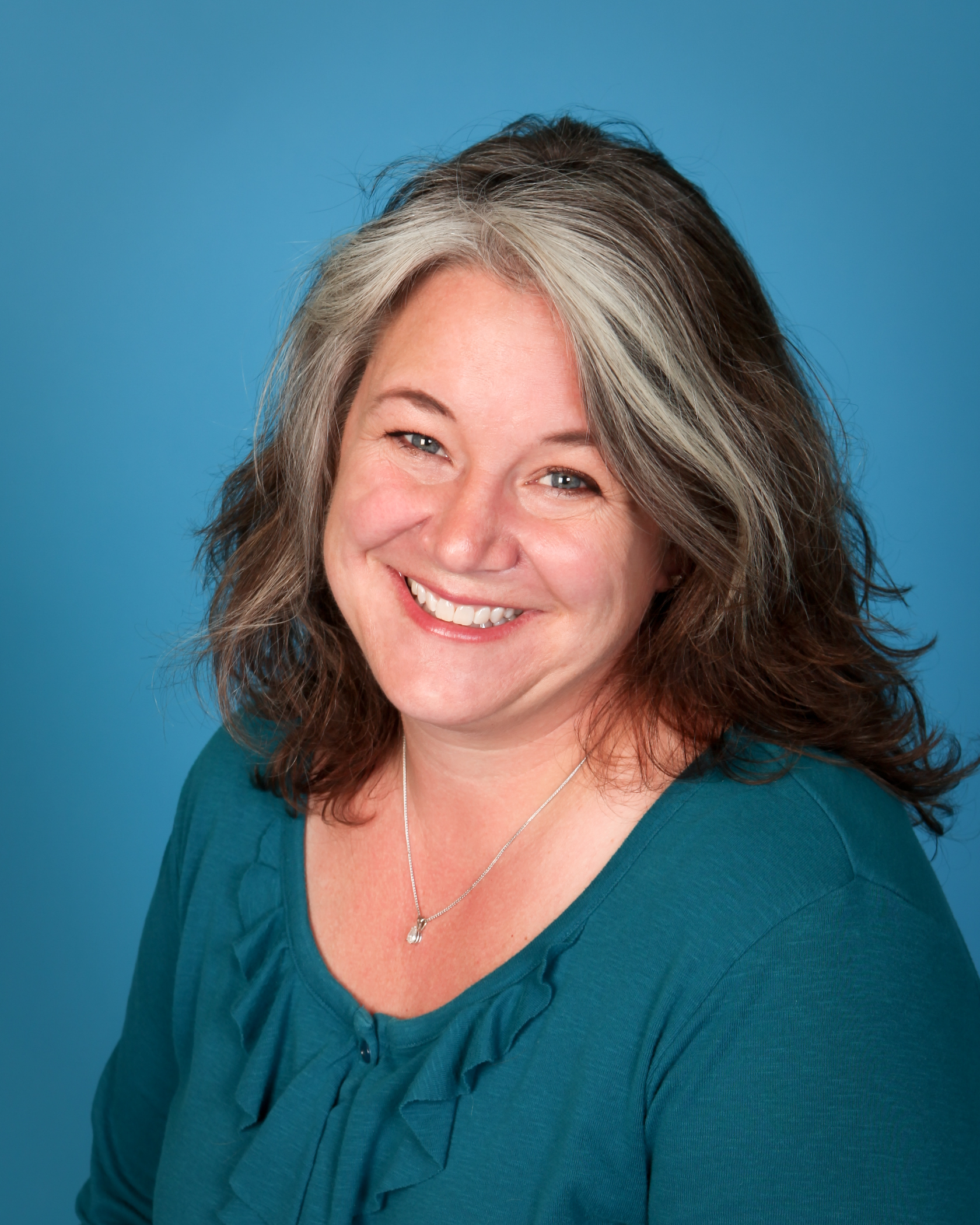 Elizabeth Topliffe is Head of School at Stepping Stones Montessori School in Grand Rapids, a member school of the American Montessori Society. Stepping Stones Montessori School is celebrating its 30th anniversary of cultivating a lifelong love of learning.
What Camp Means to Me – A Camp Staff Perspective.
Hey guys! Our post today comes from Adam Swenson – a Program Specialist here at Camp Henry. We asked Adam to share a bit about what camp means to him. Here's what he had to say: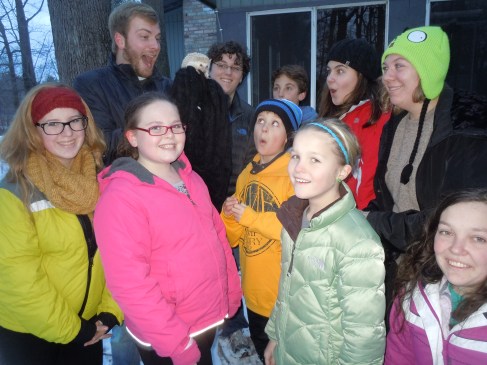 When asked what camp means to me, I become overwhelmed with the amount of thoughts that pertain to what Camp Henry has provided for me. Whether it's opportunities to try something new to being zany in outrageous costumes, I am given the appropriate amount of freedom while being taught lifelong lessons like communication, honesty, and respect.
What most people in today's society don't realize is that with our advanced technology and crazy busy schedules, we don't know how to communicate with others effectively- let alone to stop, take a breath of fresh air, and take notice of our surroundings. One thing that comes to mind while being at camp is that it gives me the appreciation for little things- waking up to a gorgeous lake view, singing by the campfire, etc. We often get caught up in our busy daily schedules and sometimes forget about the little things, such as the small ant on the ground, the bird chirping in the tree, or the squirrel scurrying with a nut. They are a valuable part of creation and truly make the world a better place. Unfortunately, these things get lost as we hurry from place to place, going about our daily routines. But they are parts of our life that are even more valuable than our hair appointments, work deadlines, and car problems. They are the simple things, which God made for us to care for, enjoy, and appreciate. Matthew 6:22 explains, "The lamp of the body is the eye. If, then, your eye is simple, your whole body will be bright..." Having a simple eye means keeping our life uncomplicated and having a healthy outlook. Camp has taught me that this way of viewing life can allow for glimpses of our extraordinary God, and we can catch traces of his imprint everywhere in creation if we simply take the time to enjoy it.