Incorporating Faith & Fun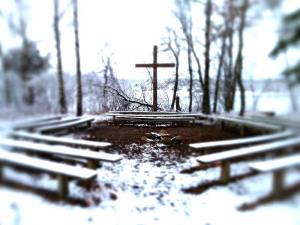 Hey Camp Henry Fans! Ashleigh (Program Director) here, and I am excited to post today about one of the main reasons I work at Camp Henry. Camp is a place I have fallen in love with and I consider myself blessed to be a part of this ministry. Working at camp allows me to combine to of my biggest passions – my faith & helping others have a great time! Check out the article below I wrote last year about how Camp Henry approaches these two passions:
How a Summer Camp Experience Can be a Milestone in a Child's Faith Journey
If you are anything like me, you might have had a tough time sitting through church as a kid and you couldn't quite make the connection of how any of it related to you. The good news is that many camps today focus on faith and can be an opportunity for a child to really learn and grow in an accepting environment.
There are many different reasons for choosing a Camp with a focus on faith but a lot of the data suggests that parents view camps as an integral part of their child's faith development. A lot of parents are thankful to have yet another avenue to expose their child to certain beliefs and to staff who are thrilled about sharing their views in a respectful way. Much can be gained from the fantastic relationships campers are able to develop with their counselors and the great thing about camp is that it is relevant to the child and their way of thinking.
In fact, many camps go beyond just having a chapel time or a certain chunk of the day that is specifically devoted to faith discussions and are utilizing methods that incorporate faith and fun. A great example is how we operate at Camp Henry. As a Christian camp, we believe that everything we do at camp should be an example of our faith. We search out teachable moments and do all that we can to make no distinction between faith and fun. We firmly believe, along with many other camps in the industry, that campers can explore and experience spiritual truth in everyday activity.
Being a welcoming and inclusive camp is what we're all about! We appreciate and value that campers come to us from all sorts of faith backgrounds, and many from no faith background whatsoever. We truly believe that the best way to learn about what it means to be a Christian is for campers to have a chance to see it modeled before them – in how we treat them, interact with one another, serve, etc. And the beauty of it is, we always end up learning so much from our campers as well. God's love for all of us is a key message we try to convey and are excited to share.
Certainly, all camps are purposeful with the activities they provide. Elements and facilities aren't just in place for kids to have a blast – as camp staff, we hope that the child will learn, challenge themselves, become more appreciative and understanding of the world around them, and explore their faith in new and relevant ways. Choosing to send your child to a camp that has a faith focus can be another great tool for helping them learn more about their faith and in helping them make their faith their own.