Kenny Hotaling, a key member of the Camp Henry's leadership summer staff, sat down with us...er, technically with his computer since he and his family live in California...and took the time to answer a barrage of questions about his 10 (soon to be 11) summers at Camp Henry. His presence at Camp is noted in his hard work, his kindness, his fatherly compassion for the staff and campers alike, and his humor. If this interview doesn't have you chuckling, then you should come spend some more time with him on the shores this summer.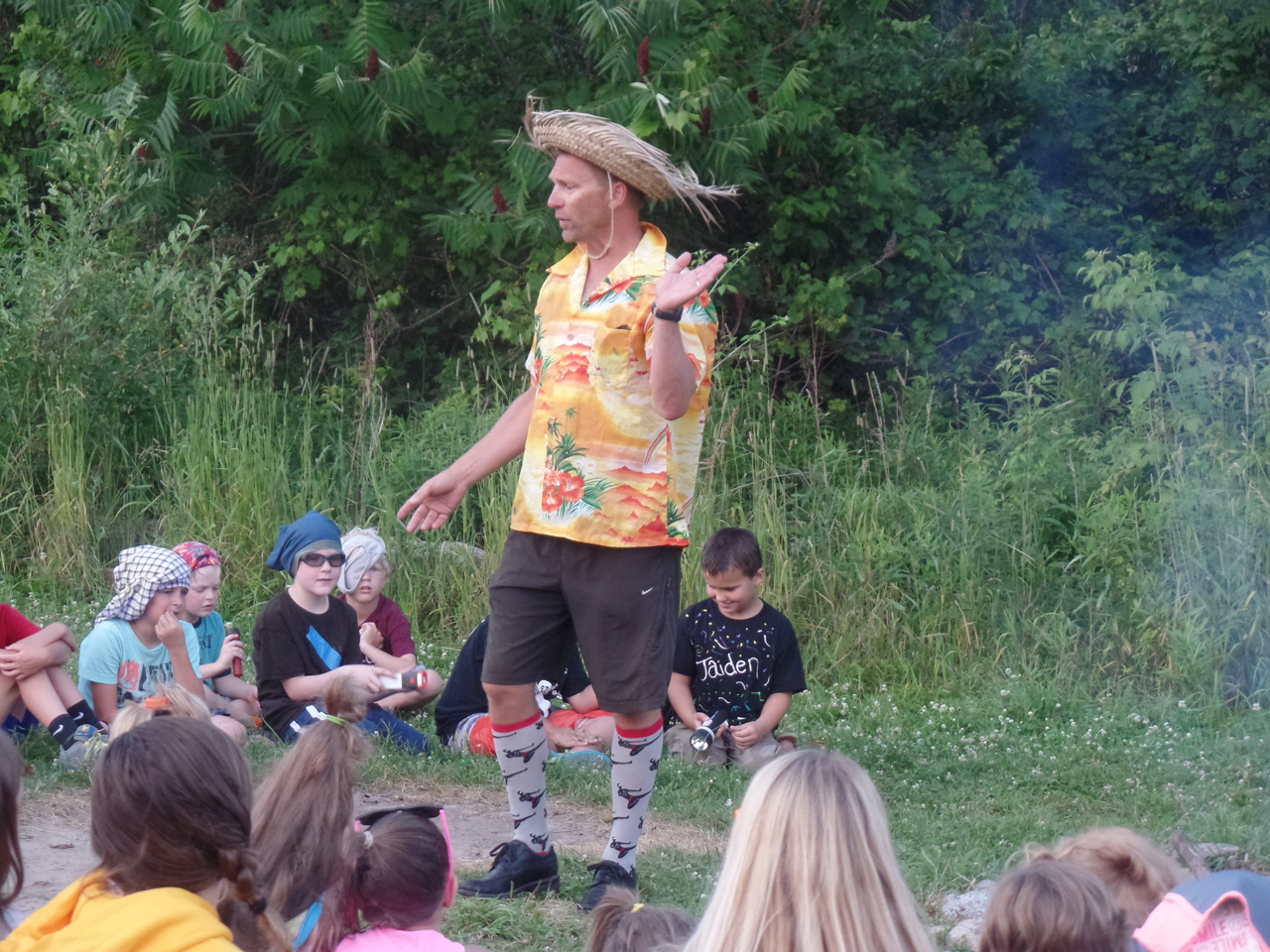 How did you first get connected with camp? Sitting around the Jacobs' dinner table here in California, my response to Jake's question was something like this" "What??? Chaplain? I've never been one before! Do I have to wear a collar or would the outfit from Princess Bride be ok?"
What made you want to get more involved? Sometimes God answers prayers immediately. As I began to consider whether my family and I should relocate to Michigan for the summer, with a newborn (Jane) mind you, He told me repeatedly that he wanted to challenge me by talking to campers about my experiences with God, my relationship with God, how God loves you, and how great it is to have God directing your life. I was nervous that I would blow it, but listened to God anyway. I sure am glad I did... for so many different reasons. It clearly showed me how big He is and how small I am... but I can still make a difference for His kingdom.
How many years have you been coming to camp? Year 11 this year! We've gone through a couple sets of tires, many oil changes, and a transmission, but have every intention to return for 12.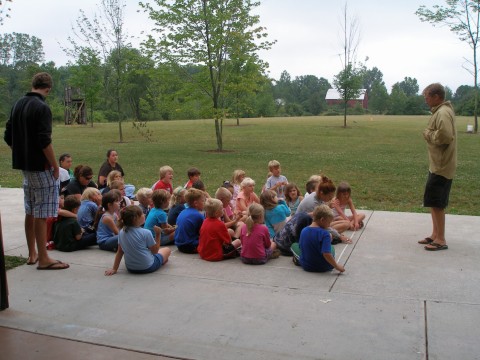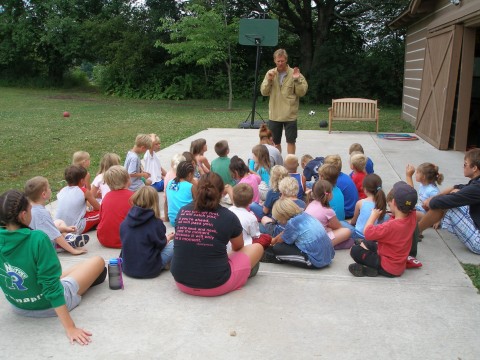 Did you attend camp growing up as a kid? If so, where, what was it like, what experiences do you still fondly reflect on now? I went to Rainbow Trail Lutheran Camp as a teenager, and it the spot where I finally understood what having a personal relationship with God is really all about. I found out that it was so much more than the "stand up and the right time, sit down at the right time, and repeat after me..." church experiences. What I remember most was the "peace that passes all understanding" as well as the friendship of another camper and the guidance of our counselor. John 3:16 became a part of my heart.
What would be your "ideal' day at Camp Henry? No such thing exists as there are infinite answers to the ideal day. Despite all the uncountable number of wonderful/funny/sad/life changing/challenging/ridiculous/inspirational/powerful moments that have already happened, I know that God has even more in plan to make room for additional entries into the "ideal" day.
How has camp changed since you first came? Camp changes every summer; sometimes dramatically, sometimes, subtly. Camp isn't supposed to stay the same. We can always get better, get kinder, get closer to God, and make more headway to making this earth like He intended.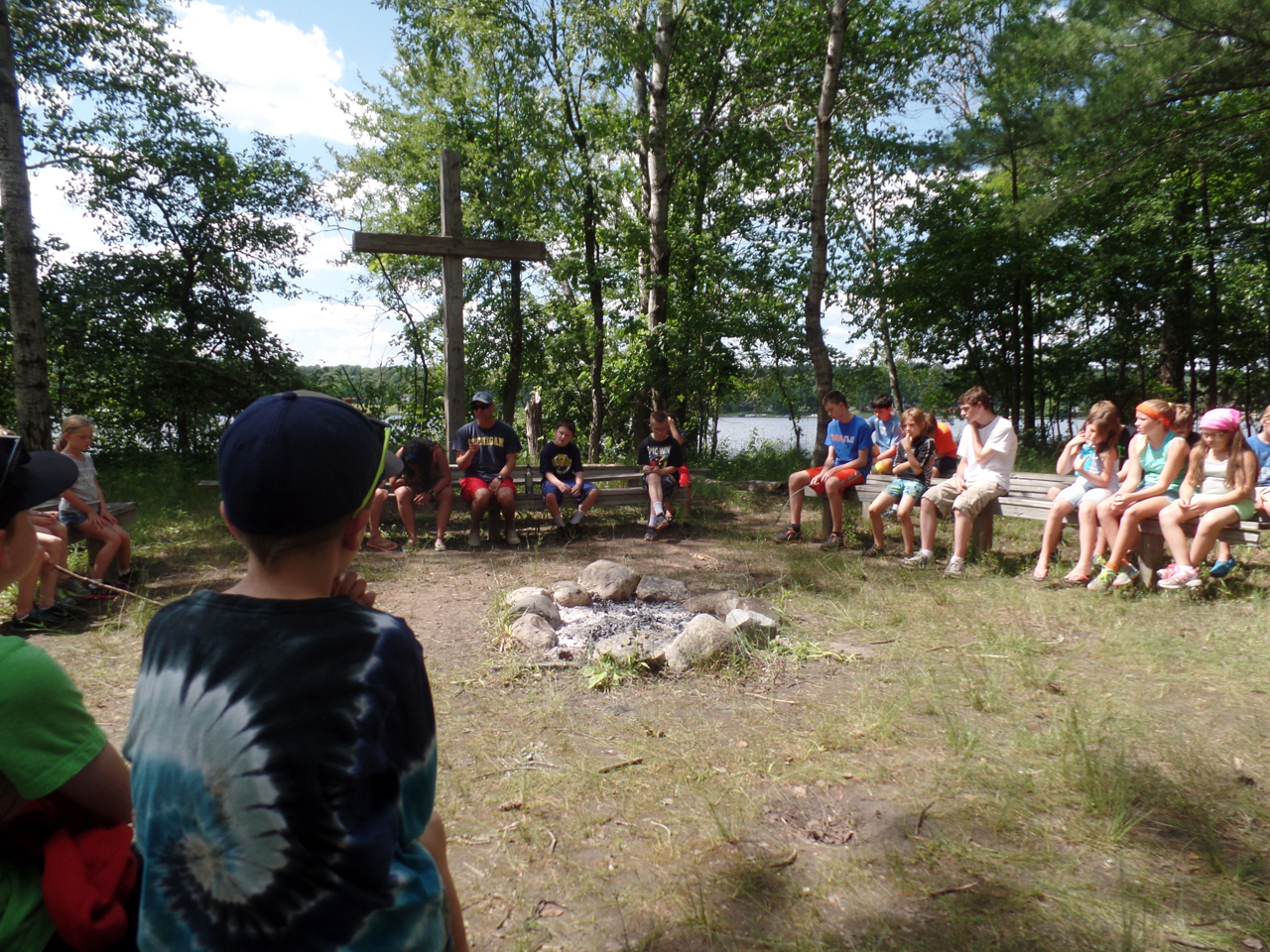 Many people would consider what you do each summer, taking the whole family across the country, living in small living quarters, etc., kind of crazy. What do you say to these folks? Yep. Nailed it.
What roles have you served/do you serve while at camp? I am just a humble "Happy Helper"- friend, chaplain, musician, mechanic, researcher, driver, reader, lifeguard, belayer, encourager, fire builder and plumber. I almost got the plumbing figured out for the bottom of the Blue House :) Maybe next summer.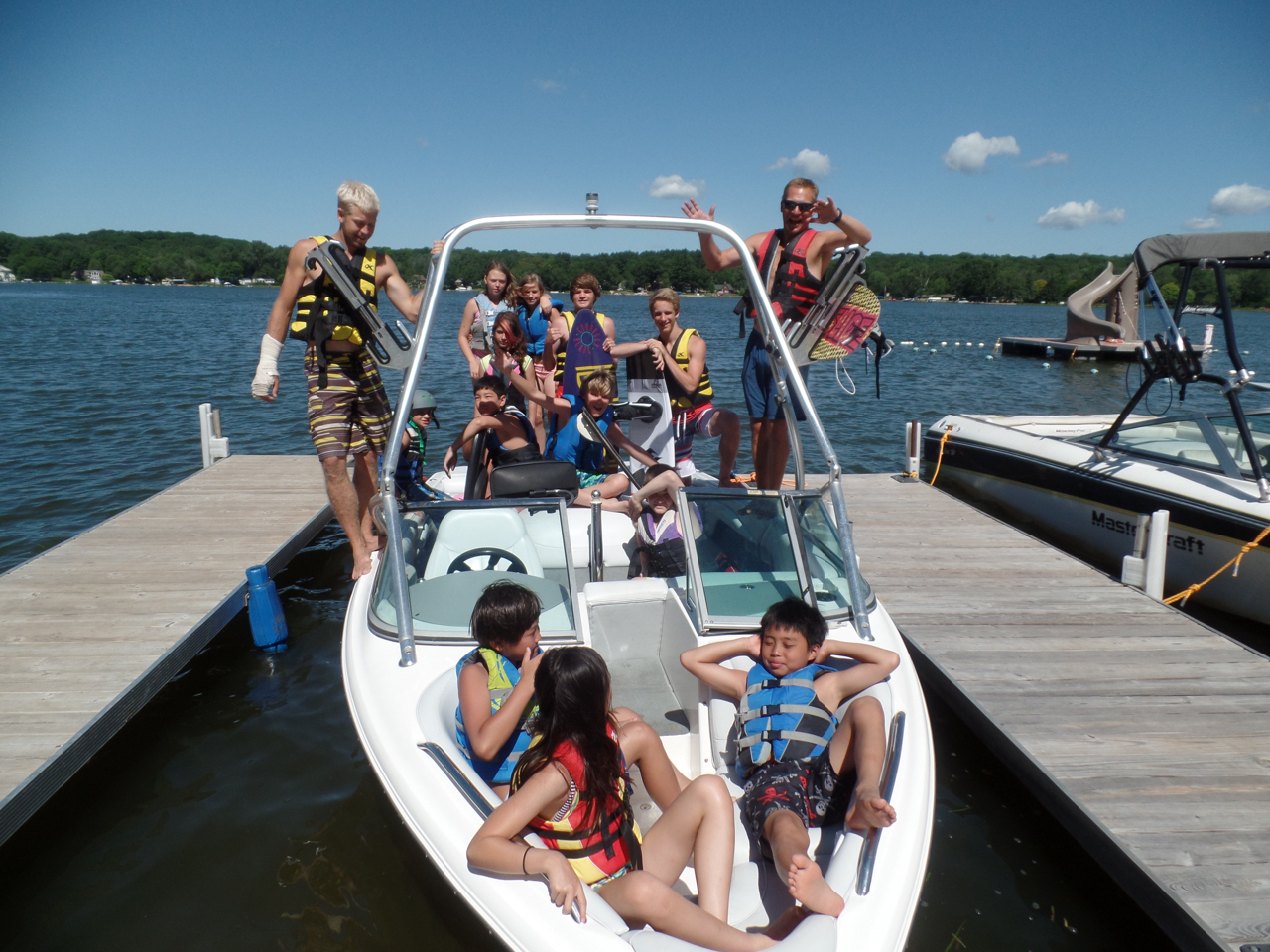 How has going to camp each summer effected your daughters? Camp have helped us immeasurably parent our children. It is impossible for me to comprehend how all these summers have had an effect on my daughters. Likewise, it's impossible to comprehend what they would be like without all of those wonderful summers. What I do know is that my daughters are smart, confident, kind, athletic, beautiful servants who love the Lord and others. I am so thankful for Camp Henry for all it has done to help shape Emma, Grace, and Jane.
Any fun stories to share from your adventures across the country? Nebraska is horawful (horrible + awful = horawful). What's the best thing that ever came out of Nebraska? I-80! Uncountable rows of corn for hours is all one can see. But, out of necessity, a new car game was created: Corn Wars! The game is played by naming a corn type product. For example, Corn on the cob. The next person needs to name another- Corn Pops. It turns out there are quite a few corn products. Let's see how many you can come up with!! Hours of entertainment! By the way, do you know what the "N" on the side of the University of Nebraska football helmets stands for? Knowledge!
Any fun camp stories to share? A king calls for his servant. The servant asks what the king needs. "Bring me my Royal Papers!" he shouts. It turns out his royal papers aren't recycled papers from the office, nor are they some of the left over sheet music from the Theater. It turns out what he really needed was some Toilet Paper!!! Oh! Those Royal Papers!! Hilarious!!!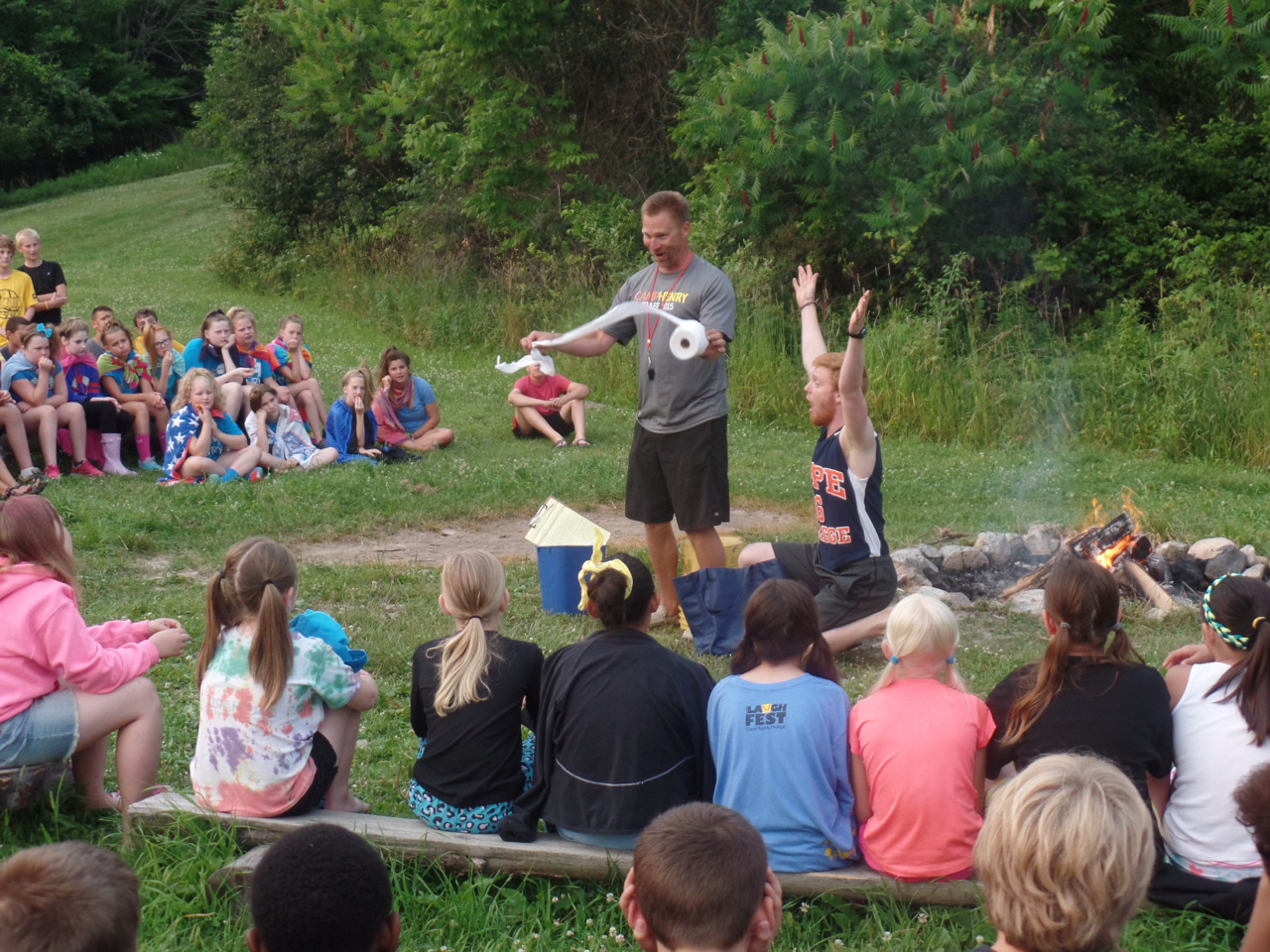 What do you do for a living outside of camp? I am a 17 year veteran public school teacher. I teach in an integrated classroom that focuses on math and science. It is a STEAM school that is heavy on engineering and computers so the math and science that we experience is applied to some sophisticated capstone projects. It's a blast going to work each day as I work with some very smart and motivated teachers.
What are some of your hobbies outside of camp? I have recently rediscovered my love of mountain biking! I'd ride everyday if I could. In addition, I also read a lot of non-fiction. Lastly, I am plowing through the Office on Netflix. Michael is so uncomfortably funny.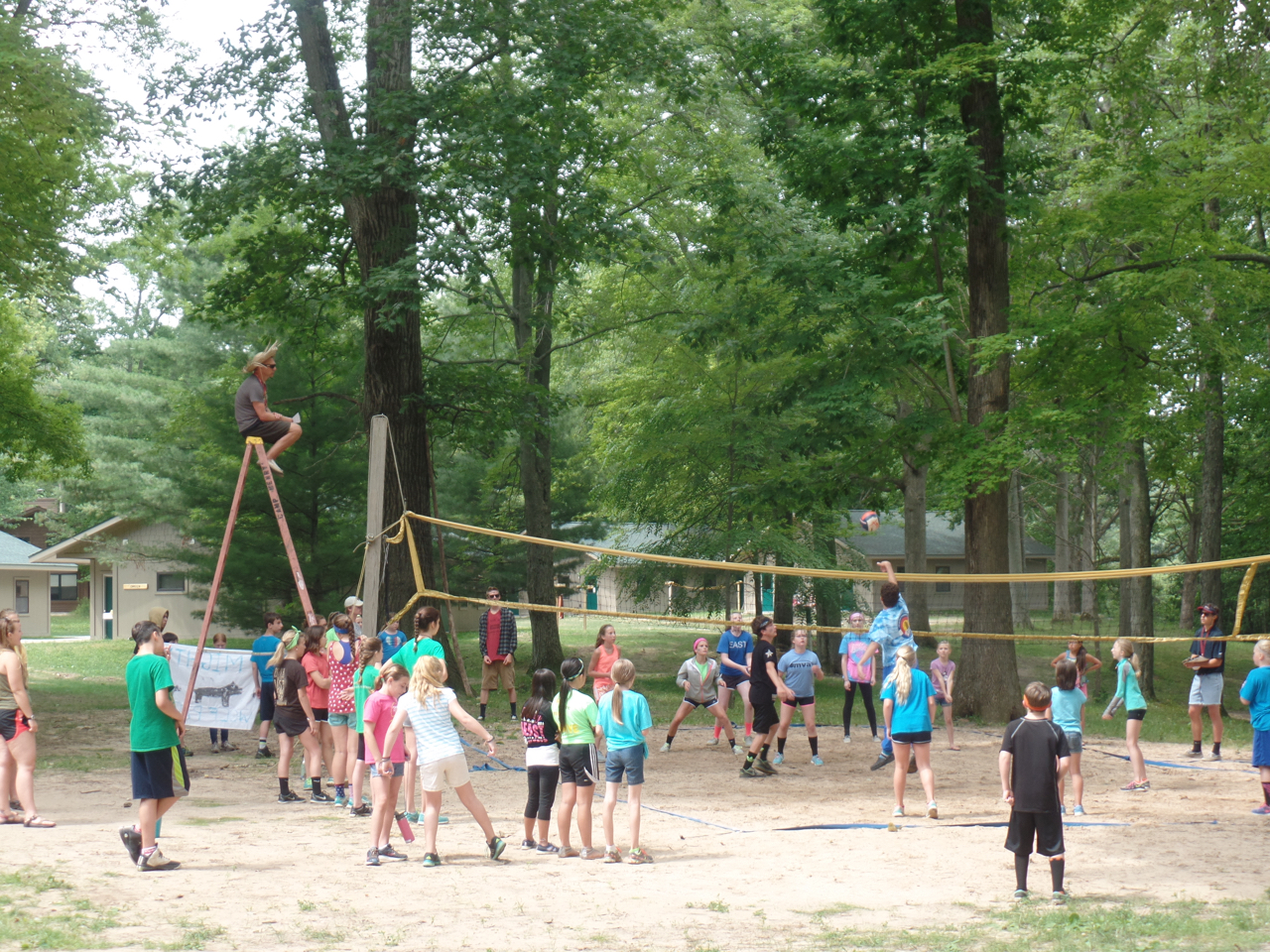 Favorite camp meal? Sausage patties. I eat the entire red basket.
Favorite camp activity to lead? Night Chapel. It's a blast to see God go to work in that sacred and beautiful place.
Favorite camp activity to be a part of? Christmas week's PJ sing. If you haven't heard Away In a Manger camp style... well, you are missing out.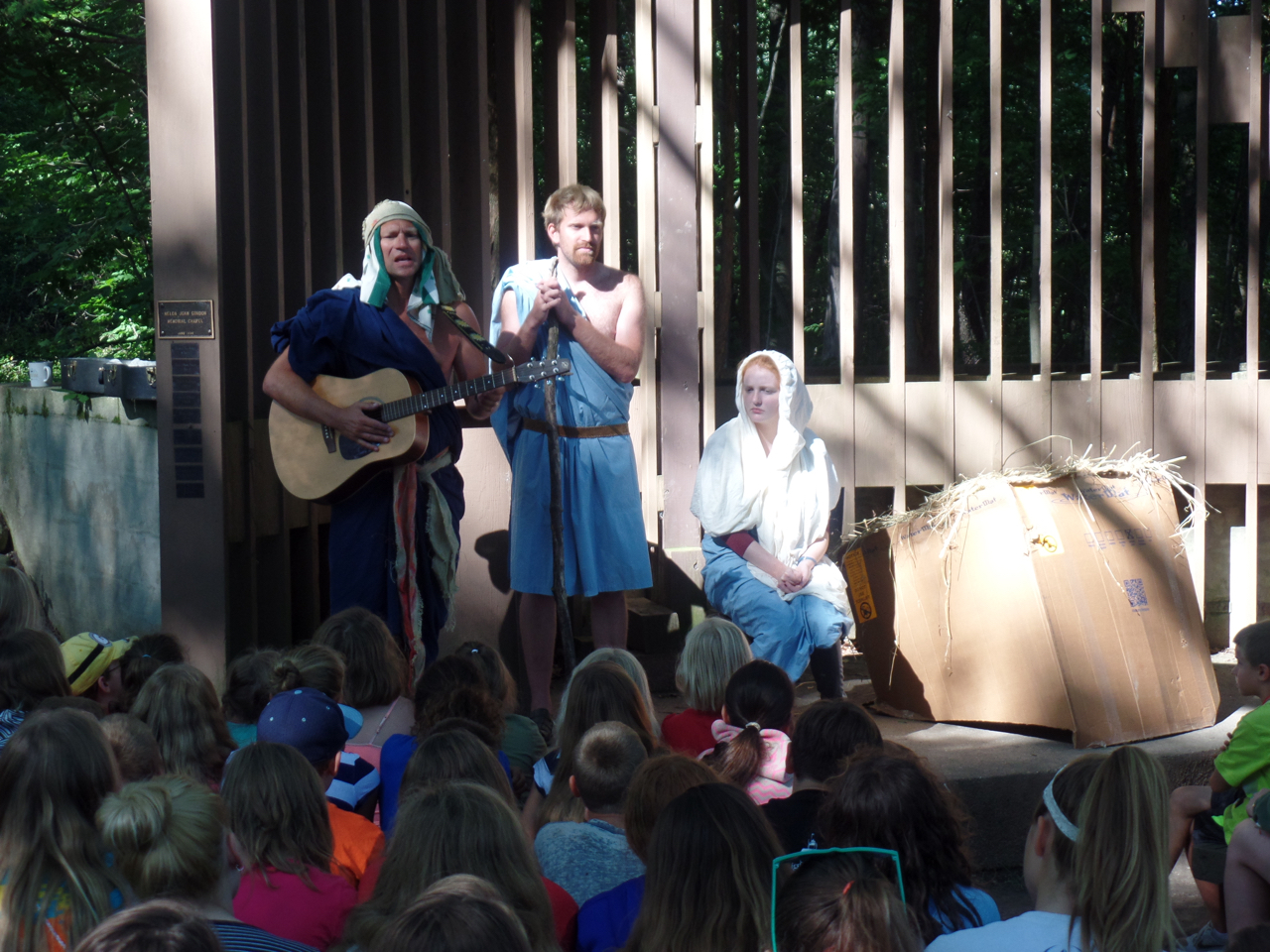 If someone was not sure whether they should send their kid(s) to camp, what would you say to them? I completely understand! Having your kids away from you for an entire week! Super scary. However, this week I promise that your child will experience God's love and I also promise that we will take tender loving care of them.
What is your hope for Camp Henry's future? Someone once asked a question about my church here in California. They asked, "If this church closed down, would anyone care after a couple of years?" It's a pretty interesting question. Now, ask the same thing about Camp Henry. Presently, in my opinion, there would be an uproar if Camp closed! So that's my hope for the future. If in 10, 20, 50, 100 years from now, Camp Henry closes... there would be an uproar!
What is your hope for your future with Camp Henry? I hope they hire my back as a Happy Helper!