When I first attended Camp Henry, Reed Waterman directed three weeks of girls' camp and three weeks of boys' camp. The rustic wood cabins with heavy shutters and the large common bathroom, referred to as the KYBO, were situated where the girls' cabins are today. The" Swamp House" housed any male staff members, such as the Waterfront Director and kitchen help. This is where the boys' cabins are today. I spent eight summers as a camper, followed by a summer as a counselor in training (CIT), and two additional years as a counselor. I looked forward to this wonderful time each year.
The days were filled with fun and fresh air, from flag raising ceremonies and chapel in the morning to games, skits, singing, and storytelling around the campfire at night. As a younger camper, I especially liked rowing the boats through the chain of lakes: Pickerel, Emerald, and Sylvan. The thick lily pads between Kimball and Pickerel lakes and the beautiful blue green water as you entered Emerald Lake made a lasting impression. We would also row across Kimball Lake and camp out overnight.
When I got older, my favorite thing was to canoe the Muskegon, Pine, and White Rivers. The trip down the White River ended by going through the seemingly neverending White Lake and out through the channel to Lake Michigan, where we camped on the beach under the stars. These trips were great adventures that gave me an appreciation of nature and a real sense of achievement. At the end of the season, as counselors we were given the chance to swim across the lake and back. I still remember the exhilarating feeling when I arrived back on shore!
My family has had a long affiliation with Camp Henry. My dad served on the Board for many years, working spring clean up weekends and helping to design and build a larger dock. This may have given me an advantage in being chosen as one of four CITs at the age of 15! In those days the counselors were mostly members of Westminster Church. We had to apply and interview for the then expanded four-week session. Years later when I met my husband, he was President of the Board, and our first date was the steak fry!
Our children were campers, and I'm thrilled that we now have a granddaughter who loves it as much as I did. It warms my heart to share in my niece Sarah Nelson's enthusiastic involvement and commitment to the camp. Each spring, my brother, sister, and I along with my daughters and granddaughters plant flowers around a deck and at the entrance in memory of our parents. I will always treasure memories of times spent with friends and family at this wonderful place.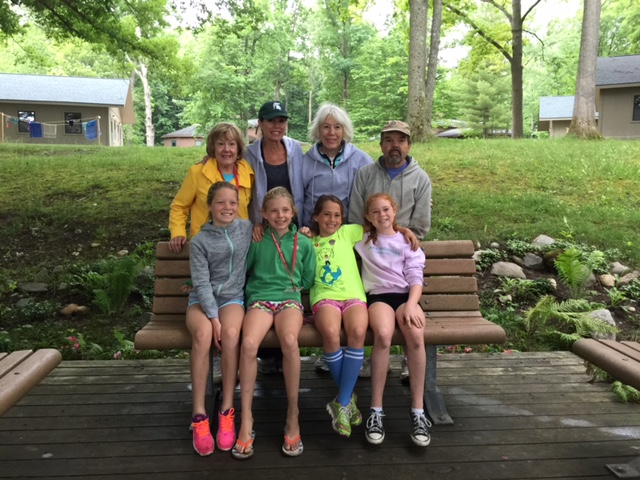 Genie and her husband and spend winters in Boca Grande, Florida and summers in Grand Rapids. Their five children and fourteen grandchildren, plus close extended family and friends, keep them busy in their "senior years"!