Displaying items by tag: Mini Week
By: Liz Allard
---
"We can do anything with a couple of sticks and a bucket of mud!" If you've ever sat in on a staff meeting with Jake at the helm, you've likely heard this phrase echo off the paper thin walls of Millar. I think about this phrase often and can't help but smile. Camp Henry is like an amoeba. It engulfs you with its inclusivity and makes you feel all of the feels-fun, happiness, empowered, confident, loved-the list of feels could easily take up this entire blog post. These feels, however, aren't derived from the buildings, the high ropes elements, the banana boat, four square balls, or any other resource we think is necessary to keeping the good times rollin'. Although all of these items are excellent, the Magic of Camp shines through when the resources are absent and we, as campers and staff, are left to our own devices.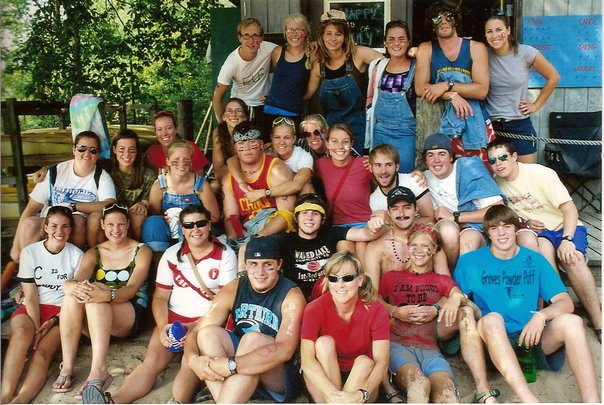 Plain and simple, Camp taught me the definitions of resourcefulness and resiliency. I remember once, as a camper, walking into Arts and Crafts during week seven of Camp. The room looked post-apocalyptic. The cupboards were bare, except for a couple of small bottles of primary-colored paint that stood like the last few campers during a game of British Bulldog. Random cuts of yarn and string were strewn about and old wax was hardened in beef stew tins on hot plates from weeks of candle making. This could have been a moment where my counselor threw her hands up and directed us outside onto the A-field for chill time, but instead, she instructed us to go outside and find a rock. Meanwhile, she began gathering the remaining paint bottles, sponges, and any decent brushes and plopped them onto the center of the table.
When we returned from collecting our rocks, she exclaimed with that 'fake-it-'til-you-make-it' excitement, that we were going to paint our rocks! This had the potential to be a totally lame activity, but in true Camp fashion, us campers humored our counselor and got way too into painting our rocks. We even did a gallery walk of our finished artwork at the end of that afternoon activity! My painted ladybug rock is still used by my Dad as a paperweight in his office.
Flash forward to when I was a counselor during the summer of 2009. It was Pirate Day at Camp. These themed days started popping up at Camp once a summer as soon as a certain counselor (*cough* Kerry Drake) discovered, in our staff manual, that Camp used to host Paul Bunyan Day, and insisted we bring it back. When campers arrive at Camp, they come with whatever they have, unlike many of us counselors who come equipped with an entire closet filled with costumes that can morph into whatever theme we desire.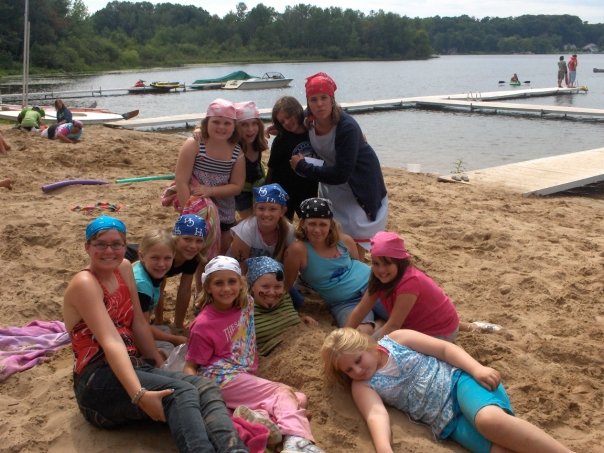 On Pirate Day, which ended up being another Olympic Day with pirate tendencies, it only seemed fitting that my entire cabin look pirate-appropriate. I began pulling out any pirate-ish clothing from my costume closet for my cabin of youngsters and drawing on face paint like our esteemed pirate colleague, Captain Jack Sparrow. Considering my costume closet was ill-equipped to dress 12 pirates in one day, I watched as campers pulled out items - scarves, striped shirts, bandanas - from their own bags and shared those items amongst themselves. We looked like a bunch of salty dogs by the end of rest period that day, and only spoke in pirate talk from then on. Being the youngest of the Girls' Village cabins, we weren't expecting to be the champions of all things pirate that day, but we certainly had the most fun. As my cabin and I got ready that day, I was reminded that at Camp, you don't have to have everything to be everything.
When I think back on my time at Camp Henry, most of my favorite memories revolve around instances where a camper or staff channeled this attitude of resourcefulness to create something unexpectedly awesome. Take morning activities during themed weeks at Camp, like Christmas in July. As you well know, there's no snow during the month of July in Michigan, but counselors, myself included, always insist on sledding as a morning activity, whether you're slip n' sledding on a soapy plastic tarp on the hill near the old corral or sledding on plastic mattresses down the stairs of Millar. Creating activities like these prioritizes imagination backed by innovation.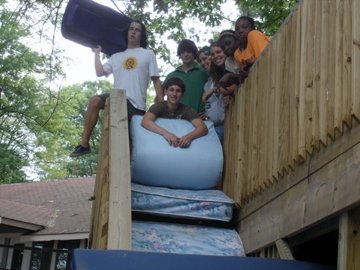 Like slip n' sledding, I definitely can't forget about the time that Jake wanted to make a go of a Camp Henry Rodeo as an evening activity. Us counselors were tasked with coordinating different events from line dancing to barrel racing to lasso practice. At the end of this newfound evening activity, Jake lined up the entire camp on the B-field to make the announce – uh, rather, share that the final event would be cattle roping! We all stopped and looked around at each other. To the best of our knowledge, camp didn't have any cattle. Jake then explained that two staff – Derek Whaley and Todd Boynton – would play the role of the cattle. Derek and Todd would have a ten second head start before the ENTIRE camp was to chase them down and lasso all four limbs together. I stood back and watched as Derek and Todd tore off across the B-field with hundreds of campers in tow. In an instance, dozens upon dozens of kids engulfed them as they disappeared amongst the pile of campers. When the campers cleared away, there laid Todd and Derek, disheveled and smiling.
At Camp, there's never an "I'm bored" moment because we are always thinking about those couple of sticks and that bucket of mud. In today's world, where cheap distractions and entertainment rest at the tip of my index finger, I'm reminded of the value of my experiences at Camp. Camp challenged me to reach beyond perceived limitations and to fill every moment with intention, regardless of where I was or the resources I had on hand. Camp Henry is about taking what might be considered mundane and building extraordinary experiences with the perfect storm of resourcefulness, imagination, intention, and can-do attitude.
---
About the Author: Liz Allard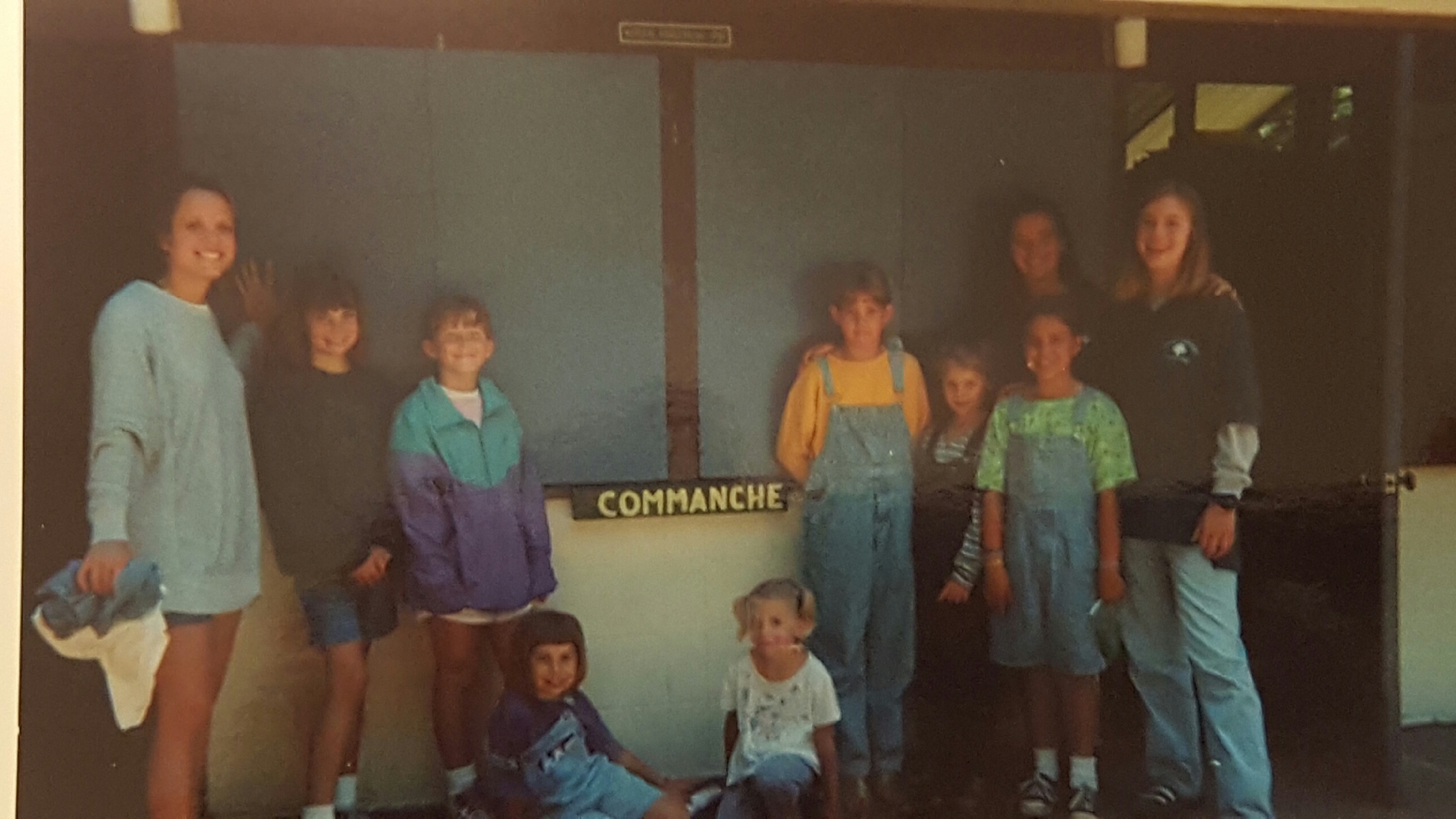 I first attended Camp Henry mini-week when I was eight years old. I remember showing up with the pack my mom used when she worked on a fire crew for the U.S. Forest Service. The pack stood a third of my height above my head and was packed to the brim. I wore my signature jean short overalls all three days and had Emily Clark as my first counselor in the old cinderblock Commanche Cabin. It rained all three days and one of my first memories from those three days at Camp was Jake on stage in Idema Theater screaming the words to "Singing In the Rain," while the rest of us sopping wet campers screamed along with him. When my parents arrived back at camp to pick me up after those three days, I begged them to send me back to camp the following summer.
I spent eight years as a camper followed by six years on staff, during which, I met my best friend and husband, Derek. We married in May of 2015, surrounded by our Camp Henry family. I currently live in Alaska, which I first visited when I was 16 years old while on the Teen Challenge trip with Camp Henry. I am excited to help with the same trip this upcoming summer when the new crew of Camp Henry teens visit the 49th state in July.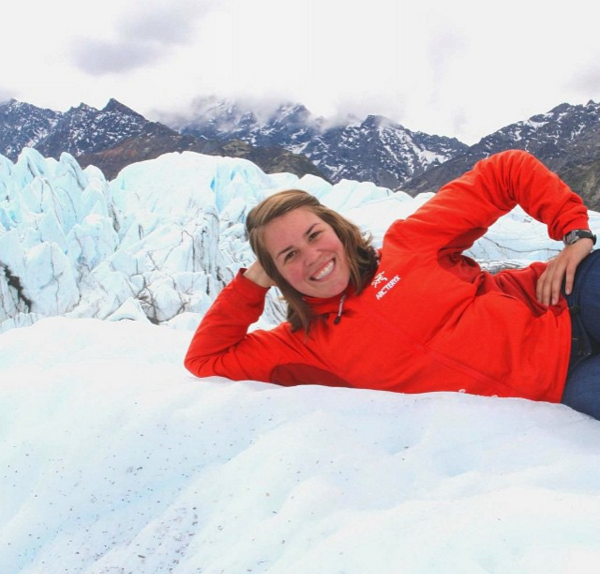 Callie Ogland-Hand, a Camp Henry camper shares her experiences as a camper with us and the impact Camp Henry has had on her life. She returns to Camp Henry for her final summer as a camper in a few short weeks.
As a member of Westminster Presbyterian Church in Grand Rapids, I started going to Camp Henry when I was 2 years old with my family at Family Camp. Then, I attended Day Camp, making crafts with JJ in the Nicely Center and playing games on the B-Field. After 2 years of Day Camp and 3 years of Mini Week, I was finally old enough and comfortable enough to go to a full week of camp.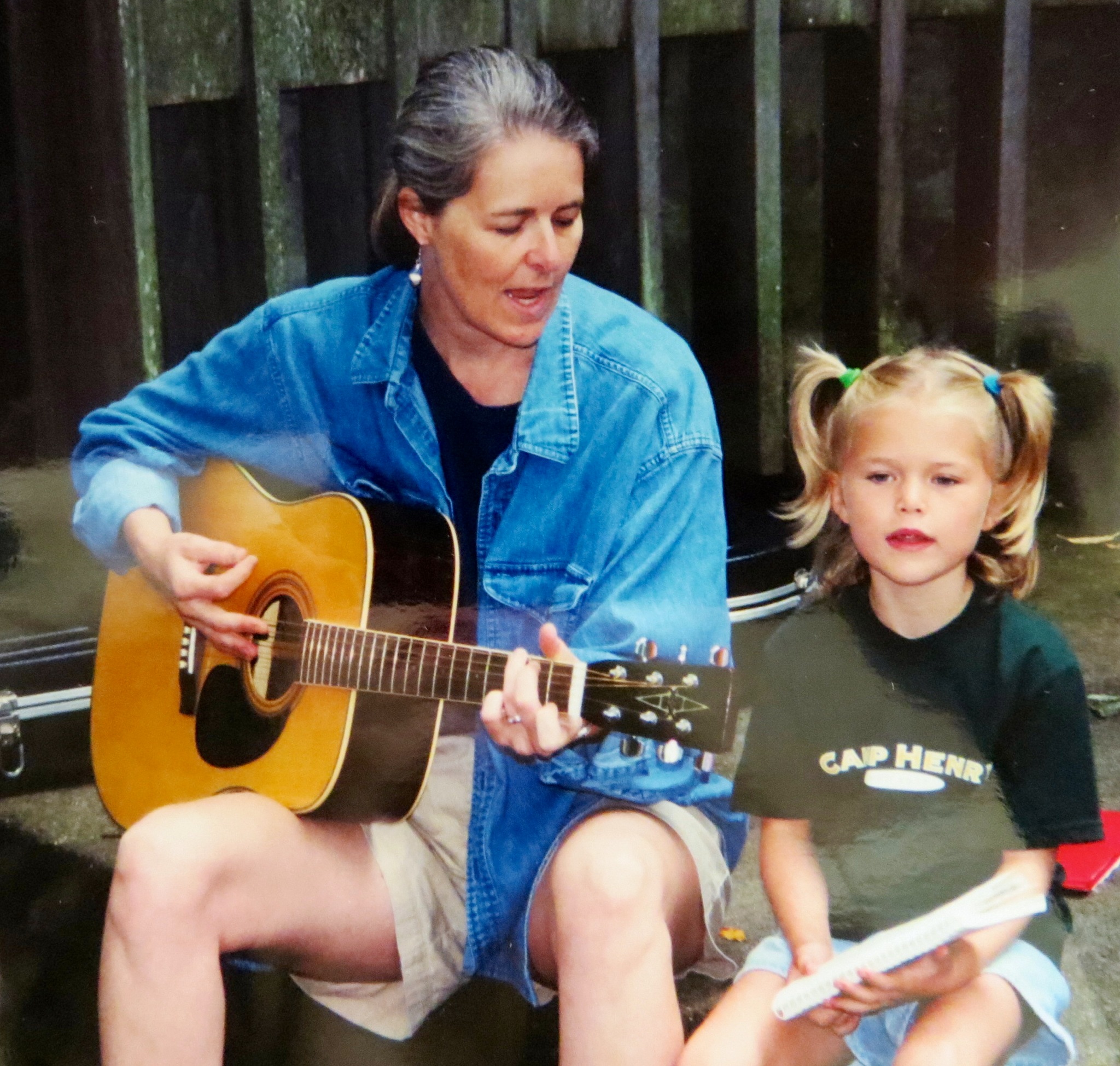 I vividly remember the first time I stayed in one of the new cabins, Commanche. My counselors were Beth and Leah. They were best friends who loved every minute they spent at Camp. I remember them so well because they were always laughing and cracking jokes, and trying to make us young campers have the most enjoyable and fun experience possible. They were so comfortable with themselves and they perfectly embodied Camp's easy going and comforting atmosphere. It still amazes me how Camp staff seem to be the most wonderful, kind, and loving people imaginable.
One of the mistakes I regret most in my life is the summer after fifth grade, when I did not return to Camp. Looking back, I can't help but wonder what kind of a person I would be today had I continued going and been surrounded by the positive and loving people at Camp. Fortunately, Jake and some year-round staff visited Westminster's youth group last year, when I was a sophomore, to promote Camp Henry. Even after 5 years of not going to Camp, Jake still remembered me as a young camper and said it was fun to see me grown up. I signed up for Summer Camp again. Having a cottage on Kimball Lake and being a part of Westminster Church, I was still connected to Camp Henry through Westminster by the Lake and Family Camp, however I was a little nervous to go back to Camp after not attending for a few years.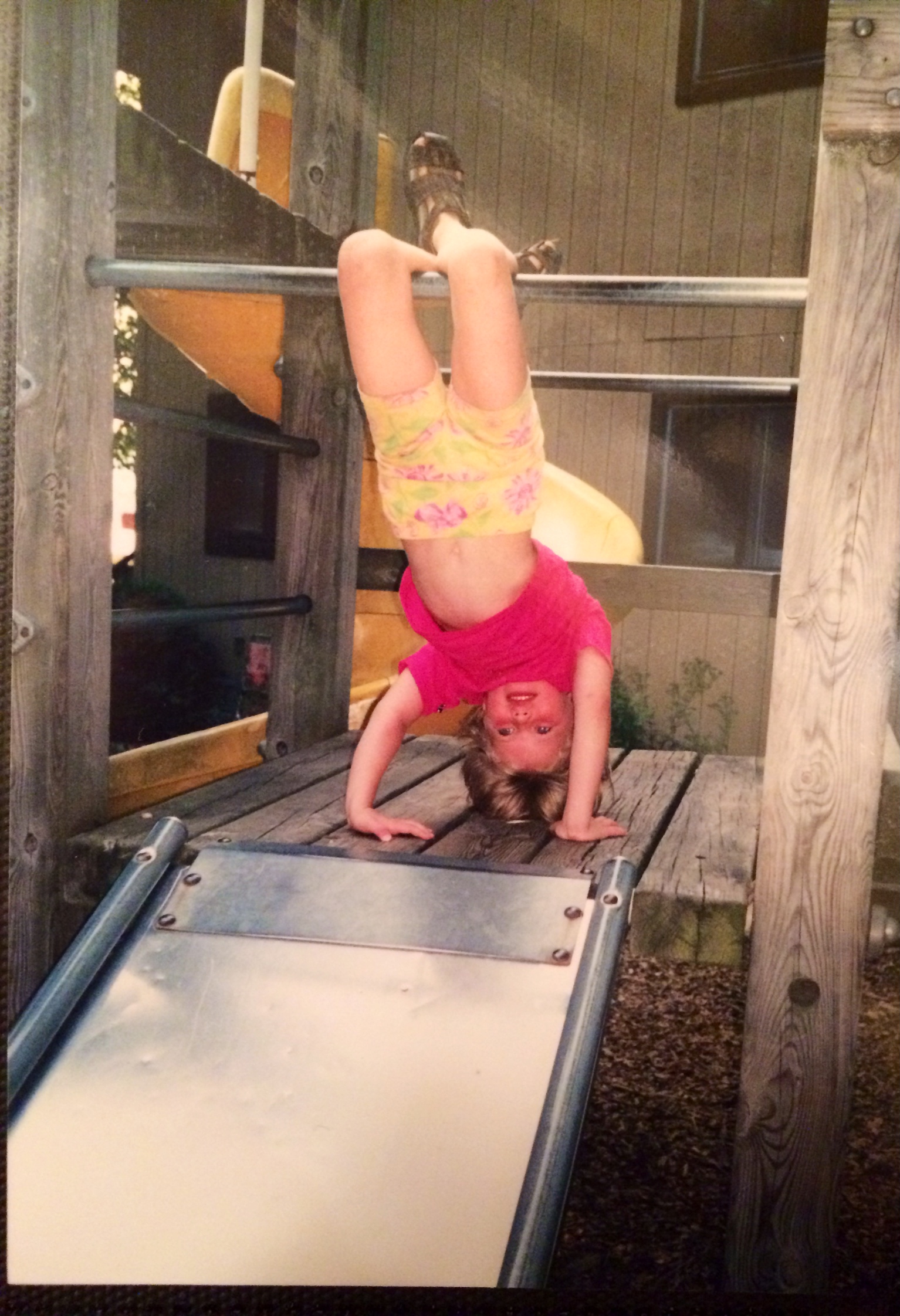 Although some things had changed, like the Green Raft and the Camp Store, Camp's core values and atmosphere had stayed the same. I was immediately welcomed and immersed into Camp life and throughout the week I was continually amazed at the kindness and love that Camp embodies. I am so happy to say that I signed up for Camp this summer and I am excited to go back!
I am having a hard time putting in to words what makes Camp so great. I think it is the combination of everything—the relaxed atmosphere, the encouraging and accepting environment, the loving and kind counselors, and the focus on what it means to be a follower of Christ and doing good in the world—that makes Camp such an amazing and wonderful place.
Camp has easily been the highlight of my summers and is one of my favorite places to be. Camp Henry has a way of bringing the good out of every single person and it provides people with countless opportunities to be a better version of themselves and to learn and grow. It is sad that after this summer, I will be too old to be a summer camper, however I am very grateful that I had the opportunity to come back to Camp before it was too late.
Sherrill Vore, a leader and member at Westminster, has been a huge part of my family's experience at Church and at Family Camp. She describes Camp Henry so well: it is a sacred space. It is special, a place where you grow individually, with others, and in your faith. That's what Camp Henry is to me.