Camp Henry grew out of Dr. Edward Downey's dream for a place where young people could enjoy their summers in a Christian atmosphere. With the help of dedicated Westminster Presbyterian Church members and the financial assistance of Henry Idema, Camp Henry was built in only a year and opened in 1937. In the early years, girls' camp ran for four weeks and boys' camp then ran for four weeks and during World War II, campers took the train from Grand Rapids to Newaygo! Camp Henry only accommodated 50 children in those days but gradually grew over the years.
Camp Henry developed close ties in the 1950's and 1960's with East Grand Rapids High School, Alma College and Central Michigan University. Young people from these institutions provided the backbone of our staff. The 1960's and 1970's saw the growth of camp's facilities including several building that could be used year round. John and Gertrude Millar committed to the development of these buildings so that camp could be used throughout the year.
In 1965, Camp Henry became co-educational with the creation of Boys' Village and Girls' Village and in 1967 Westminster by the Lake – an ecumenical church service – provided the surrounding community a lovely place to worship during the summer.
In the 1970's, Camp Henry grew physically as adjacent properties were purchased and Church Administrator Dan Nicely and new Camp Director Ron Goodyke provided vision and energy to the growing Camp Henry program. During the height of these years over 800 children came to camp.
Bill and Bea Idema as well as the Millars provided significant donations in the 1980's as did many other generous donors so the camp could continue to grow and improve. Because our facilities grew, we were able to increase summer camp enrollment to over 1,300 children by 2008.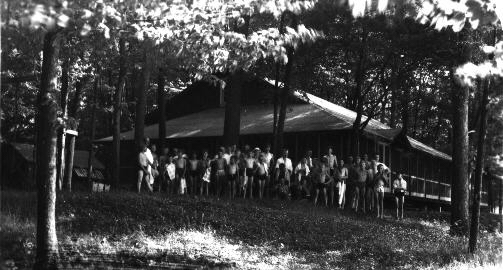 Significant facilities improvements over the years at Camp Henry include:
1960's
New boys and girls village cabins
Gordon Chapel
Millar Lodge
1970's
Millar House
Dining Hall winterized
1980's
Millar Center
Bradford Craft Center
Henry Idema Staff House
Idema Theatre
1990's
High and low ropes course
Climbing wall and tower
Wetlands Trail System
2000's
Daniel Nicely Activity Center
Sewer Infrastructure system
Kimball Lake Lodge
Pickerel Lake Lodge
Muskegon River Lodge
White River Lodge
Waterfront
Horse Ring and Tacking area
2010's
Zuni Cabin
Mohawk Cabin
Apache Cabin
Mohican Cabin
Chippewa Cabin
Ottawa Cabin
Kiowa Cabin
Kickapoo Cabin
Lakota Cabin
Sunshine Apartment
Green Apartment
Lakeview Apartment
Pioneer Apartment
Cargo Net, Climbing Tower, and Zip Line
Jacobs Recreation Pavilion
Theater Renovation
Don Taylor Boat House and Deck
Gordon Chapel Renovation and Expansion
New Maintenance Building
New Frontier Village Cabins: Joy, Luck, and Brave
2020's
Rustic A-Frame Shelters
Hank's House - new staff housing
Covered Riding Arena